Distance Learning Websites for Visual Art Bundle - 5 Units - 5 artist websites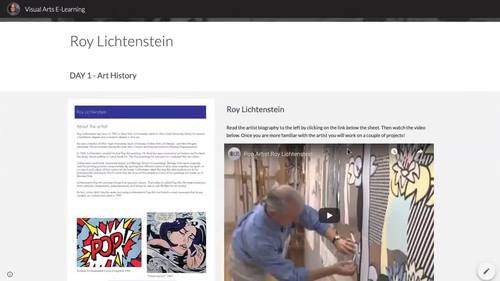 ;
Zip

Google Apps™

Internet Activities
Includes Google Apps™
This bundle contains one or more resources with Google apps (e.g. docs, slides, etc.).
What educators are saying
This worked so well- I had half my students at school and half at home and they were able to complete the same learning.
I did tweak the resource a bit to be used in Canvas (our CMS), but it was super easy to do and saved me HOURS of creating something new. Best money I have probably ever spent on TpT!
Products in this Bundle (5)
Description
Each artist unit includes an artist biography sheet and video link, two activities, an art analysis with article, and a final project with a rubric. In response to the urgent need for teachers to provide e-learning or remote learning, these are a condensed, online format of my current Art History Workbooks.
Your district must allow access from outside sources in order for these Google sites to work in your classroom! Please double-check by clicking the link above from a student computer to ensure you can access to Google Sites!
See individual Artist Units for Previews
How does it work? Share the link provided through your google classroom or through whatever online platform your school uses. Parents/students can go to each of the unit websites, each of which has 5 days of work. Each unit includes activities that are based on the DBAE educational program and include art history, art analysis and art creation.
Great for remote learning and easy for parents to use
Each artist homepage website takes students through the lessons they are to do each day.
Rubric is included at the end of the website.
Students are encouraged to work longer on the final project. (more than the 2 days provided)
Great for e-learning, share on your district's online platform with parents and they're off to learn about the artist from home!
ROY LICHTENSTEIN UNIT:
Artist Biography
Whaam! Art Activity
Draw a Cartoon Exclamation
Analysis of "Drowning Girl" with MoMA Article
Comic Book Pop Art Project
Rubric
PABLO PICASSO UNIT:
(See preview video on individual resource)
Artist Biography
Re-Draw Man with a Guitar Activity
Continuous Line Drawing Portrait
Analysis of Guernica with Article
Final Project: Oil Pastel Portrait in the style of Picasso
Rubric
KEITH HARING UNIT:
Artist Biography
Color Digitally or re-Draw Haring style worksheet
How to Draw like Keith Haring Activity
Analysis of Social Change Art with Article
Final Project: Create a piece of Social Change Art in the style of Haring
Final Reflection
GEORGIA O'KEEFFE UNIT:
Artist Biography
Abstract Flower Activity
Black Mesa Activity
Analysis of "From the Lake, No. 1" with Elements and Principles of Art Link
Watercolor Technique Video
Final Project: Create an enlarged Abstract Flower
Rubric
PAUL KLEE UNIT:
Artist Biography
Monument in Fertile Country Activity
Early Chill Activity
Communication through Art Analysis and Article on Klee
Final Project: Dream Artwork
Rubric
Here are some tips that I recommend when assigning:
Share the link through your google classroom or through whatever online platform your school uses.
Have students share their work with you or to Instagram with a specific tag so they can see each other's work!
Before purchasing:
Please take a look at the preview
Make sure your district will allow you to view/download/share google documents and if not, that you (or your students/parents from home) can access them on a personal google drive.
Share the link through your school's digital platform, otherwise sharing may be blocked from outside the district and students will not be able to access the clues and documents.
This is new territory for us all. Please contact me with any issues via email so that we can work together to fix them at tptaspacetocreate@gmail.com
**Any feedback left that has to do with the lifestyle or life events of the artist do not reflect the quality of this resource.**
©2020 A Space to Create Art, LLC
Answer Key
Included with rubric
Report this resource to TPT