Diurnal / Nocturnal Animal Craft | Diorama Desert Habitat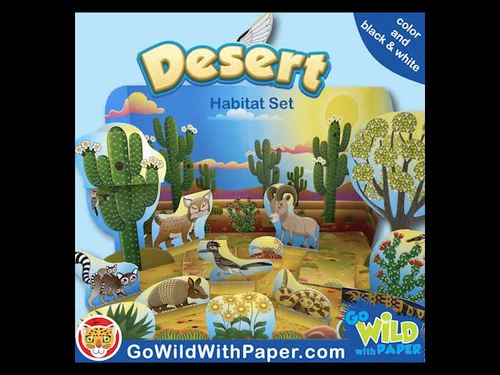 ;
What educators are saying
This is one of the easiest ways to do dioramas with first graders. Excellent way to talk about habitats as well!
My students loved doing this project. They turn out really great. It was a great way to end our study of biomes.
Also included in
Animal habitat dioramas for kids to make: HUGE BUNDLE of beautiful animal habitat craft activities. More than 200 beautiful paper animal models and templates.Perfect to complement your studies on animal habitats and biomes. 21 beautiful diorama projects for children to make.Children can easily bui

Price $62.48

Original Price $124.95

Save $62.47
Description
Papercraft Arizona desert habitat diorama project with both day and night scenes and diurnal and nocturnal animals. Featuring the beautiful Arizona desert landscape with a moonlit night scene overlay. Includes both a color and a black and white diorama template complete with scenery, cactus and animals.
Kids will go wild for this fun animal habitat activity! Perfect to complement your studies on desert habitats and the diurnal and nocturnal animals who live there. Bring learning to life with this hands-on craft activity that will take children to the heart of the desert biome.
Includes 3D paper burrows for the nocturnal animals to hide inside during the 'day'.
Children can easily build their own habitat diorama by cutting and gluing the pieces. Includes the base and background scene so you can create a stand alone diorama, or paste into a box to create a box diorama. You can also use the scenery to create a centre to use with your own animal toys, playdough or use the paper animals in your sand tray or block corner. Endless possibilities for fun on your journey to the arid desert!!
The set can also be used in a sand tray (depicting the desert sand).
Includes easy to follow instructions. Simply cut, fold and glue to create your very own desert habitat diorama complete with trees, rocks, cactus and animals!
Includes the following North American animals:
- Desert bighorn sheep
- Gila woodpecker on cactus
- Gila monster lizard
- Lesser long-nosed bat and elf owl on cactus
- Scorpion
- Rattlesnake
- Cactus wren
- Vulture
- Bobcat
- Roadrunner
- Ringtailed cat
- Cactus mouse and burrow
- Kangaroo rat and burrow
- Armadillo
- Cactus, plants and rocks
- also includes 3D burrows that the nocturnal animals can 'hide' in during the 'day'.
The paper craft template is provided in a PDF file and is ready to print on US letter size card. For best results, print on card rather than paper.
Habitat scene (base and backdrop): 4 pages
Night scene overlay: 2 pages
Stand for back of set: 1 page
Trees and bushes: 4 pages
3D animal burrows: 2 page or more
Desert dwelling animals: 3 pages
© GoWildWithPaper.com
Go WILD with paper have a wide selection of animal crafts, paper models and animal habitat dioramas! Your first stop for fun papercraft animals for kids!
_______________________________________________________
You may also like:
More North American Animal Crafts
____________________________________________________
North American desert diorama project, paper animal habitat model, papercraft activity, printable craft templates, 3D animal habitat art activity, nocturnal animals that live in the desert biome, ecosystem craft, #GoWildWithPaper
Report this resource to TPT