Dog Animal Research Project Report - Informational Writing and Reading Passages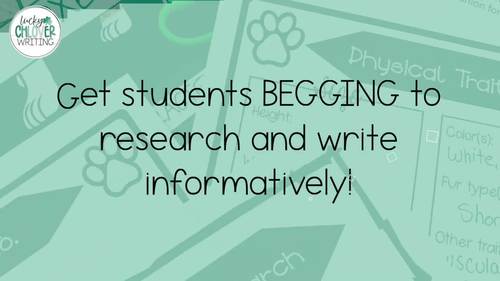 ;
What educators are saying
So much fun. My students really enjoyed this project. I liked how hard they worked and the amount of time they were engaged.
I used this resource at the end of the year as a project for the kids. It was engaging and the kids were able to share information about the dog breed they learned about.
Description
Make ELA FUN with this hands-on animal research report that is also an informative writing guide! Reading comprehension passages and graphic organizers are included. If your students love dogs or if you do an animal unit, they will also love using this report template to plan. This research project will help to build their research skills and they'll be
NOW COMES WITH A DIGITAL VERSION!
✨Interested in more animal research? ✨
Check out my entire growing bundle!
This animal research project is nothing like you've seen before. With 25 reading passages all about different dog breeds, your students will love taking on the role of a dog breeder. It's their job to inform citizens about the different breeds of dogs. 
25 informative reading passages if your school lacks technology
Students take the "role" of a dog breeder and have to inform the community about their dog breed!
Tried and true: students all over the world LOVE this research project and cannot wait to get started!
Comprehensive research guide
Individualized

Students have their own dog breed to research
The writing guide is leveled to meet your students' needs and differentiate
Easy to use and printer-friendly (black and white)

Buy
Print
Distribute to students
Get started on this wonderful animal research project!
Use the DIGITAL VERSION for distance learning or technology integration!

Research flip books added 1/10/22
✏️✏️
· German Shepherd
· Pug
· English Bulldog
· Great Dane
· Dachshund
· Chihuahua
· Rottweiler
· St. Bernard
· Siberian Husky
· Golden Retriever
· Schnauzer
· Border Collie
· Pembroke Welsh Corgi
· Labrador Retriever
· Dalmatian
· Greyhound
· Shih Tzu
· Boxer
· Basset Hound
· Yorkshire Terrier
· Doberman Pinscher
· Jack Russell Terrier
· French Bulldog
· Shetland Sheepdog
**NEW** Cocker Spaniel added 7/17/19
✅
Black and white (printer friendly)
25 dog breed toppers
Two research pages that glue together to create a full poster
✅ (DIGITAL INCLUDED)
25 different dog breeds
Can be used for most RI standards aside from the animal research project
Pictures of the breed
Passages about the dogs include:

Physical characteristics
Temperament/mental characteristics
Lifestyle
✅
A page to assign the dog breeds
An assignment explanation for the kids
A comprehensive research guide
3 levels of writing guides for differentiation

Level 1: Fill-in-the-blank
Level 2: Guided to help students form paragraphs, transitions, etc.
Level 3: Open-ended, no guides for each paragraph
Peer and self editing checklist
Essay writing paper
AIR test adapted writing rubric
Don't miss out on an extremely fun way to teach informative writing with this engaging animal research project !
**The information in the reading passages were found through my own research and not necessarily my own opinions of the breeds.
**You will need a technology source for students to research using the websites provided in the product.
⚠️Still not convinced?⚠️
As a teacher myself, I know that it can be a tough decision to spend your hard-earned money. I promise, though, that this product will make your life easier and will be well worth your time and hard-earned dollars. I would be happy to answer any questions you may have about it.
You don't have to take my word for it, though. Here are just a few happy customers who are teachers like you that have bought resources in the bundle:
⭐️⭐️⭐️⭐️⭐️ "Super cute and creative project! My class loved this!! This is an excellent project to work on research skills and my kids were interested in the whole time." --Melissa S
⭐️⭐️⭐️⭐️⭐️ "Probably one of my all time favorite purchases! My class absolutely loved this research activity!" --Andrea B
⭐️⭐️⭐️⭐️⭐️ "What a comprehensive resource! This will definitely keep students actively involved in reading and writing. Such a great way to motivate students! Thank you so much much for your quality resources." --The Fun Factory
☘Be the teacher they remember. Be the teacher who made them love to write! ☘
>>>>>>>>>>>>>>>>>>>>>>>>>>>>>>>>>>>>>>>>>>>>>>>>>>>>>>>>
❤️You may also like:
Arctic Animals Research Bundle
Black History Month Research Bundle
Animal Research Project Bundle
>>>>>>>>>>>>>>>>>>>>>>>>>>>>>>>>>>>>>>>>>>>>>>>>>>>>>>>>>
☘Connect with me!☘
I would love to connect with other educators! Click the following links to stay updated on products, sales, writing tips, and more!
⇨Follow me on TPT (or click the green ✰ by my name)
⇨Email: contact@chloetascoff.com
TPT Credits
Be sure to come back and give feedback for TPT credits! This will give you credits you can use when buying anyone's resources on TPT.
❗This purchase is for one license only!❗
©️Chloe Tascoff, Lucky Chlover Writing
This purchase is for one user license only. It cannot be uploaded onto a shared server of any kind. If you would like to share with others, please buy the appropriate amount of licenses. Thank you for your respect and understanding.
Report this resource to TPT
Standards
to see state-specific standards (only available in the US).
Write informative/explanatory texts to examine a topic and convey ideas and information clearly.
Write informative/explanatory texts to examine a topic and convey ideas and information clearly.
Produce clear and coherent writing in which the development and organization are appropriate to task, purpose, and audience.
With guidance and support from peers and adults, develop and strengthen writing as needed by planning, revising, and editing.
Conduct short research projects that build knowledge through investigation of different aspects of a topic.