Doodle Animal Portraits: Acrylic Painting: Middle & High School Art Lesson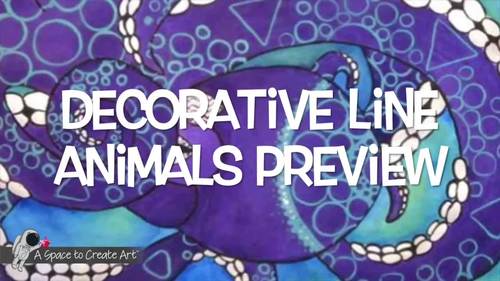 ;
Also included in
This acrylic painting and mixed media lesson bundle will fill an entire semester of high school art. Each lesson includes a detailed lesson plan with rubric, national standards, big ideas, essential questions, supplies, goals, objectives, step-by-step instructions and vocabulary, student self-evalua

Price $65.00

Original Price $125.00

Save $60.00

These visual art courses include full lessons, presentations, mini-lessons, worksheets, and sub-lessons for teaching 5 different high school visual art courses including, Introduction to Art, Drawing, Watercolor, Acrylic, Ink, and Design and Digital Interactive Slides Bundle of Elements & Princi

Price $375.00

Original Price $606.99

Save $231.99

This year long painting course includes watercolor painting, acrylic painting and mixed media projects. It also includes a Student Choice Framework that allows students to choose their own projects that apply the skills they've learned. Worksheet packets that support learning and can be used as subs

Price $110.00

Original Price $165.00

Save $55.00

If you're looking for a combination of drawing, acrylic, watercolor, mixed media, and sculpture lessons this bundle is for you. This visual art lesson bundle features all lesson plans and presentations rather than classroom management items such as worksheets, sub lessons, and interactive activities

Price $125.00

Original Price $156.00

Save $31.00

These visual art curriculum include full lessons, presentations, mini-lessons, worksheets, and sub-lessons for teaching 6 different high school visual art courses including, Introduction to Art 1, Introduction to Art 2, Drawing, Watercolor, Acrylic, Ink & Design, and Digital Interactive Slides B

Price $475.00

Original Price $770.98

Save $295.98
Description
This project-based Decorative Line art lesson is a great way to teach students about the elements of Line, Color, Rhythm and Unity.
Perfect as an introduction to acrylic paint and color theory. This lesson provides students the opportunity to work with acrylic paint in a way where most can be successful.
Lesson Includes:
4 Page Lesson Plan
with National Standards for grades 6-12; Big idea, Essential questions, Goals and Objectives, instructional Materials, Supplies and detailed process. Also included are Resource links, vocabulary and rubric in the form of a student self-evaluation. All editable.
42 Page PowerPoint Presentation (Editable)
Presentation Notes PDF
Link to a movie to use as anticipatory set for Line designs
Color Mixing Chart with Colors and Blank
Rubric - Student Self-Evaluation Sheet
Multiple student examples in process and final work
6 Doodle Starter Idea Sheets (with 24 three step doodle ideas)
Blank Doodle Starter Sheet for your own designs for students
Doodle Thumbnail Worksheet
See more acrylic painting lessons here:
I love seeing student artwork! Share yours with me!
@spacetocreateart on Instagram
A Space to Create Art on Facebook
A Space to Create Art on Pinterest
Follow me at A Space to Create
©2017 A Space to Create. All rights reserved.
Report this resource to TPT