Dot Art Daubers Companion - No Print & No Prep - For Speech & Language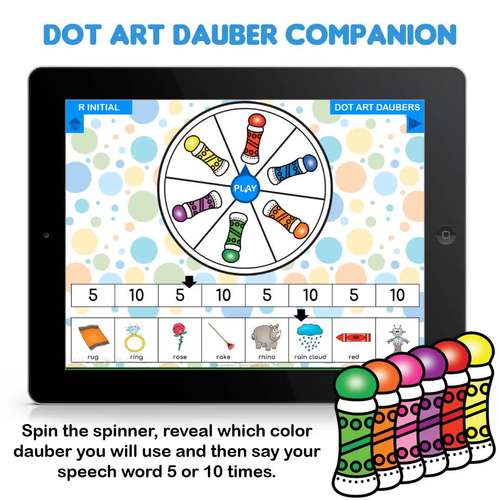 ;
Compatible with Digital Devices
The Teacher-Author has indicated that this resource can be used for device-based learning.
Description
No prep AND no print!! Just grab your device, some paper and your daubers and you are ready to create! Spin the spinner to reveal which color dot dauber to use next! Choose to target one of the 15 phonemes included or use the open ended spinner with the included editable worksheets to target any other goal you need to target! Just add you targets to the worksheet/s, print, spin and create! Great for mixed groups!
This companion opens in PowerPoint on both iPads AND computers (that means smart boards too)! The free iPad based version of PowerPoint is perfect for this game companion!! ⭐ I have a similar to this product for the /f/ sound. If you are not running the latest version of PowerPoint please be sure to download this free sample to check this will function for you as expected.
For more info on how to use this in therapy, open the provided preview document.

Click here to see all my other no-print game companions like this one.
❤ My students have so much fun with this activity! They love how interactive it is!
► Watch the preview video above to see how it works. Please note, once you have navigated to a phoneme's spinner set from the home page, you hit the arrow in the top right corner to move though to medial and final position.
2 editable worksheets to use with the open ended spinner. Open these in adobe reader (it's free) to edit them.
An 'instructions' document that you can also see before you buy by downloading the preview document provided here on TPT.
A link to a video tutorial showing how to open this download on an iPad (also linked below).
A PowerPoint show file that with 39 interactive spinner and speech target pages. 15 phonemes are included with 3 spinner-target sets each: initial, medial and final position. There is also an open ended spinner.

ch
f
g
k
l
l blends (1 slide)
r
r blends (1 slide)
s
s blends (1 slide)
sh
t
th
v
z
open ended spinner for other targets.
HOW TO OPEN A POWERPOINT SHOW FILE ON YOUR IPAD:
⚠️ ⚠️
This download is a digital download of the game companion, dot daubers are not included. You will need some daubers to use this download as intended.
✨FUN TIP: Project this onto a smart board for a fun interactive activity.
Want more no-print speech therapy activities? Click here.
⚊⚊⚊⚊⚊⚊⚊⚊⚊⚊⚊⚊⚊⚊⚊⚊⚊⚊⚊⚊⚊⚊⚊⚊⚊⚊⚊⚊⚊⚊
I will be continuing to include more activities like this in my store. All new products are listed at 50% off for the first 24 hours after listing. Be sure to follow my store to stay up to date with my content and future deals.
Check out my no print articulation and language spinners here.
Psssst!! I also have a free articulation spinner set for the /s/ sound. This download is a great way to 'try before you buy' if you want to see how my spinners work.
⚊⚊⚊⚊⚊⚊⚊⚊⚊⚊⚊⚊⚊⚊⚊⚊⚊⚊⚊⚊⚊⚊⚊⚊⚊⚊⚊⚊⚊⚊
Related Products:
 ➜ No Print SPIN A STORY - Digital Story Prompt Spinners
➜ No Print Opposites Digital Interactive Notebook
➜ Spot The Difference Barrier Game for Children & Adults - Speech Therapy
⚊⚊⚊⚊⚊⚊⚊⚊⚊⚊⚊⚊⚊⚊⚊⚊⚊⚊⚊⚊⚊⚊⚊⚊⚊⚊⚊⚊⚊⚊
Tips For Customers:
Click the green star ★ above to follow my store. I often upload products similar to this one and I don't want you to miss out! 
If you enjoy this product, please leave positive feedback to gain credits you can use towards future purchases! Find out more here.
CLICK HERE to connect with me on Facebook
CLICK HERE to connect with me on Instagram
CLICK HERE to connect with me on Pinterest
If you have any questions or problems, please contact me through the Q & A section. Emails are also welcome at simplyspeakingslt@gmail.com
***Zephaniah 3:17***
                                         ⭐⭐⭐⭐⭐
                                          ⭐   Enjoy!  ⭐
                                          ⭐⭐⭐⭐⭐
Report this resource to TPT