Double Digit Addition and Subtraction Boom Cards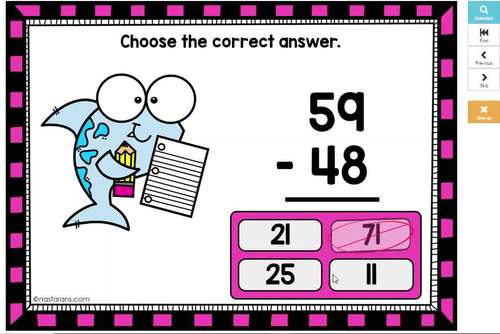 ;
Compatible with Digital Devices
The Teacher-Author has indicated that this resource can be used for device-based learning.
Products in this Bundle (2)
Bonus
Double-Digit Addition and Subtraction Boom Cards Distance Learning
Description
These 48 digital task cards on the Boom Learning website include cards that ask students to type the answer, choose an answer given 3 or 4 options, and drag and drop the correct numbers. These Boom cards are aligned to the common core. 1.NBT.C.4.
This product is appropriate for reviewing and reinforcing double-digit addition and subtraction with regrouping and without regrouping.
These digital task cards would be great on a laptop, desktop, Chromebook, tablet, or any other mobile device that can access the internet. They can even be used on your Smart Board. Here's the best part - they are self-grading and allow you to track student progress. Plus, they're no prep which means no printing, laminating, or storage.
This product includes:
A link to access 48 Digital Task Cards on double-digit addition and subtraction with regrouping (1 card per slide) on the BOOM Learning℠ website.
Take a look at the thumbnail images and the preview file above to get a better idea of what the digital task cards look like.
♦ Please download the preview for a closer look!
More about BOOM Learning…
To use Boom Cards, you must be connected to the Internet. Boom Cards play on modern browsers (Chrome, Safari, Firefox, and Edge). Apps are available for Android, iPads, iPhones, and Kindle Fires. For security and privacy, adults must have a Boom Learning account to use and assign Boom Cards. You will be able to assign the Boom Cards you are buying with "Fast Pins," (play provides instant feedback for self-grading Boom Cards). Fast Play is always a free way for students to engage with Boom Cards decks. For additional assignment options you'll need a premium account. If you are new to Boom Learning, you will be offered a free trial of our premium account. Read here for details: http://bit.ly/BoomTrial.
Be the first to know about my new discounts, freebies and product launches:
New products are always 50% off for the first 24 hours they are posted.
Look for the green star next to my store logo and click it to become a follower.
You will now receive email updates about this store.
★ ★ If you have any questions or comments, please feel free to eMail me.
★ ★ CLICK HERE to visit our website for more free resources and teaching ideas!
© Nastaran
Materials are intended for personal use in one classroom only and not for commercial use. For use in multiple classrooms, please purchase additional licenses.
Thank you so much,
Nastaran.
Report this resource to TPT
Standards
to see state-specific standards (only available in the US).
Add within 100, including adding a two-digit number and a one-digit number, and adding a two-digit number and a multiple of 10, using concrete models or drawings and strategies based on place value, properties of operations, and/or the relationship between addition and subtraction; relate the strategy to a written method and explain the reasoning used. Understand that in adding two-digit numbers, one adds tens and tens, ones and ones; and sometimes it is necessary to compose a ten.