Double Entry Journal Reading & Writing Activity DIGITAL + PRINT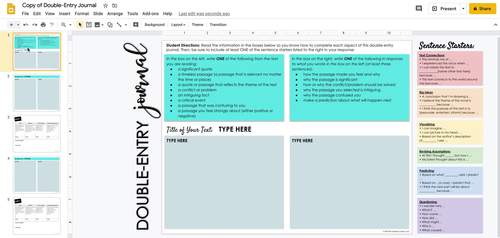 ;
What educators are saying
I used this resource in conjunction with a novel, and it was so helpful for my students. They love the layout and it was a great way to connect with the book!
These journal writing activities are a great way to get my students to write, and they enjoy them. Thank you!
Also included in
This Reading Resources Bundle for your Middle School students is PERFECT for use with any literary unit! We've bundled some of our BEST-SELLING and most popular resources at a fraction of the cost. Purchasing this bundle saves you 20% off!All six resources included are no-prep! Simply print and begi

Price $17.20

Original Price $21.50

Save $4.30

These reading response activities include many of our best selling items! These resources will be incredible additions to your language arts classroom! Perfect for grades 5+ (but ideal for the middle school and high school classroom)!SAVE ON OUR BEST-SELLING RESOURCES BY PURCHASING THIS BUNDLE!RESOU

Price $36.20

Original Price $45.25

Save $9.05

If you're looking for digital reading and writing activities that are going to have your students producing high-quality work while also keeping them engaged and excited about learning - THIS BUNDLE IS IT!These completely digital reading and writing activities were adapted specifically to help you a

Price $60.00

Original Price $79.50

Save $19.50
Description
This double entry journal for use as a reading activity for any novel comes in a DIGITAL and PRINT version (so it's easily usable for distance learning) and is a GREAT way to assess students! We've included numerous ways for this journal to be utilized by giving students choices for not only the piece of literature they pick, but also for how they are asked to respond to the text. In an attempt to help students dive further into their analysis of the text, we've included sentence starts for them as well. This is an excellent (and fun!) way to have students work closely with a text. We've also included a rubric to make it easier for you to grade :)
**THIS RESOURCE IS A PART OF A LARGER BUNDLE. SAVE OVER 20% BY PURCHASING OUR READING RESOURCES BUNDLE**
We've been able to utilize this double entry journal in many different ways with our students. Here are some ideas for you:
- At the end of each chapter
- At the end of the novel students complete an entry on each character
- At the end of the week, students can complete an entry over the weekend on in class on Friday
- To be completed as homework in conjunction with a nightly reading
As you can see, there are many uses for a double entry journal! Please feel free to let us know how you make use of this resource!
INCLUDED IN THIS RESOURCE:
8 prompts for students to choose from
6 ideas to help prompt students in their response
23 different sentence starters
EDITABLE and .PDF Rubric with empty point values (so you can choose!)
DIGITAL VERSION, so you can easily use this resource in your Google Classroom™. Students can write directly into the Google Slides™ included. We've also added an editable rubric, so you can easily grade and make suggestions directly in the students' Google Slides™ should you wish to do so.
When using the digital version of this resource, please note that you can make as many copies of the slides as you would like. Simply have students duplicate the journal entry page for a new slide to write on. Then, you can also duplicate the rubric slide, so you can grade each journal entry separately! We like to have our students keep one digital double-entry journal per piece we are studying. When we start a new piece of literature, students can create a whole new digital double-entry journal!
YOU WILL ALSO LOVE:
- BEST SELLING READING RESPONSE CHOICE BOARD
- INFORMATIONAL TEXT READING RESPONSE CHOICE BOARD
- EMERGENCY SUB LESSON PLANS FOR MIDDLE SCHOOL
Follow us on Facebook and Instagram for sales and all things Middle School ELA!
Also, make sure to follow us to be notified when we upload new resources! We always do a special discount when we release a new resource, so it pays to follow us!
Teaching Duration
Lifelong tool
Report this resource to TPT
Standards
to see state-specific standards (only available in the US).
Cite textual evidence to support analysis of what the text says explicitly as well as inferences drawn from the text.
Determine a theme or central idea of a text and how it is conveyed through particular details; provide a summary of the text distinct from personal opinions or judgments.
Cite several pieces of textual evidence to support analysis of what the text says explicitly as well as inferences drawn from the text.
Determine a theme or central idea of a text and analyze its development over the course of the text; provide an objective summary of the text.
Analyze how an author develops and contrasts the points of view of different characters or narrators in a text.