Dr. Martin Luther King Jr. Bulletin Board - Craft Writing Kindergarten 1st 2nd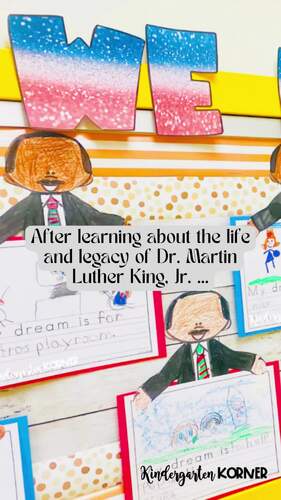 ;
Also included in
This Bulletin Board MEGA Bundle is a MUST HAVE for teachers in kindergarten, first, second, or third! This MEGA Bundle includes 10 complete packages to create AMAZING writing and craft displays every month of the school year! Each set includes differentiated writing options as well as a craft.Bull

Price $30.00

Original Price $42.50

Save $12.50

The ULTIMATE Bulletin Board MEGA Bundle includes 20 sets of craft and differentiated writing activities to use throughout the ENTIRE YEAR in kindergarten! This bundle features all differentiated writing and craft sets from both the ORIGINAL Bulletin Board MEGA Bundle and the Bulletin Board MEGA Bun

Price $52.00

Original Price $75.00

Save $23.00

I have poured my heart and soul into creating this Bulletin Board MEGA Bundle that includes 30 sets of purposeful displays featuring standards-aligned writing or math activities with a cute craft to match!Click the PREVIEW and the VIDEO PREVIEW to see all that you get in this AMAZING value...This bu

Price $79.20

Original Price $119.00

Save $39.80

The last thing you want to do is write lesson plans for after the break! This Jump Into January MEGA Bundle has a little bit of everything you need for post-break survival...Create winter bulletin boards that integrate writing or math with custom crafts including snowmen and snow globes...Celebrate

Price $29.60

Original Price $50.00

Save $20.40

This is the bundle of all bundles! One way I have learned to work smarter and not longer teaching Kindergarten is by having all of my resources for each month in one print and go file. My monthly bundles have helped so many teachers take back their precious planning time! Upon buyer request, I ha

Price $237.60

Original Price $341.50

Save $103.90

Introducing the bundle of all bundles! This Bulletin Boards Mega Bundle includes 40 seasonal sets of purposeful activities that make the most amazing displays on boards, in your hallway, or on your classroom door. These resources were designed for kindergarten. Differentiated options may also be

Price $116.00

Original Price $165.50

Save $49.50
Description
Celebrate the legacy of Dr. Martin Luther King, Jr. with this Bulletin Board Craft and Writing Bundle perfect for students in kindergarten, first grade, and second grade.
**Update as of January 2022: This file has been updated to include new clipart for an easier printable face for Dr. King, a print and color NO PREP option, as well as BONUS bulletin board lettering in black and white and color. If you own this file, please download it again to receive the updates. Click the PREVIEW to see one of the new options!
All craft templates are provided to create the perfect display for MLK Day or Black History Month. Just copy the templates onto card stock/ construction paper, and let the students do the rest! Step-by-step directions included to create MLK's face and 3-D collared shirt!
Choose from a variety of differentiated writing templates. Select your favorite to go with the craft, and use the other writing pages during the week of Dr. King's birthday.
Check out the preview to see how this board turned out!
BEFORE YOU BUY, check out my BULLETIN BOARD MEGA BUNDLE for the ENTIRE YEAR that includes this resource and a total of 30 seasonal sets. Each resource integrates differentiated writing or math activities with a custom craft to match! BONUS display lettering is included as well. If you love a good bulletin board as much as I do, this bundle is for you! Why search for monthly activities when you can have it all in one place?! !
Thank you for looking!
TERMS OF USE:
Thank you so much for your support and interest in Kindergarten Korner, LLC. Creating quality resources for teachers is truly my passion and seeing my resources in action all over the world is the best feeling! Please take a moment to read my Terms of Use.
This download is intended for use by the purchaser only, unless additional licenses are purchased (one license per teacher). It may be printed by the teacher for use in class or sent home as a paper packet for homework or distance learning. Parents or homeschooling families may purchase for teaching children at home.
No commercial use or sharing of this product is permitted including email, public Internet Groups or Blogs, School District Websites, School Websites, Personal Websites, Shared Google Drives, YouTube, See Saw, or Offline Groups.
This item is bound by the Digital Millennium Copyright Act and redistributing, editing, selling, and/or posting this item on the Internet are strictly prohibited and illegal.
I truly appreciate you respecting my work, and I kindly ask that you share the link to my product with your teammates and not the file . Please understand that I love providing quality resources to teachers and families, yet this is how I provide for my family. Illegal file sharing hurts all sellers who create in this amazing TPT Community. Keep in mind when someone may ask you to "share" a file, it is only "sharing" if you are the creator.
Please see product download for the full Terms of Use and clip art credits.
Thank you for looking!
Casey and the Kindergarten Korner Team
Report this resource to TPT