Drag and Drop Spanish Articulation - Words and Sentences BUNDLE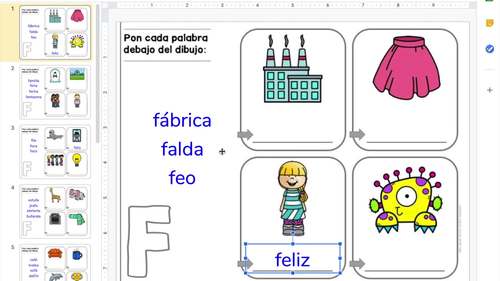 ;
Google Slides™
Includes Google Apps™
This bundle contains one or more resources with Google apps (e.g. docs, slides, etc.).
What educators are saying
It has a good variety of words, but depending on the students' devices, some had difficulty dragging the words. I helped hen they couldn't. Thanks!
I am always looking for resources in Spanish. This is really helpful for me because I don't speak Spanish. It is easy for me to find words to target with my students.
Products in this Bundle (9)
showing 1-5 of 9 products
Description
Enjoy this huge Google Drive Spanish Articulation Bundle. Students have to move the word to label the picture. The second half of each resource is the word in simple sentences and again the student has to drag the sentence over and drop it under the picture. I'm super excited to share these new Google Slides resources (add directly to your personal Google Drive) for Spanish words at word level and short sentence level.
CONTENTS:
Drag and Drop Spanish Articulation Bundle covers the following sounds in words and short sentences:
F (initial and medial)
CH (initial and medial)
K (initial and medial)
G (initial and medial)
L (initial, medial, and final)
S (initial, medial, and final)
R (initial, medial, and final)
L-Blends (initial and medial)
R-Blends (initial and medial)
To use these you have to add them to your Google Drive. Click on the link below and it will automatically launch a request to have you "make a copy" for your Google Drive. Make sure that you are logged into the right Google/Gmail account when you click on the link because the link will default into whichever account you are logged into at the time.
(If you are a Boom card fan, you will have to wait a bit longer for the Boom version of this resource. I wanted to get the Google Drive resource out first!)
************
If you like this resource, check out these:
************
Grab yourself some freebies right in your email inbox by clicking here and subscribing to my newsletter: Speech is Beautiful Newsletter
I'm also on:
Report this resource to TPT