Draw and Say No Prep Articulation Worksheets - Speech Therapy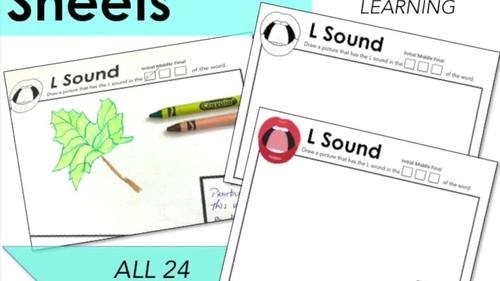 ;
What educators are saying
This resource is my 'go to' when working with a Kindergarten student who is very difficult to motivate. Thank you.
Also included in
THIS IS A GROWING BUNDLE – Please read this product description to understand what's included and what will be added. Get EVERY articulation Product I have created thus for and save 30% by purchasing this GROWING BUNDLE. What is a growing bundle? It is an unfinished product that buyers can purcha

Price $49.03

Original Price $70.04

Save $21.01
Description
All you need to do is print and grab some crayons OR share your screen and use the annotation tools - you and your students are set to draw and practice their target sounds!
Easy Peasy and FUN!
ALL 24 sounds are included in this product. The Draw and Say Articulation Worksheets are available in color and in black and white. The sheets can be quickly printed out for individual use OR they can be used digitally with annotation tools.
P Sound
B Sound
M Sound
N Sound
W Sound
H Sound
F Sound
V Sound
K Sound
G Sound
T Sound
D Sound
L Sound
S Sound
Z Sound
R Sound
R Sound
SH Sound
Ch Sound
J Sound
TH Sound
How to Use Them:
After introducing the target sound, ask the student to draw a picture containing the target sound. Specify if the sound should be in the initial, middle, or final position of the word. Then, guess what he or she drew. This is VERY fun and engaging. Talk about the drawing using the target word.
These worksheets are also a FAST and SIMPLE way to provide homework. You can write notes or additional information in the notes section.
NOTE: These can easily be used during virtual sessions as the student or clinician can draw using the annotation tools!
Thank you!
I hope you enjoy these worksheets and like using them during your therapy sessions :)
***************************************************************************
Other products you may like:
Articulation Cards with Visuals for Speech Therapy - Growing BUNDLE
***************************************************************************
About the SLP:
Kimberly Scanlon, MA, CCC-SLP is an ASHA certified Speech-Language Pathologist and has earned 4 awards for continuing education (ACE). She is also the author of the best selling book, "My Toddler Talks: Strategies and Activities to Promote Your Child's Language Development", the interactive picture book, "Learning to Read is a Ball", and "My Toddler's First Words: A Step-By-Step Guide to Jump-Start, Track, and Expand Your Toddler's Language".
Follow me for updates, giveaways, freebies, inspiration, and fun therapy ideas!
★My Toddler Talks Blog ★ Scanlon Speech Therapy Blog ★PINTEREST ★INSTAGRAM ★FACEBOOK★
Report this resource to TPT