Drawing Conclusions Activities and Worksheets | Reading Comprehension Activities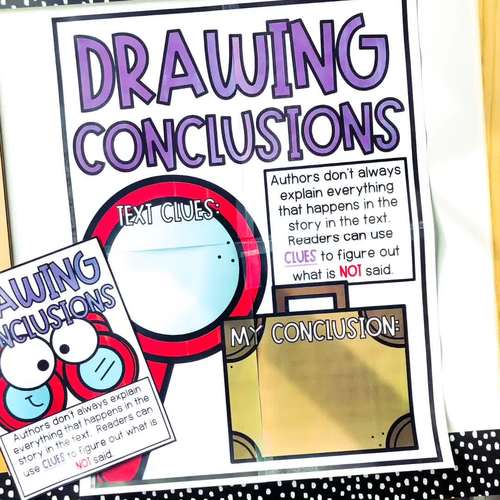 ;
Also included in
Looking to enhance your comprehension instruction with engaging and memorable activities? This BUNDLE contains all of my reading comprehension units, which are full of activities, crafts, and NO PREP graphic organizers to introduce and practice these comprehension skills and strategies in a way your

Price $65.00

Original Price $116.00

Save $51.00
Description
Are you in need of fun, engaging activities that enhance and improve your students' reading comprehension? These drawing conclusions activities and graphic organizers are low prep and are perfect for creating a learning experience for your students. Use these digital and printable drawing conclusions activities, craft, poster, anchor chart, worksheets, and more to transform your reading comprehension instruction!
Drawing conclusions can be a difficult concept to teach elementary students. All of the printable activities in this resource can be used with any text or passage. I have included a list of book suggestions that are perfect for teaching the skill. Drawing conclusions is like solving a mystery, so the detective theme makes it super fun and would be great for a room transformation!
*There is now a digital component included in this resource. The independent tasks have been added to Google Slides TM. Please follow the download instructions within the Zip file.
This packet includes an anchor chart, an activity to use as your opening each day or with cooperative groups throughout your unit, printables for students to use to draw conclusions in a story, a craft, conclusion detective badges, bookmarks, exit tickets, and a brown bag template for a book club discussion.
Included in the resource:
Book Suggestions
Poster and Anchor Chart
Cooperative Group Activity, Directions, and Printable (This activity can also be modified as an opening activity to get your students excited for learning each day!)
Detective Badges and Bookmarks
Magnifying Glass Craft
NO PREP Printable Resources (flapbook, graphic organizers, interactive notebook template-DIGITAL versions also included) and Exit Tickets
Brown Bag Book Club and Fiction and Nonfiction Discussion Cards
Digital Tasks for Drawing Conclusions Uploaded to Google Slides TM
You may also love:
First and Second Grade Learning Toolkit
Classroom Management Games for the Entire Year
Reading Comprehension Activities and Crafts Bundle
Second Grade Reading Comprehension Printables
Text Detectives Only! Book Club Second Grade | Distance Learning
Get more classroom tips and instructional strategies from me below:
Would you like to SAVE on new resources? Just click the GREEN STAR below my name. This will allow you to follow my store and receive e-mail notifications when a new resource is added.
Don't forget to leave feedback on your purchase to earn TPT credits!
Report this resource to TPT
Standards
to see state-specific standards (only available in the US).
Ask and answer questions about key details in a text.
Ask and answer such questions as who, what, where, when, why, and how to demonstrate understanding of key details in a text.
Ask and answer questions to demonstrate understanding of a text, referring explicitly to the text as the basis for the answers.