EDITABLE Activity Template La Lluvia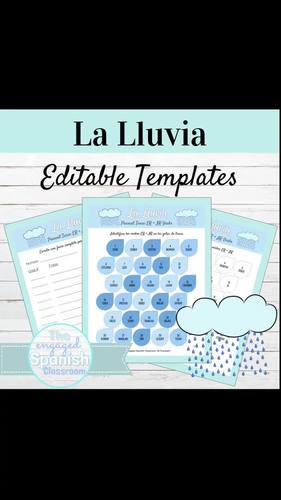 ;
Zip

Google Apps™
Includes Google Apps™
The Teacher-Author indicated this resource includes assets from Google Workspace (e.g. docs, slides, etc.).
Also included in
This is a bundle of my favorite activities for Spanish 1! I have included over 200 presentations, games, speaking activities, cultural activities, readings, projects, and assessments. This bundle is essential for your middle school or high school Spanish class and will support you and your students

Price $325.00

Original Price $465.50

Save $140.50

This bundle is ideal to support someone who teaches Spanish 2, 3, or 4! There are hundreds of activities for the preterite, imperfect, future, conditional, subjunctive, perfect tenses, and MORE. This includes a huge variety of comprehensible reading activities, writing activities, speaking activitie

Price $380.00

Original Price $586.25

Save $206.25

These Editable Google Drive activities are appropriate for any level! My favorite Spanish speaking and writing activities are in this bundle, as well as templates for puzzles, editable games, and more.Editable Games and Activities Bundle #1This is truly a bundle of all of my favorite things! I hope

Price $30.00

Original Price $38.00

Save $8.00

These Editable Google Drive activities are appropriate for any level! My favorite Spanish speaking and writing activities are in this bundle, as well as templates for puzzles, and a variety of editable games. My favorite digital Spanish activities are also in this bundle, as well as a digital intera

Price $55.00

Original Price $80.50

Save $25.50
Description
This is an editable version of my La Lluvia activity. This activity is a great opener for any level Spanish class, and includes an option written extension activity. Your students will love that this activity provides room for choice / flexibility!!
***********************************************************
La Lluvia EDITABLE TEMPLATE
This includes:
1 Page of Game Instructions
4 Editable Game Boards (2 Editable templates with marked text boxes, and 2 blank templates that would be ready to print and create by hand)
Editable Answer Keys for each activity board version
2x Writing extension activity sheets for each activity board version
**EVERYTHING IS PROVIDED IN COLOR AS WELL AS BLACK AND WHITE**
Between color, black and white, text box and clean, there are 8 versions total of the La Lluvia activity board for you to choose from. All game boards are the same size / general layout.
***********************************************************
INSTRUCTIONS:
1) Your job is to find the correct "gotas de lluvia" (raindrops) on your game board!
2) Read the directions on your game sheet to see which types of gotas you are looking for. (Are you looking for a certain verb type? Or are you choosing your preferred foods from the options provided!?)
3) When you find one, mark the gota however you'd like. You can do this by circling the raindrop, coloring the raindrop, or maybe by adding your initials to the raindrop.
4) When you are finished, compare your game board to the answer key (if appropriate) to see if you found all of the correct gotas!
5) Extension activity: Write a sentence using the words in the gotas that you identified.
***********************************************************
HELPFUL TIP: The first game boards are meant for you to edit on your computer. The text boxes are there for you, aligned to the raindrop game spaces for you to edit as you like. The SECOND game board version (which is also pictured in the preview) has no text boxes, and has a blank game board. This second game board is meant to print as-is, so you can hand-write your own game board neatly while you are on lunch duty ;)
These can be easily adapted for any Vocabulary / Grammar unit!
*PDF Provides tips for utilizing this Google Drive resource*
***********************************************************
Enjoy a completely EDITABLE and CUSTOMIZABLE version of my La Lluvia game! This editable game board provided via google drive allows you to edit on your computer, or print and go so you can make a game board during lunch duty ;)
Differentiation options for all classes: require students to create a full sentence to claim the space instead of the simple conjugation
***********************************************************
Check out the preview to get a better look :) There are 4 game boards included in this product, as well as space for an answer key for each version! Everything is provided in color AND in black and white versions.
**PLEASE SEE THE TERMS OF USE** This product is meant for teachers to create and use in their own classrooms ONLY. This product may not be redistributed in any way, including the sharing / selling of your version made from this template. Thank you!
***********************************************************
I hope your students love this game!
Be sure to check out my Dice Games, Tiburones Games, Maracas Sets, and Triangle Puzzles! I have editable versions for some of these products as well. If you like this template, be sure to leave feedback so I know how I am doing!
Need ideas to enhance speaking in the target language? Do your classes love a bit of competition? Be sure to check out my newest speaking and competitive activities:
Guerra de Miel
Citas Cortas
and Cacto Conversación
These can all be found in the left side navigation

Related Products
⭐ EDITABLE Taco Tuesday Game Boards
⭐ Spanish 1 EDITABLE Portfolio Project
⭐ EDITABLE TIBURONES Vocab or Grammar Game Template
⭐ EDITABLE Vocab or Grammar Puzzle Templates
⭐ EDITABLE Guerra de Miel Game Templates
Let's Connect!
*****************************************************************************************************
How can you get TPT credits to use on future purchases?
Go to your My Purchases page, click Provide Feedback beside a purchase, leave a quick rating and comment.
Each time you provide feedback, you'll earn TPT credits for future purchases!
I appreciate your feedback as it helps me determine which products are most valuable so I can create more for you. ☺
Do you have an idea or request to make this product better?
Send me an email at theengagedspanishclassroom@gmail.com. I'd love to hear from you!
Teaching Duration
Lifelong tool
Report this resource to TPT