EL MUNDO EN TUS MANOS: News summaries for Spanish students 2021-2022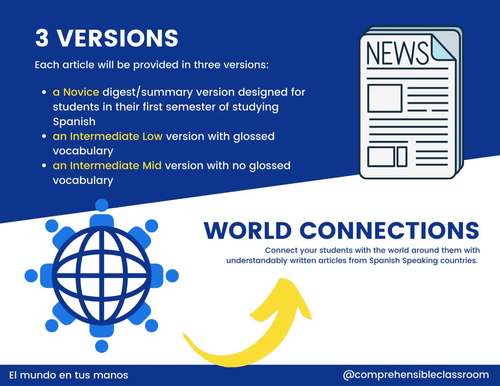 ;
What educators are saying
What a valuable resource! So relevant and easy to use in my classroom. There's something for everybody.
I use these articles for my AP Spanish class, so they can learn more vocabulary and practice their reading comprehension skills.
Description
EL MUNDO EN TUS MANOS is a bi-weekly news publication that has been providing comprehensible news summaries from Spanish speaking countries to students since 2016. It is a collaboration between The Comprehensible Classroom, Maris Hawkins and Nelly Andrade-Hughes. The target reader for this publication is a student in his or her first to third year of Spanish.
ISSUE FEATURES
Each issue includes the following resources:
5 news stories from the Spanish speaking world, written in Spanish and provided in 3 levels of text complexity (see below)
Suggested authentic resources for further exploration
A printable comprehension activity for each article
Activities and ideas for whole-class instruction
Fully formatted and EDITABLE articles (created in Google Slides™)
A projectable, editable version of each article for whole-class reading, enabled for optional use with Pear Deck™
Each article will be provided in three versions:
a Novice digest/summary version designed for students in their first semester of studying Spanish
an Intermediate Low version with glossed vocabulary
an Intermediate Mid version with no glossed vocabulary
DEPARTMENT USE:
You or your school needs to purchase a separate license for each teacher that plans to use these stories in their classes (5 teachers = 1 full price subscription + 4 reduced price licenses). Additional licenses can be purchased from "My Purchases" in your TpT account.
This completed volume contains 20 issues of news summaries in Spanish. It also includes bonus materials related to the news stories in each issue. All issues are stored in the Subscription Google Drive folder, which is accessible via a link that is in the PDF download from TpT.
. . . . . . . . . . . . . . . . . . . .
AUGUST 20, 2021 ARTICLES:
Patria y Vida: Protestas en Cuba
Ajolote, la nueva imagen del billete de 50 pesos
Nuevos sitios son agregados a la lista de la Unesco
Atletas hispanos brillan en Tokio, Japón
Primera diputada africana en Uruguay
SEPTEMBER 3, 2021 ARTICLES:
Países latinoamericanos ayudan a refugiados afganos
Argentina celebró la Gastro Japo Food Week 2021
Fundaciones ayudan a animales silvestres
Lionel Messi deja el Barcelona
UNAM lanza un videojuego sobre México-Tenochtitlán
SEPTEMBER 17, 2021 ARTICLES:
Premios Latinoamérica Verde 2021
Muere la artista y activista chicana Yolanda López
Despenalizan el aborto en México
Chile y Cuba comienzan programas de vacunación pediátrica
Los Juegos Paralímpicos de Verano

OCTOBER 1, 2021 ARTICLES:
El bicentenario de la independencia en Centroamérica
Cubanos y salvadoreños usan la moneda de bitcoin
El mexicano Joaquín Cosío es el nuevo Wolverine
Volcán en la isla española La Palma hace erupción
Chile celebra sus fiestas patrias
OCTOBER 15, 2021 ARTICLES:
Migrantes haitianos buscan asilo en otros países
Dos ballenas jorobadas son rescatadas en Argentina
La fiebre del Pop It! llega a los países hispanohablantes
Lila Downs, la cantante mexicana que enaltece las lenguas indígenas
El Último Día de Libertad de los Pueblos Indígenas
OCTOBER 29, 2021 ARTICLES:
Comienzan las celebraciones del Día de Muertos en México
La nueva serie animada de Netflix
Una nueva playa inclusiva
Se celebra el primer Mundial de Globos
Huelga de educadores en Paraguay

NOVEMBER 12, 2021 ARTICLES:
Ortega gana ilegítimamente en Nicaragua
Cambio de horario en los países hispanohablantes
México recupera tres piezas arqueológicas de Italia
Ecuador anuncia la ampliación de la reserva marina de Galápagos
El nuevo ballet de Lido Pimienta
NOVEMBER 26, 2021 ARTICLES:
Se subasta uno de los autorretratos de Frida Kahlo
La RAE incorpora el pronombre «vos»
Premios Grammy Latinos 2021
La Chilindrina entra en el Libro de Récords Guinness
Se celebró la 8.a Olimpiada Latinoamericana de Astronomía y Astronáutica
DECEMBER 10, 2021 ARTICLES:
Tapa mexicana gana el V Campeonato Mundial de Tapas (México y España)
Descubren momia de al menos 800 años en Perú (Perú)
Wisin y Yandel anuncian su separación definitiva (Puerto Rico)
Xiomara Castro gana las elecciones presidenciales (Honduras)
Belice gana el torneo de Pok Ta Pok (Varios)
JANUARY 3, 2022 ARTICLES:
Muere el famoso cantante mexicano Vicente Fernández
Destinos de América Latina son galardonados en los WTA
Se celebra la Segunda Feria de la Muñeca Lele en CDMX
Jugadores hispanos triunfan en diferentes esports
Boric será el nuevo presidente de Chile
JANUARY 14, 2022 ARTICLES:
Adolescente mexicana crea aplicación para traducir lengua de señas
Descubren una nueva especie de rana en la Amazonía peruana
Montgarri, el pueblo abandonado más frío de España
La banda sonora de Encanto triunfa a nivel internacional
Ortega asume el mandato presidencial
JANUARY 28, 2022 ARTICLES:
Erupción volcánica causa derrame de petróleo en Perú (Perú)
Ola de calor en América del Sur (Argentina)
La inspiradora historia de Emmanuel Donato (República Dominicana)
Tejón de miel descubre monedas del Imperio romano (España)
Senado argentino es víctima de ciberataque (Argentina)
FEBRUARY 11, 2022 ARTICLES:
Oceanógrafos chilenos descienden a la fosa de Atacama (Chile)
Aluvión en Quito deja al menos 24 muertos (Ecuador)
Casa al revés abre sus puertas en Guatavita (Colombia)
Rafael Nadal hace historia en el mundo del tenis (España)
Derriban estatua en San Juan (Puerto Rico)
FEBRUARY 25, 2022 ARTICLES:
España tiene una nueva ley de protección animal (España)
Sofía Jirau hace historia en el mundo de la moda (Puerto Rico)
Sare Cadaval gana el premio Jordi Sierra i Fabra (España)
Atletas hispanohablantes participan en los juegos de invierno (México y España)
México no deportará a dos periodistas (Cuba y México)
MARCH 11, 2022 ARTICLES:
Jennifer López y Jimmy Fallon publicarán un libro para niños (Puerto Rico y EE. UU.)
Juan Toscano hace historia en la NBA (México y EE. UU.)
El Congreso de la Ciudad de México aprueba la Ley Chancla (México)
Muchos turistas visitan Verapaz para ver las moliendas tradicionales (El Salvador)
Países hispanohablantes piden paz en Ucrania (varios)
MARCH 25, 2022 ARTICLES:
Zacua, el auto eléctrico mexicano hecho por mujeres (México)
Muere el actor Emilio Delgado (Estados Unidos y México)
Descubren nueva tortuga en las islas Galápagos (Ecuador)
Márquez recibe reconocimiento después de las elecciones (Colombia)
Chamorro es declarada culpable (Nicaragua)
APRIL 8, 2022 ARTICLES:
Nace cóndor en el Zoológico de Chapultepec (México)
Machu Picchu podría llevar el nombre equivocado (Perú)
El Puente de la Amistad cumple 57 años (Paraguay)
Colombia brilla en los premios Óscar (Colombia)
Chaves gana las elecciones generales de Costa Rica (Costa Rica)
APRIL 22, 2022 ARTICLES:
La tienda Zara más grande del mundo abre sus puertas (España)
Nació Índigo, la hija de Evaluna y Camilo (Colombia y Venezuela)
Argentina tiene la segunda mejor pizza del mundo (Argentina)
Manu Ginóbili ingresa al salón de la fama del básquetbol (Argentina)
Fertilizantes costosos en México (México)
MAY 6, 2022 ARTICLES:
La mariposa Morpho es el nuevo símbolo nacional de Costa Rica (Costa Rica)
El kawésqar, el idioma que solo hablan ocho personas (Chile)
Resort de lujo abre una nueva playa aérea en Panamá (Panamá)
Juicio por la verdad comienza en Argentina (Argentina)
El FBI devuelve artefactos a Perú (Perú)
May 20, 2022
Explosión en hotel de La Habana deja decenas de muertos (Cuba)
Murales chicanos en Colorado están en peligro de desaparecer (EE. UU.)
América Chávez, la nueva heroína latina de Marvel (México y EE. UU.)
Actualizaciones: La migración haitiana, la criptomoneda y un Guernica para Ucrania (varios)
El traductor de Google incorpora el quechua (varios)
. . . . . . . . . . . . . . . . . . .

PAST SUBSCRIPTIONS
Choose news articles from past subscriptions by topic or country to enrich any unit of study! Subscriptions include articles that touch on all AP themes and highlight various aspects of life in Spanish speaking countries.
We also encourage readers to check out the publication Las voces diversas de la diáspora, which features content amplifying the voices of Black/Afro-Latine people. It is written by Teacher Authors Kia London and A.C. Quintero!
Report this resource to TPT