ELA 7 Yearlong Curriculum, Lesson Plans, and Pacing Guide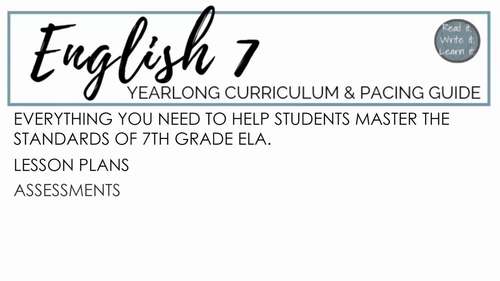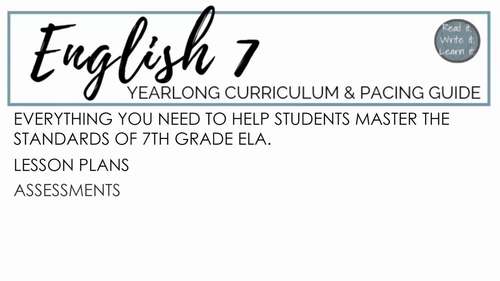 Created By
Read it Write it Learn it
Products in this Bundle (38)
showing 1-5 of 38 products
Year Long Curriculum, Pacing Guides, and Digital Links
Bundle Description

Standards
Imagine having your entire school year planned for you. This curriculum and pacing guide for 7th grade ELA includes everything you need for an entire school year of reading, writing, learning, growth, and engagement. Simply download the PDF pacing guide and yearlong curriculum, and you will have 66 digital links along with a calendar that maps out your entire school year. The yearlong curriculum and pacing guide saves you time so you can focus on enjoying reading and writing with your students, giving meaningful feedback, and building relationships.
The bundle items listed are only SOME of the items you will get with this curriculum. Even more digital links are provided in the pacing guide, including links to the following products:
ELA 7 class syllabus
Growth Mindset first days activity
Google Slides Digital Bell Ringers
Printable Bell Ringer Journal option for Reading Literature and Reading Informational Texts
A Long Walk to Water Comprehensive unit (not listed in the bundle materials--all links are provided!)
The Refugee Experience Research Project
Letters About Literature Independent Reading Unit
The Truth About Your Clothes Literature Circles
Understanding Arguments with Cesar Chavez
Garment Factories Today Research Project
Narratives as Mentor Texts Literature Circles
Passion Project for Independent Reading
Test Prep Review Sessions (3)
Master the Standards with Poetry: Four Mini-units covering over three weeks
Reader's Notes Foldables
Dictionary Dude
The Case of the Missing Poet Escape Room
Literary Devices Escape Room
Close Reading and Multiple Choice Escape Room
The Tell Tale Heart Escape Room
Character Autopsy
Grab & Go Grammar Foldables
Interactive Anchor Charts
Limerick Stations
Spread the Love Vocabulary Project
End of Year Awards
My Standards Story End of Year Assessment
Recently Added:
Proofreading List for fast feedback
RACE (RACCE) stations for short answer writing
Over 1,000 pages of high quality materials that will have your students thinking deeply about texts and writing like future authors! Every product can be used in Google Docs, Slides, and Classroom!
Log in
to see state-specific standards (only available in the US).
Acquire and use accurately a range of general academic and domain-specific words and phrases sufficient for reading, writing, speaking, and listening at the college and career readiness level; demonstrate independence in gathering vocabulary knowledge when encountering an unknown term important to comprehension or expression.
Demonstrate understanding of figurative language, word relationships, and nuances in word meanings.
Determine or clarify the meaning of unknown and multiple-meaning words and phrases by using context clues, analyzing meaningful word parts, and consulting general and specialized reference materials, as appropriate.
Apply knowledge of language to understand how language functions in different contexts, to make effective choices for meaning or style, and to comprehend more fully when reading or listening.
Demonstrate command of the conventions of standard English capitalization, punctuation, and spelling when writing.
Report this Resource to TpT