ELA Halloween or Gothic Literature Stations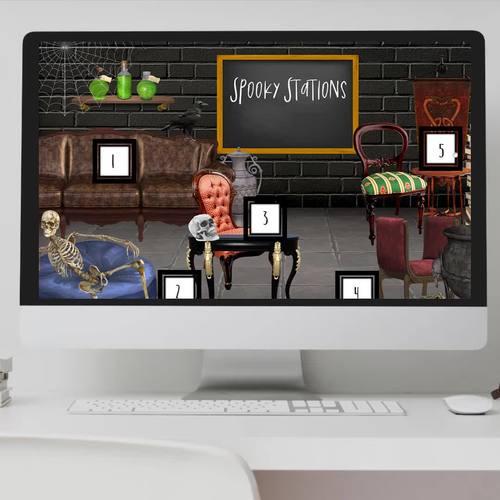 ;
Zip

Google Apps™
Includes Google Apps™
The Teacher-Author indicated this resource includes assets from Google Workspace (e.g. docs, slides, etc.).
What educators are saying
I haven't really done stations yet this year and it was a huge hit. They liked the variety and it fit in with my American Literature course really well.
My students LOVED this! Even my most reluctant workers, said this was fun, and they wanted to do more activities like this.
Also included in
Engage your ELA students during all seasons of the school year with my ELA Seasonal Activities Bundle. These activities are perfect to use with students throughout the year. Here is what is included:Back-to-School Stations: Engage students from day 1! This engaging first day of school activity is th

Price $28.00

Original Price $35.00

Save $7.00
Description
Celebrate the spookiness (and fun) of gothic literature or Halloween with your students. This engaging activity is perfect to complement your gothic literature unit or to celebrate Halloween in your secondary classroom. Your middle and high school students will analyze poetry, fiction, and nonfiction with literary lenses; role play; and discuss with these engaging activities. This activity includes an interactive digital stations option too! Best of all, the content on the slides is editable! This means you can edit the tasks to meet the needs of your students.*
*Please note the background images and titles are not editable to comply with copyright law for specific images and fonts. Only the specific student tasks are editable.
INFORMATION ABOUT EACH TASK:
Task 1 is a reader response analysis that requires students to read a poem and write a response. When you're finished with the stations, this would be a fun whole-class activity to discuss.
Task 2 guides students to read and analyze "I heard a Fly buzz-when I died" by Emily Dickinson. Students will use formal analysis techniques related to close reading, tone, and theme analysis. An answer key is included to grade or to review as a whole class after the stations are completed.
Task 3 gets students to deconstruct Frankenstein's monster to challenge their thinking about the monster's motives. Students should read the given quotation from the novel to frame their response. In this station, students are asked to role play as the monster's defense lawyer.
Task 4 is an analysis of the father of the mystery story, Edgar Allan Poe. For this task, students will watch a three-minute biography on Poe from Biography.com, so they will need at least one device for this step. The print source includes a QR code for scanning, while the digital version includes a link. Alternatively, you could print the corresponding article from biography.com and give that to students.
Task 5 is a nonfiction option about the myth of the headless horseman. Students will read an article about the historical and cultural history of the headless horseman motif. A link in provided on the slide, but if your students don't have computer access, you can print and give copies.
WHAT'S INCLUDED:
Print Stations/Tasks
Digital interactive spooky stations with built in spooky music
Editable tasks PowerPoint version for printing
Editable tasks digital option
Detailed teacher notes and directions
Teacher Answer Key
Google Form for tasks
**Check out the preview!**
Report this resource to TPT