ELA Test Prep Nonfiction Reading Escape Room Activity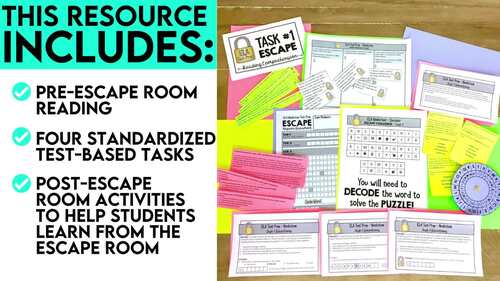 ;
What educators are saying
Test prep can be grueling for both students and teachers. This resource helped ease the pain.:) Thank you!
My students loved this - and it helped them prepare for some of the questions they will encounter on the standardized tests they are about to take.
Also included in
Help your students prepare for high-stakes tests with these engaging escape room challenges specifically designed to help students study for and prepare for state and standardized testing. This Escape Room Bundle includes THREE ELA Test Prep Escape Rooms!ELA Vocabulary Escape RoomNonfiction Reading

Price $19.99

Original Price $23.97

Save $3.98
Description
Make test-prep fun! Help prepare your students for high-stakes standardized tests with this ELA Test Prep Nonfiction Reading Escape Room Activity.
This download includes teacher directions, student directions, and all of the printable resources necessary to hold an escape activity in your classroom. There are two different nonfiction passages included in this resource: one is used during the escape room and the other is for after the escape room as a follow-up activity.
BEFORE THE ESCAPE
Give students a copy of the nonfiction reading passage before beginning the escape room. Give them time to read and annotate the passage.
DURING THE ESCAPE
Students will complete four different test prep, nonfiction reading-focused ELA tasks that rely on answering questions that mirror state testing questions, finding appropriate evidence for specific questions, determining the meaning of more challenging words, and writing an objective summary. Students should be able to complete the escape room in one 55-minute class period.
AFTER THE ESCAPE
Conclude the escape activity by reviewing the correct answers with your students. The multiple-choice question answer key comes with answer rationales so that you can explain to your students why the correct answers are correct.
After students complete the escape room challenge for the first nonfiction reading passage, there is a second nonfiction reading passage and a six-question test prep practice test to help ensure that students are better prepared for state testing.
Check out my other exciting escape room activities:
ELA Test Prep Vocabulary Escape Room Activity
Growth Mindset Escape Room Activity
Report this resource to TPT
Standards
to see state-specific standards (only available in the US).
Cite several pieces of textual evidence to support analysis of what the text says explicitly as well as inferences drawn from the text.
Determine two or more central ideas in a text and analyze their development over the course of the text; provide an objective summary of the text.
Determine the meaning of words and phrases as they are used in a text, including figurative, connotative, and technical meanings; analyze the impact of a specific word choice on meaning and tone.
Cite the textual evidence that most strongly supports an analysis of what the text says explicitly as well as inferences drawn from the text.
Determine a central idea of a text and analyze its development over the course of the text, including its relationship to supporting ideas; provide an objective summary of the text.