END OF THE YEAR ESCAPE ROOM PRINT & DIGITAL BUNDLE: THE CLASSROOM FLOOR IS LAVA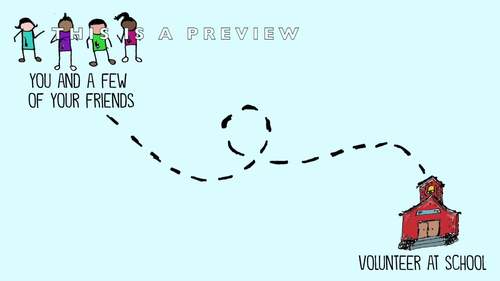 ;
Zip

Google Apps™
37 Pages | 37 Slides | 1 video
Includes Google Apps™
This bundle contains one or more resources with Google apps (e.g. docs, slides, etc.).
What educators are saying
My students love these escape rooms. We have completed the Zombie room as well as this one, and they keep asking for more. Thank you!
My students loved using this! We used it at the end of our unit. Even my most challenging students were engaged.
Products in this Bundle (2)
Description
Use this digital and print escape room team builder to help foster classroom community and improve critical thinking and problem-solving skills.
This can be used in English class as it incorporates some ELA skills (spelling, homophones, capitalization), but can also work for any other subject!
The best part is that your purchase comes with a hand-drawn video, created by the talented John Spencer, that introduces the escape room and tells the back story to hook students in. Watch a short preview of the video on this page.
HOW IT WORKS
Students watch a video that introduces the escape room back story. They are at school on the weekend preparing for the upcoming school dance when the floor cracks open and stars spewing lava. Their only chance at escaping is to get the code to the elevator that brings them to the roof, but their teacher has protected the passphrase with challenges and puzzles.
If using the print version, students use response sheets to record their answers to the puzzles/riddles as they circulate the room to different stations. If it works for your particular students, you can have them not touch the floor between the stations and use the included signs to indicate safe "lava free" spots where they can step.
If using the digital version, students can use the self-checking, password-protected file to enter the passphrase needed to escape.
INCLUDED IN YOUR PURCHASE
Detailed teacher instructions for setting up the room and facilitating the escape room
Teacher PowerPoint and Google slides to share basic instructions to students
Signs for each of the six stations for the print version
Student instructional poems / poem slides for each of the six challenges
All the print and digital / Google slides and materials students need for each challenge (spelling search, puzzle riddle, homophone reading, pictogram cards, letter puzzle, student instructional poem cards, envelopes, station markers and much more!)
Student answer sheets and slides where the group can record the words they find to the passphrase.
A password-protected PDF to enter the final passphrase.
A teacher answer key.
@prestoplans @johnspencer
The videos and resources in this resource are for single-classroom use and are not to be uploaded to an open website in any format without permission from the creators. Please contact prestoplans@gmail.com if you require more information.
CLICK HERE TO RECEIVE 10 FREE ENGLISH TEACHER RESOURCES
Total Pages
37 Pages | 37 Slides | 1 video
Report this resource to TPT
Standards
to see state-specific standards (only available in the US).
Demonstrate command of the conventions of standard English capitalization, punctuation, and spelling when writing.