ESL - Formal and Informal Language - Phrasal Verb Games - Academic Vocabulary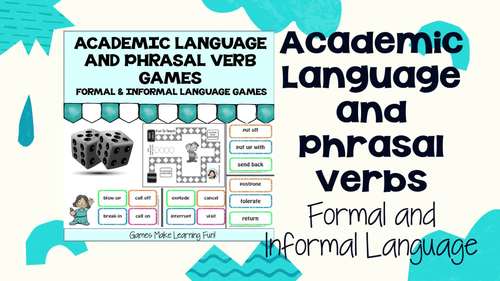 ;
Also included in
Back To School BundleAre you ready to start the new school year with 10 fun and fresh Back to School resources? If you are looking for sentence starters, word walls, games that teach, how-to on running centers, and more, then this 479-page Back to School bundle is for you! My 10 favorite resources

Price $17.00

Original Price $27.00

Save $10.00

Ready to make your ESL instruction stress-free while providing fun and engaging resources and activities? Look no further than our Intermediate ESL K-5 Bundle designed for English learners at the intermediate language levels. This ELL curriculum is designed to provide ELLs with a solid foundation in

Price $89.50

Original Price $127.90

Save $38.40

Are you looking for a bilingual English and Spanish bundle of easy-to-use verb games to put past tense verbs into practice? With over 200 pages in our Past Tense Verb Games - English & Spanish bundle, there are plenty of activities and games to engage your students, making practicing past tense

Price $19.50

Original Price $28.00

Save $8.50
Description
Are you looking for easy-to-use ways to teach formal and informal language and phrasal verbs while motivating your students with FUN verb games? Wishing your students could differentiate between academic vocabulary and phrasal verbs? If you are looking for engaging games and activities for students to practice phrasal verbs and master academic vocabulary, this resource is for you! Perfect for ESL students. Make your prep a breeze while infusing your students with fun!
The 10 academic vocabulary and phrasal verb games and activities in this resource were designed to better engage students in the study of formal and informal language. They are great hands-on academic vocabulary and phrasal verb games and grammar activities for the second, third, fourth, and fifth grades.
You say put off,
We say postpone,
You say call up,
We say phone.
See what teachers like you say about this resource:
5⭐ Extremely satisfied - I used this with a mixed ~EAL group - children from 3rd class and 6th class, which was an unusual group, but worked well together. The nature of the activities in the pack - lots of sorting and discussion and games - helped them break the ice and get to know each other quickly.
5⭐ I LOVE word work so as soon as I saw this, I was excited. The bookmark was a perfect way to help the students begin their word journey.
Meet Common Core standards and raise the academic vocabulary level of your students with this 102-page unit on Informal and Formal Academic Vocabulary - Phrasal Verbs and the corresponding Academic Vocabulary.
5⭐️ Very useful resource. Thank you.
This academic vocabulary grammar unit covers 32 different phrasal verbs and the academic vocabulary that corresponds with each one.
Phrasal verbs are verbs that contain more than one word and there are hundreds of English phrasal verbs such as: think over (consider), set up (establish), and put up with (tolerate).
This comprehensive academic vocabulary unit contains:
Phrasal Verb word wall cards in color and black & white
Academic Vocabulary word wall cards in color and black & white
game boards
Song lyrics
Teacher guides
Lesson Plans and Activities
Assessment
a variety of games and activities based on phrasal verbs and their academic language equivalents.

Since phrasal verbs are very common in oral English, their understanding is essential for communication and reading comprehension.
However, when writing formally there are two reasons we strive to use the academic or formal equivalents of phrasal verbs.
First, phrasal verbs are highly idiomatic. Formal writing uses standard English and avoids figurative language and slang.
Secondly, when writing formally in English precise vocabulary is expected. Since phrasal verbs often have multiple meanings they can be difficult to understand and impede the meaning.
Teaching your students the academic vocabulary for phrasal verbs will enlarge their vocabulary and improve their formal English writing!
Related Products
Past Tense Verb Games - Past Participle
Irregular Past Tense Verb Game
3 Sounds of 'ED' Past Tense Verb Games
Check out some of our best sellers
Kinder & 1st Grade Punctuation
Kinder & 1st Grade Sentence Starters
Irregular Past Tense Verb Game
Place Value with 3 Digit Numbers
50 Sentence Starters Back to School
Learning Centers Made Simple - Literacy Centers for Reading and Math
Three Sounds of 'ED' Past Tense Verb Games
Past Tense Verb Games - Past Participle
Multiplication 5 Minute Timed Tests Packages - Factors 0-12
Happy Teaching
Lori Wolfe
Thank you for your purchase!
Please follow me!:
•Click the green star beside my name at the top of this page OR at the top of my store page.
**Thank you so much for your purchase! If you enjoy my products, please leave feedback:
Why is feedback so important?
When you provide feedback, you'll earn TPT credits that can be used future purchases!
Getting TPT credits to use on future purchases is easy:
•Go to your My Purchases page
•Beside each purchase you'll see a Provide Feedback button
•Click it and you will be taken to a page where you can leave a quick rating and a short comment about the product.
Thanks a bunch!
Lori
Teaching Duration
Lifelong tool
Report this resource to TPT