ESL GRAMMAR SKILLS BUNDLE - 30 Jeopardy Style Digital Game Shows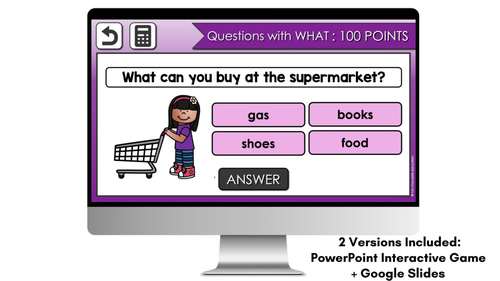 ;
Zip

Google Apps™
Each set contains 104 slides
Includes Google Apps™
This bundle contains one or more resources with Google apps (e.g. docs, slides, etc.).
What educators are saying
Great resource! My students really enjoyed reviewing these grammar points while playing for points. Thanks
My group of EL students are so engaged by these Jeopardy style games! It's such a fun way to review what they've learned.
Products in this Bundle (15)
showing 1-5 of 15 products
Description
This interactive grammar skills Jeopardy style game show bundle ($60 value) is a great way to practice and review Elementary ESL/ELL grammar concepts with your entire class. Each of the 30 games in this set focuses on a specific grammar target including Present, Past & Future Tenses and Parts of Speech.
Why are these games so effective?
Students love games. They will answer questions and earn points.
Can be played in up to 5 teams
Interactive: Students choose the point value of the question they want to answer. points are linked to 25 different questions in 5 different grammar categories.
By clicking answer, they will see the correct answer and can add points to their total.
See the video preview to see how it works!
No-Prep & Easy to Use!
Present Tenses Grammar Review
WH-Questions: What, When, Where, Who
Irregular Verbs - Past Tense
Past Tense Regular Verbs
Prepositions of Place
Sentence Building Present Simple
Sentence Building Present Continuous
Adjectives: Comparative & Superlative
Mixed Tenses
Action Verbs - Present Continuous
Pronouns
Telling Time
Forming Questions
Subject - Verb Agreement
Future Tenses
2 Digital PowerPoint Game Shows for each topic (50 questions total)
2 Google Slides Game Shows for each topic (50 questions total)
Directions for use
To use the PowerPoint game show you must have Microsoft PowerPoint installed on your computer. This game opens in PowerPoint and is designed to be played in SLIDESHOW mode. (Complete directions are included).
To use the Google Slides game show you must have a Google Drive to download the file to.
The Powerpoint version of this game has disappearing points as each question is answered. (see video preview)
IMPORTANT NOTE: The Google Slides version of this game does not have disappearing points. You will need to manually keep track of scores and used points by dragging a token over the point values that have been used.
WH Question Card Game - What, When, Where & Why
WH Question Card Game: Present Simple - How often, What time, How, Who + Adverbs
WH Question Escape Activity for ELL, EFL, ESL / Question Word Comprehension
WH Question Word Posters / Verb Tense Posters : ESL Grammar Bulletin Board
WH Question Word Posters: ESL Grammar Bulletin Board - Classroom Decor
WH question word BOOM CARDS™ – Digital Task Cards for ESL
Looking for Digital Activities? Check out Boom Cards™
Check out some other Grammar Games!
Check out some other Vocabulary Games!
Check out some Best Selling ELL Resources in $$ Saving Bundles!
Check out some of my Conversation Starters!
__________________________________________________________________
Please go to your page (you must be signed in). Next to each purchase you'll see a button. Just click it and you will be redirected to a page where you can give a rating and leave a comment for each purchase . Each time you give feedback, TPT gives you feedback credits that you use to lower the cost of your future purchases. I love hearing from you as your feedback helps me improve my resources to fit the needs of teachers all over the world!
Total Pages
Each set contains 104 slides
Report this resource to TPT