Each Kindness Bullying Prevention Friendship Empathy No Prep SEL Lesson w 3 vid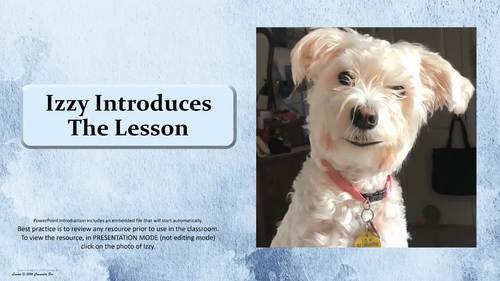 ;
What educators are saying
Huge problem with bullying this year- so I have been doing a lot of SEL activities. I used this for that purpose.
I really liked the story that went along with this lesson. I had not heard it before, but will use this each year.
Description
This READY TO USE (NO PREP) social-emotional learning lesson based on the book, covers the concepts of Kindness, Empathy, Compassion, Kind Acts Ripple Out into the World, Friendship, & Social Skills. It also addresses RELATIONAL/EMOTIONAL BULLYING. It includes 3 videos, one of which is the book being read aloud. Additionally, it includes a lesson introduction video by Izzy the Wonder Dog which you can use or delete according to your needs.
** Note ** This is one of my most favorite lessons that I have taught recently. It will grab both young kids and older kids and won't let them go until they understand the importance of kindness. It is very powerful. Every time I have used it, at the end of the lesson the classroom is dead silent. It works. Enjoy!!
This is appropriate for use with both large groups and small groups or as an individual intervention to teach your social-emotional learning (SEL) standards and benchmarks.
What a bargain! A pre-made lesson ready to teach with no prep as well as a unique template that can be used over and over! And all for less than the cost of a couple of cups of coffee!!
is an amazing book that describes the bullying behaviors of children to a new kid and the regret that they feel when they realize that they could have been kind instead of mean to her. Amazon describes it as follows:
"This unforgettable book is written and illustrated by the award-winning team that created The Other Side and the Caldecott Honor winner Coming On Home Soon. With its powerful anti-bullying message and striking art, it will resonate with readers long after they've put it down.Chloe and her friends won't play with the new girl, Maya. Every time Maya tries to join Chloe and her friends, they reject her. Eventually, Maya stops coming to school. When Chloe's teacher gives a lesson about how even small acts of kindness can change the world, Chloe is stung by the lost opportunity for friendship, and thinks about how much better it could have been if she'd shown a little kindness toward Maya."
This READY TO USE (NO PREP) social-emotional learning lesson based on the book, incorporates 3 different videos relating to kindness versus being mean, how bullying behaviors impact others, and introduces the concept of "Paying It Forward" with acts of kindness. One of the videos is of the book being read aloud.
The first video is about how a simple act of kindness comes back to you and ripples out into the world. The second is a video of the book, , being read aloud. The third is a link to a video illustrating paying it forward and how it impacts the whole world.
Comprehension questions are included to help you to lead the students to a clear understanding of the message of the book.
This lesson can be edited to make it fit your exact needs. The beauty of being able to personalize this lesson for yourself is that it is easily adapted to teach different levels at the elementary level or even older. All of my lessons and forms are field-tested. I have used them myself and have been successful with them.
The videos and activity support the concepts and help students to generalize them into their own lives and experiences. These videos are thought-provoking and entertaining ways to think about this very important concept and how it relates to being successful both now and in the future. I have found that videos are very effective in helping students to create an emotional link to the abstract concepts that character education involves. Coupled with discussions in which you can assist students to make the connection, it is an easy and effective way to teach these difficult concepts and assist students to internalize them into their own personalities.

This presentation includes slides that have transitions and animations to help to hold your students' interest. It is easily personalized and customized and includes a master slide that you can copy and paste into the location where additional information or personalization is desired.

Character education is vital to the success of our students. Employers report that the qualities for which they are looking when hiring include the "soft skills" that are character education. As educators, we are called to support learning in the character education and social skills areas in order to educate the whole child.
Websites and videos are NOT embedded but are links. I do not own them or control them, so if there is a problem with a broken link or something else, please let me know so that I can repair, replace, or fix the presentation for you. Anytime you have technology incorporated, you risk having related issues.
I appreciate communication so that I can provide the best possible service for you. In the event that a link does not work, please contact me via the "QUESTIONS" page or can email me directly at CounselorBevsStore@gmail.com , and I will do my best to remedy the situation for you!! I want to provide the best possible product for your use.
**NOTE*** links do not work in editing mode in PowerPoint. They are only active in presentation mode. Please be aware of this. Embedded videos will work in both editing and presentation mode in PowerPoint.
**NOTE** If you are using a Chromebook and/or Google slides, some functions are lost, but the lesson should still present well. If embedded videos do not start for you, click on the word-based link, "CLICK HERE" or the screenshot of the page to start the video. After uploading to your Google Drive, click the file and then open it as a Google Slide. I have included word-based links, QR codes, as well as video-based links in case you have difficulty getting videos to play.
As always, if there is a lesson that you need to have created specifically for your needs, please let me know. I am happy to listen to your ideas to extend the coverage of all ASCA Counseling Standards & Benchmarks. Just let me know your ideas, and I will do the work for you!
You have purchased a single license for this resource. You may use this resource individually in your practice, classroom, or school in whatever manner you wish. However, re-distribution of this resource in any way or use of it by anyone who is not the license holder is a violation of copyright and is against the law. If others are interested in this resource, please purchase an additional license or direct them to my Teachers Pay Teachers store.
Please play fair. This is intended for single classroom use only and should not be distributed or published without written permission from Counselor Bev. Lesson copyright 2016 & worksheet copyright 2021 & PowerPoint template Copyright 2019 Counselor Bev.
Teaching Duration
45 minutes
Report this resource to TPT