Early Explorers Timeline | European Explorers Activities | DIGITAL and PRINTABLE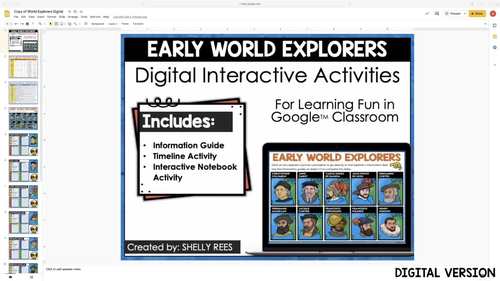 ;
Zip

Google Apps™
Includes Google Apps™
The Teacher-Author indicated this resource includes assets from Google Workspace (e.g. docs, slides, etc.).
What educators are saying
I am a Homeschool Educator and my 4th grader loved this resource. It was a great way to learn about explorers.
Used as a graphic organizer for research about the Early European explorers of the Western Hemisphere.
Also included in
Social Studies Class will be your students' favorite time of the day with this popular, engaging bundle of activities, including foldables, timelines, mini books, bulletin boards, and more! The hands-on units in this bundle will help your students learn and understand the events and concepts of Amer

Price $59.95

Original Price $79.00

Save $19.05
Description
Your students will enjoy learning about the Early Explorers of the World with this factual, interactive packet. This hands-on approach of this complete packet will help your students learn and understand the contributions and discoveries of the Early Explorers, such as Henry Hudson, Christopher Columbus, and more!
Click the PREVIEW button above to take a closer look at everything included!
Watch the video by clicking the play button above to see all the great components of the digital version of this resource!
Click here and SAVE 20% by buying ALL 15 Social Studies Interactive Notebooks and Mini Units in one Year-Long Bundle.
This resource includes both a printable version AND a digital version. The digital version is on Google Slides and is perfect for distance learning, independent work, centers, and more!
The hands-on, engaging packet has 4 components:
• Interactive Notebook Foldables: Printable mini file folders for each of the 10 explorers included in this unit. Each mini file folder has areas to write personal information, goals, and discoveries of the named explorer.
• Timeline Activity: Students will enjoy creating this explorer timeline to gain a better understanding of the early explorers.
• Information Guide: Students can use the information guide and interesting fact sheet to help complete the interactive notebooks and learn about the explorers.
• Bulletin Board Display: Includes bulletin board header, illustrated explorer flaps, information boxes, and photo directions. The interactive flaps on this bulletin board set make students interested and engaged in learning. Add the students' timelines to the board!
The packet also includes a teacher-direction sheet with photo examples of the projects in use in the classroom. It is very clear and easy-to-use; basically just print and go! My students loved these activities; I think yours will, too!
These explorers are included in this unit:
• Christopher Columbus
• John Cabot
• Vasco Nunez de Balboa
• Juan Ponce de Leon
• Hernando Cortes
• Ferdinand Magellan
• Jacques Cartier
• Fransisco Coronado
• Fransisco Pizarro
• Henry Hudson
You may also be interested in these other helpful Social Studies Interactive Notebooks and Mini Units:
Maps, Continents, and Landforms
Colonial America - Jobs and Trades
The Civil War - Events Leading to the War
Elections and the Voting Process
Don't forget that leaving feedback earns you points toward FREE TPT purchases. I love that feedback!
Also, FOLLOW ME and be notified when new products are uploaded. New products are always 50% off for the first 24 hours they are posted. It pays to follow me!
As always, please contact me with any questions!
Thank you,
Shelly Rees
Report this resource to TPT