Early Finishers Activities | Task Cards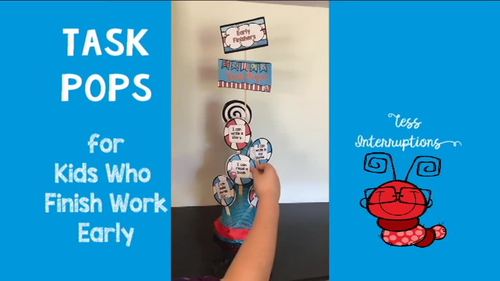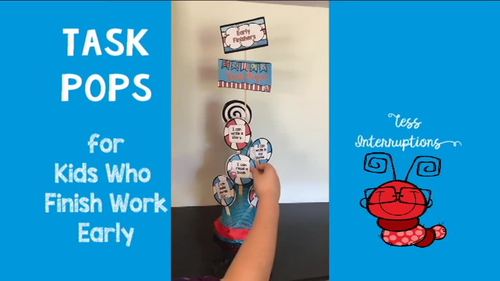 Created By
Teacher's Brain - Cindy Martin
You can add an interactive layer to this PDF and assign it to your students through Google Classroom.
Learn more
Product Description
It can be a challenge to find students something to do when they finish their work early. I have you covered with these fun Task Pops! Reduce interruptions and keep students on task and engaged in their own learning!
Prevent the dreaded question: "What do I do when I'm done..."
●●●●●●●●●●●●●●●●●●●●●●●●●●●●●●●●●●●●●●●●●●●●●●●●●●●●
Check out the Early Finishers Task Pops VIDEO
✤This download includes:✤
❀ Cover Page
❀ Labels for Display Holder
❀ Directions
❀ Task Pops Rules Poster
❀ Step by Step Directions with PICTURES on how to put the holder together. (YOU can just put the Pops in a cup or can, if you are not crafty. :) )
❀ 9 Blue Task Pops with Picture Cues
❀ 9 Red Task Pops without Picture Cues (to differentiate)
❀ 3 Blank Blue Task Pops
❀ 3 Blank Red Task Pops (to add any task you need for your students)
❀ Task Pops Early Finishers Recording Sheet
❀ Credits Page
**************************LOOK at the PREVIEW***********************
●●●●●●●●●●●●●●●●●●●●●●●●●●●●●●●●●●●●●●●●●●●●●●●●●●●●
Copyright © 2017 Cindy Martin (Teacher's Brain)
All rights reserved by author.
How to get TPT credit to use on future purchases:
• Please go to your My Purchases page (you may need to login). Beside each purchase you'll see a Provide Feedback button. Simply click it and you will be taken to a page where you can give a quick rating and leave a short comment for the product. Each time you give feedback, TPT gives you feedback credits that you use to lower the cost of your future purchases. I value your feedback greatly as it helps me determine which products are most valuable for your classroom so I can create more for you. ☺
Be the first to know about my new discounts, freebies and product launches:
• Look for the green star next to my store logo and click it to become a follower. Voila! You will now receive email updates about this store.
☺ First 24 HOURS of new products over $1 are ½ off!
➤Follow my Teacher's Brain BLOG
Answer Key
Does not apply
Teaching Duration
Lifelong tool
Report this Resource to TpT