Earn Your Bricks Toy Companion BUNDLE: A Speech Therapy Activity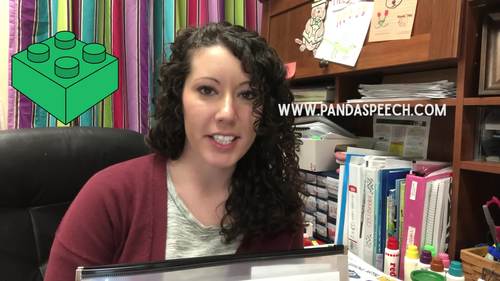 ;
What educators are saying
My students love this activity. It is such a fun and engaging way to target out speech goals. You can't go wrong with legos!
This has been such a fun and engaging resource to add to my speech and language kit, especially for small group work with students with differing goals.
Products in this Bundle (2)
Description
First practice then build! Do you need a super fun activity to keep your articulation and language students engaged? This activity will do the trick! I use this with k-5th (depending on skill level). Even my older students enjoy it! I designed this to meet the needs of an elementary caseload, please see below the targets it includes
Toy Companion- Common Language and Articulation Targets (building brick toys not included with purchase)
.
⭐ This product is a bundle of the following products (do not buy this if you own one of these products).
►Earn Your Bricks Articulation
Materials Needed: Earn Your Bricks Mat, Building Brick Toys
(toys are not included with this download, must be purchased separately).
Optional Assembly: You can laminate the mats for continued use or place them in page protectors if desired. You can use them as a print-and-go activity and let the students take them home after the session.
To use: Line up any building bricks over the bricks on the mat, the pieces do not have to match. I suggest placing several small pieces over one target. Each time the student practices a target, they earn the brick(s). At the end of the round, they earn a few minutes to build whatever they want with the bricks! You could also let them start building between turns if you are in a group to keep their hands busy! You can repeat the activity as many times as you want to earn more bricks and to get more practice. This activity is highly motivating for many students.
What's Included in the articulation version (color and black & white mats)
•Initial/final: p, b, m
•final: n, t, d
•initial/medial/final: k, g, f, v, l, s, z, ch, j, th, sh
•pre-vocalic r; vocalic r (er, ar, or, air, ear, ire)
•rblends, lblends, sblends
(separate mats for sp, st, sm, sn, sk, sl, sw, mixed).
•blank mats to be used open-ended
What's Included in the language version (each skill has two mats, color and black & white)
• Categories: There are three types of category mats included: Name items in a Category, Name the Category, & Which One Doesn't Belong (I have my students tell how the other two items are alike)
• Compare/Contrast: The student is prompted to tell how two items are the same (alike) and how they are different. There are pictures as visual aids on the mats.
• WH-Questions: There are separate mats for what, where, when, who, why, and how questions. There is also a mat for mixed wh-questions. The student is prompted to answer basic, functional wh-questions.
• Vocabulary: These mats give a definition or description and the student has to name the vocabulary word. Please note, I used functional vocabulary words.
• Associations: The student has to fill in the missing word to an association close phrase "a shoe goes with a _____" I take any logical association (answers may vary among students).
• Define: The student will define the word. There are visual cues on the top of the page.
• Antonyms: The student is asked to name the antonym of the given word/picture.
• Synonyms: The student is asked to name the synonym of the given word/picture.
• Regular & Irregular Past Tense Verbs: The student is provided with a present progressive phrase (Today he is…) and prompted to say the regular/irregular past tense with a cloze phrase (Yesterday he…)
• Regular/Irregular Plurals: The student is shown the singular picture and then a plural picture and prompted to fill in the close phrase with the regular/irregular plural. (Here is one ___, here are three___).
• -ing Verbs- The student will say what each person is doing in the picture.
• Multiple Meaning Words: The student is prompted to name two meanings of the given word.
• Fix the Sentence (subject/verb agreement and absurdities)
• Simple following Directions (1-3 steps)
• Simple Defining
• Simple Describing
• Idioms: The literal representation is on the block. The student is prompted to tell what the idiom really means.
• Blank mat to write you own targets on!
Variations:
*Use play dough to smash over the bricks on the mat (I like to use a brick to make indentions in the play dough (see the examples page for a picture of this).
*Use bingo chips to place over the circles.
*Use a bingo dotter with the black & white version
The articulation version is also available in Spanish
•Earn Your Bricks Español! A Speech Therapy Toy Companion
You may also like these toy companions available in my store:
Frog Launching Pad (articulation and language)
Check out My Blocks Products (companions for the game for popular tumbling tower games)
My other game companions
Climb it & Slide, Articulation companion for Chutes and Ladders
4 to Score, Articulation Companion for Connect Four
Check out Speech-Zee (a companion for YahtzeeTM)
Looking for more engaging products?
Artic Swat Bundle! Squish or Swat flies while practicing phonemes!
Anytime Articulation and Language (targets you need ANYTIME)
Report this resource to TPT