Earth Day Reading Challenge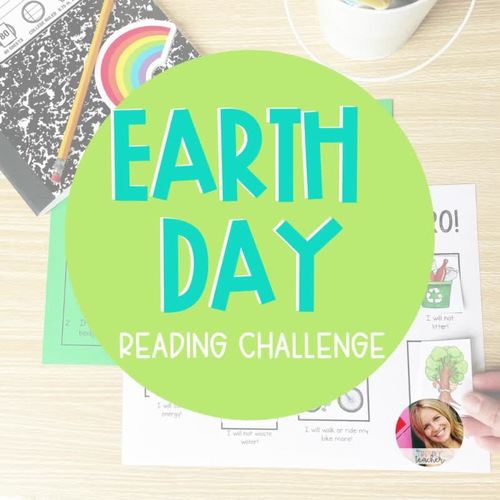 ;
PDF

Google Apps™
18 plus a Google Drive version and the badges
Includes Google Apps™
The Teacher-Author indicated this resource includes assets from Google Workspace (e.g. docs, slides, etc.).
What educators are saying
This was a great resource to keep students engaged in their reading, while bringing in real-world applications. Thanks for creating!
My 4th graders loved doing this on Earth Day! I enjoyed that it kept them engaged. It challenged my lower level readers, but my on level and above level students had a blast!
Also included in
Monthly engaging and rigorous challenges for students to practice their reading and writing skills. Students practice theme, main idea and detail, compare and contrast, context clues, inferencing, point of view, text structure, text features, character traits, and literal/nonliteral meanings. Why wi

Price $19.99

Original Price $36.24

Save $16.25
Description
The students will practice theme, comparing and contrasting, main idea, context clues, inferencing, literal and nonliteral language, text structure and point of view in this ENGAGING Earth Day challenge.
The students will go through a series of eight challenges. Each challenge will require them to complete a reading activity. When they complete the reading activity they will also complete an Earth Saving activity (for example, picking up litter). Each activity will earn them a badge. At the end they will be deemed Earth-Saving Superheroes and receive a prize of your choosing!
Why will these challenges help your students grow?
Engagement- Students will be engaged from the beginning to the end of the challenges. They won't even realize how hard they are working and how much they are learning about hard skills!
Rigor- These challenges are HIGH LEVEL and make students really think about the text. They also work on many reading skills.
Low Prep- You can just print and do the challenge or you can go all out and transform your room! It truly is up to you! This challenge is also done all on SCRAP paper! So, no copying for you!
What's Included?
A Google Drive and Paper Version of the Following:
Each challenge has a reading or writing component to it, as well as an earth day component.
Challenge 1:
Read a passage and then identify the main idea with supporting details on a tree they draw. When they are done they find a piece of paper in their desk or locker to recycle and earn the recycling badge.
Challenge 2:
Read several different literal or nonliteral statements. Determine if they are literal or nonliteral and explain the meaning. Then, eat a whole piece of fruit (something small like a carrot or grape) and earn their food saving badge.
Challenge 3:
Read a newspaper and identify the meaning of the bolded words using context clues. Then, find a way to save energy and put a sticky note reminder for other students to earn their energy saving badge.
Challenge 4:
Read a short story. Then, visualize the story, identify character traits, and find proof for the traits. Then, wash their hands practicing good water saving techniques to earn their water saving badge.
Challenge 5:
Read a short story. Identify the theme and proof of the theme in a poster format. Then, find a piece of litter and throw it away to earn their littering badge.
Challenge 6:
Look at pictures and make inferences on what will happen next. Then, use their captions to identify their text structure. Then, walk to a designated spot and pledge to walk more to earn their walking and bicycling badge.
Challenge 7:
Look at two different situations and identify the point of view they are in. Then, create your own situation in a designated point of view. Then, take a piece of trash and make something out of it to earn their reusing badge.
Challenge 8:
Make two posters about how to save the planet. One with a picture that focuses on point of view and character traits and one with a paragraph that explains how to save the planet. This will earn them their spread the word badge.
After completing the challenge they earn their badge and go to the next. The challenges are checked by you (answer key provided). They do not have to do the challenges in order. When they are done I set up a special Earth Day spot with books, Earth Day games, and anything fun! When they win you could give them the sign to wear on their backs saying they are an Earth Day superhero, allow them to wear capes for the day, or just let them have an extra recess!
What are others saying?!
>>>HEAD HERE FOR A WHOLE YEAR OF CHALLENGES<<<
I loved doing mini-transformations each month that would engage my kiddos, but I wanted it to be easy to prep. I also wanted the challenge to be very rigorous, so that my students were working very hard during a time that they were also engaged. Lastly, I wanted to make sure we were reviewing and assessing skills monthly. That is where these challenges came into play. Now each month we practice skills, I get a small assessment in, we are SO engaged, we make memories, and we challenges ourselves! I hope you can too!
Much Love,
Hannah
The Friendly Teacher
Total Pages
18 plus a Google Drive version and the badges
Report this resource to TPT
Standards
to see state-specific standards (only available in the US).
Ask and answer questions to demonstrate understanding of a text, referring explicitly to the text as the basis for the answers.
Recount stories, including fables, folktales, and myths from diverse cultures; determine the central message, lesson, or moral and explain how it is conveyed through key details in the text.
Describe characters in a story (e.g., their traits, motivations, or feelings) and explain how their actions contribute to the sequence of events.
Determine the meaning of words and phrases as they are used in a text, distinguishing literal from nonliteral language.
Refer to parts of stories, dramas, and poems when writing or speaking about a text, using terms such as chapter, scene, and stanza; describe how each successive part builds on earlier sections.