Earth Day STEM Activities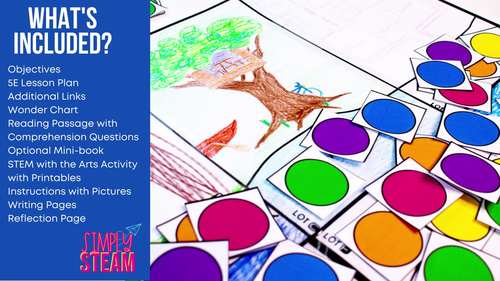 ;
Also included in
Go full STEAM ahead with this year-long bundle! Foster the five c's in your classroom. This includes creativity, collaboration, communication, citizenship, and critical thinking. Your students will love learning about relevant content. This STEM bundle (or STEAM bundle) is helpful for STEM/STEAM Fri

Price $59.97

Original Price $116.24

Save $56.27
Description
Looking for a fun addition to your Earth Day STEM Activities? This STEM with the Arts lesson is super engaging and will keep your students thinking. Students create their own dream home and then discover how much pollution they causing!
Objectives
5E Lesson Plan
Additional Links
Wonder Chart
Reading Passage with Comprehension Questions
Optional Mini-book
STEM with the Arts Activity with Printables
Measurement and Data Papers
Instructions with Pictures
Writing Pages
Reflection Page
In this lesson, students are given an unlimited amount of money and a plot of waterfront property.
Students will create their dream home on their property.
Next, the teacher will explain how each property is producing pollution by marking each property with pollution dots (pictured to the right). These dots represent the different types of pollution.
Finally, students will get to reimagine their waterfront property by creating a second dream home.
scissors
crayons or markers
pencil
tape
Understand how humans can negatively and positively affect the environment
Recognize influential leaders who established Earth Day
Explain how people can reduce pollution.
Identify different types of pollution.
Let's get connected! Click the STAR to receive notifications whenever I post new resources for 50% off AND my monthly newsletters! Get even more tips, FREEBIES, and coaching from Simply STEAM on social media!
Report this resource to TPT
Standards
to see state-specific standards (only available in the US).
Classify objects into given categories; count the numbers of objects in each category and sort the categories by count.
Organize, represent, and interpret data with up to three categories; ask and answer questions about the total number of data points, how many in each category, and how many more or less are in one category than in another.
Draw a picture graph and a bar graph (with single-unit scale) to represent a data set with up to four categories. Solve simple put-together, take-apart, and compare problems using information presented in a bar graph.
Draw a scaled picture graph and a scaled bar graph to represent a data set with several categories. Solve one- and two-step "how many more" and "how many less" problems using information presented in scaled bar graphs. For example, draw a bar graph in which each square in the bar graph might represent 5 pets.
Actively engage in group reading activities with purpose and understanding.