Earth-Moon-Sun System Reading Passage and Cut-and-Glue Digital and Printable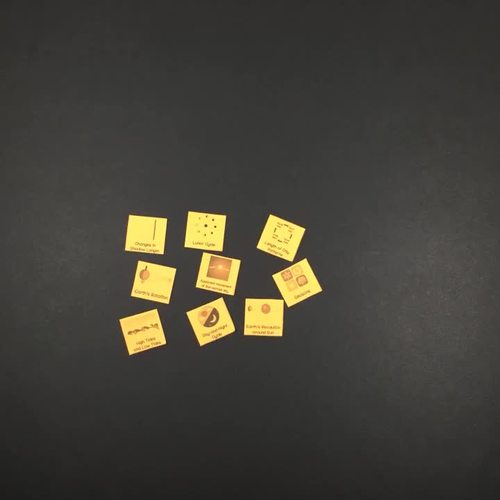 ;
PDF

Google Apps™
Includes Google Apps™
The Teacher-Author indicated this resource includes assets from Google Workspace (e.g. docs, slides, etc.).
What educators are saying
I left this for my students to complete when I had a sub after we had already covered this information in class. The students all completed the work. The sub reported that it went well.
My students loved it!!! This resource helped the students review. I was able to use in my multi grade level classroom to help all students understand concepts and review for state testing.
Also included in
Looking for engaging ways to help students with rotation and revolution? This bundle of activities gives multiple methods for students to learn and apply this challenging content related to the patterns we observe in the Earth-Moon-Sun system. Students can read about it using the reading passage and

Price $15.40

Original Price $19.25

Save $3.85
Description
Need a way to teach or review patterns observed due to rotation and revolution? This reading passage helps students understand the components of the Sun-Earth-Moon system and how those components interact with one another and how their movements impact phenomenon on Earth. The reading passage covers the concepts of rotation and revolution within the Sun-Earth-Moon system and the daily, monthly and yearly patterns observed as a result of those movements.
After the students finish the reading passage, they can demonstrate what they know using the student page "Patterns We Can Observe." Students will cut out different examples, such as changes in shadow length or the lunar cycle, and determine if they are daily, monthly, or yearly patterns. They can then glue the pattern in the correct part of the graphic organizer.
Big idea: Our everyday life on Earth is dependent on our relationship with the sun and moon. The interactions between Earth, Sun, and Moon dictate many cycles we experience, such as day-night cycle, seasons, and the lunar cycle. In addition, the Sun is the foundation for the cycling of matter and energy that occurs here on Earth.
What's Included in This Product
All pages in both printable versions and Google Slides versions
"Movements of Sun, Earth, and Moon" Reading Passage
"Patterns We Can Observe" Cut-and-Glue Student Page
Instructional Write-up
Other Products You May Like
Patterns Caused by Rotation and Revolution in the Earth-Moon-Sun System Foldable
Earth-Moon-Sun System Interactive Diagram Activity (Rotation and Revolution)
Connect with Think Big Learning
For how-to videos, freebies, and other great ideas:
Like us on Facebook
Follow us on Instagram
Pin with us on Pinterest
Check out our Think Big Learning TpT store
Click the "Follow Me" button next to our store logo/name to receive notification of new products we post as well as sales.
Terms of Use
By purchasing this file, you agree to the following terms. All rights reserved by author. This product is to be used by the original downloader only for personal or classroom use only. Copying for more than one teacher, classroom, department, school, or school system is prohibited. This product may not be distributed or displayed digitally for public view. All graphics and fonts are also protected by copyright from their original author/artist.
Standards
NGSS
Core Disciplinary Ideas
• ESS1.B: Earth and the Solar System
o This model of the solar system can explain eclipses of the Sun and the moon. Earth's spin axis is fixed in direction over the short-term but tilted relative to its orbit around the Sun. The seasons are a result of that tilt and are caused by the differential intensity of sunlight on different areas of Earth across the year (MS-ESS1-1)
• ESS1.B: Earth and the Solar System
o The orbits of Earth around the Sun and of the moon around Earth, together with the rotation of Earth about an axis between its North and South poles, cause observable patterns. These include day and night; daily changes in the length and direction of shadows; and different positions of the Sun, moon, and stars at different times of the day, month, and year. (5-ESS1-2)
Crosscutting Concepts: Patterns, Cause and Effect, Scale, Proportion, and Quantity, Systems and System Models, Energy and Matter
Common Core State Standards
CCSS.ELA-LITERACY.SL.1, CCSS.ELA-LITERACY.W.2, CCSS.ELA-LITERACY.RI.4
Science Texas Essential Knowledge and Sills (TEKS)
5.8CD – TSIET demonstrate that Earth rotates on its axis once approximately every 24 hours causing the day/night cycle and the apparent movement of the Sun across the sky; and compare the physical characteristics of the Sun, Earth, and Moon.
8.7A – TSIET model and illustrate how the tilted Earth rotates on its axis, causing day and night, and revolves around the Sun causing changes in seasons;
Keywords
Sun, Earth, moon, rotation, revolution, day-night cycle, seasons, lunar cycle, tilted axis, patterns, cycles, reading comprehension, expository text, non-fiction
Report this resource to TPT
Standards
to see state-specific standards (only available in the US).
Represent data in graphical displays to reveal patterns of daily changes in length and direction of shadows, day and night, and the seasonal appearance of some stars in the night sky. Examples of patterns could include the position and motion of Earth with respect to the sun and selected stars that are visible only in particular months. Assessment does not include causes of seasons.