Earth Science: Earthquakes, Volcanoes, Weathering and Erosion, Earth's Layers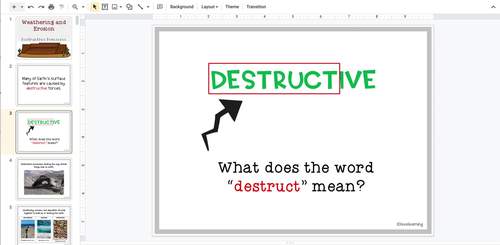 ;
Zip

Google Apps™
3 PowerPoint Lessons and 20 PDF Files with links to the Digital Versions
Includes Google Apps™
The Teacher-Author indicated this resource includes assets from Google Workspace (e.g. docs, slides, etc.).
What educators are saying
Love this! I love that there is a suggestion for pacing the lessons. It gives students information and has quick checks throughout. The videos embedded keep students interest.
LOVE LOVE LOVE these files. Everything to teach the unit is included and matches the standards perfectly!
Also included in
This complete science bundle includes Life Science, Physical Science, and Earth Science Units. It is the perfect resource to use when teachings students topics like weathering, erosion, and deposition, cells, inherited traits, electricity, and magnetism. 1. Life Science Bundle (Digital and Printable

Price $90.00

Original Price $106.00

Save $16.00
Description
This Earth Science Unit is the perfect way to teach constructive and destructive forces to your students! The lessons include everything you need to teach about weathering, erosion, and deposition, layers of the Earth, and earthquakes and volcanoes. It also includes information about Controlling constructive and destructive forces through methods like dams and levees.
I have successfully used this unit with my fifth graders for years now and can you that they absolutely love all of the lessons and are actively engaged throughout the unit.
Constructive and Destructive Forces
Layers of the Earth
Tectonic Plates
Convergent, Divergent, and Transform Boundaries
Earthquakes, Volcanoes, and Tsunamis
Weathering, Erosion, and Deposition
Cave Formation
Deltas, Floodplains, and Beaches
Controlling Weathering, Erosion, and Deposition
Dams, Levees, Storm Drains
Beach Reclamation
Contour Plowing and Terracing
GIS Mapping and Satellite Imagery
Unit Plan Suggestions with a Guided Video Explanation of the Unit
Layers of the Earth WebQuest and Craftivity
Earthquakes and Volcanoes Graphic Organizer
Earth Science Write and Draw Activities (3 pages)
2 Different Video Question Sheets (links included in lessons)
Weathering, Erosion, and Deposition Lab Activity
Most items are available individually, so you can click on the item to analyze it further.
ALL items come with a digital version for Google Classroom™ except the Interactive Notebook and the Craftivity
You will receive any future updates and add-ons for free.
The PowerPoint Lessons are not editable in order to protect my work and follow copyright restrictions of the content and images displayed. You can; however, add additional slides with information if needed.
The bundle saves you $$$ versus buying the products individually!
**************************************************************************
Check out some other great science lessons:
• Science Interactive Notebook Bundle
• Classification of Animals and Plants
• Inherited Traits, Genes, and Learned Behaviors
• Matter and its Properties Bundle
• Year Long Science Bundle Also Available!
**************************************************************************
Total Pages
3 PowerPoint Lessons and 20 PDF Files with links to the Digital Versions
Teaching Duration
3 Weeks
Report this resource to TPT