Earthquakes BUNDLE - Activities - Notes - Worksheets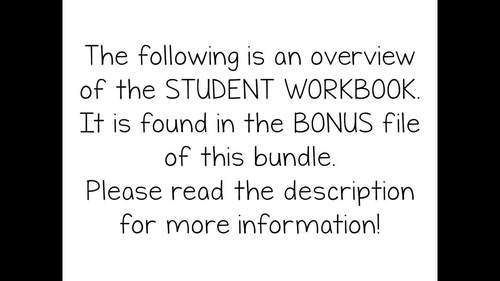 ;
What educators are saying
Students loved this unit! All were engaged. User friendly - workbook was AWESOME! Another great product from CrazyScienceLady!
Products in this Bundle (8)
showing 1-5 of 8 products
Bonus
Earthquakes: Order of Use and Editable Test Bonus Materials
Also included in
I am so excited to be able to offer my complete Earth Science Curriculum! This curriculum comes with a workbook for each unit EXCEPT weather. Weather is included, but I don't use a workbook for weather. This is a FULL YEAR CURRICULUM. The following units are included. I've linked each unit to its bu

Price $220.00

Original Price $301.25

Save $81.25
Description
Earthquakes: This is a complete UNIT bundle on Earthquakes and comes with a Student Workbook. Students will model types of faults, find the epicenter, create a presentation on earthquakes, and more! Notes, activities, worksheets, review, it's ALL here!
These resources will take an estimated 15-18 class periods, depending on class length, class size, and instructor differences.
The workbook is 26 student pages and is a compilation of ALL the student pages in this bundle, with ADDED checkpoints!! The workbook is NOT offered separately, because many activities included are dependent upon other resources found within the bundle. The workbook also includes 5 pages of student checkpoints to be used as: review, bell-ringers/warm-ups, homework, or for early finishers. Key included. Editable test included.
Earthquake Introduction: Print and go introduction to earthquakes, types of faults, where and why they occur. Ready to introduce earthquakes and need something detailed, to the point, and on middle school level? This is the perfect introduction to earthquakes!
This resource contains 5 student pages. (The 6th page is an answer key).
Page 1: Reading that relates plate tectonics to earthquakes. Terms introduced: elastic limit, fault. This is written at a middle school reading level, in terms that students can understand and relate to. Read an introduction to your students, and encourage highlighting.
Page 2: Basic earthquake vocabulary: fault line, focus, fault scarp, fault trace, seismic waves, epicenter. I go over the vocab and draw it on the board.
Page 3: Read through types of faults, and the forces that cause them. If you have one, use a slinky and/or a large piece of elastic while reading to demo compression and tension. If not, have two students press their hands together, then hold onto each other wrists and (gently) pull.
Page 4: Color the parts of an earthquake and answer application questions about the type of fault.
Page 5 is a review of types of faults. You can use this for homework or as a warm-up. My students love this puzzle!
Add a new, super fun activity for introducing or reviewing types of faults. You will need modeling/crafting dough. I find that 3 regular sized containers is enough for 5 groups. I usually have 2 or 3 students in a group. Some mixing of colors in inevitable, but I find that my dough lasts for all my classes (3 uses with minimal mixing, and that's with 7th graders). My students loved this activity. I used it the day after introducing faults and the types of forces that cause them. Feel free to leave a question if you have one! 2 student pages, 2 pages of teacher answer keys with pictures to guide you. Enjoy!
Seismic Waves: Teaching types of seismic waves? This resource contains a reading on types of seismic waves including body waves ( p waves and s waves) and surface waves (love waves and Rayleigh waves). These are all introduced in the simplest terms. A graphic organizer in included to draw pictures and record information on types of waves. Students WILL need guidance in discerning differences and what to record. The graphic organizer provided would easily fit and work well in an interactive notebook.
*Just added: Traditional graphic organizer for non-interactive notebooks. This resource now contains: reading, INB foldable, two additional graphic organizers. All student pages shown in preview.*
⭐Earthquakes: Finding the Epicenter
Your students will feel like seismologists as they use p-wave and s-wave arrival times AND triangulation to locate the epicenter of an earthquake!!
Follow up questions included. THEN, there is a second earthquake in the same state! For homework, have students practice what they did in class and find the second epicenter. All answer keys included. Enjoy!
Earthquake Poster Project: Print and go. This resource was created for use in a middle school earth science classroom. After introducing earthquakes, types of faults, and seismic waves, I thought I needed to change the pace in my classroom. Out of that came this project: students work in whatever size groups you choose (I do groups of 2 and 3) and create a poster. Poster topics include: Richter Scale, Tsunamis, California Earthquake of 1906, Japan Earthquake of 2011, Liquefaction (mudslides and landslides), and the prefix Seismo-. Posters are to include: 3 visuals, explanations to questions (provided), "Top 3," and a presentation.
A rubric is included!
Give 3 days of class time to work and one period for presentations. Grade projects as they present! A great way to introduce final topics for earthquakes and provide some variety in class activities.
⭐Earthquakes: PPT and Notes on Terminology
Earthquakes: Print-and-go resource for teaching earthquake related terminology. This resource contains a 22-slide PPT and 2 pages of student correlated notes. The function of this resource is to introduce/go over the following terms: seismogram/ seismograph, Richter Scale, triangulation, tsunami, and liquefaction. Student notes contain diagrams: see preview, all student pages shown.
The student notes pages are provided both with blanks, and filled in. The filled in version is provided for students who are absent or those who have needs.
The words that go in the blanks are underlined in the presentation. This resource fits in perfectly with my other earthquake resources.
Earthquake Sorting Cards: This resource contains a total of 48 earthquake sorting cards that cover the earthquake topics of types of faults, types of seismic waves, and other earthquake terminology. Use these as warm ups or review, or as a formative assessment. This is one of my favorite activities because it allows students the freedom of paper and pencil, forces student involvement, and gives me a great visual of what my students are grasping.
Earthquake Task Cards: Print and go. This resource contains 28 earthquake review task cards with a key. Concepts included: types of faults and the forces that cause them, types of seismic waves, focus, epicenter, seismograph, seismogram, Richter scale, tsunamis, triangulation, foot wall, hanging wall, and other basic terms.
Most cards contain images or diagrams, with minimal color. Print and laminate for years of use. Great for review, or station work.
Enjoy teaching again!!
CrazyScienceLady
Teaching Duration
1 month
Report this resource to TPT