Easter ESCAPE ROOM - Reading Comprehension - Traditions Around the World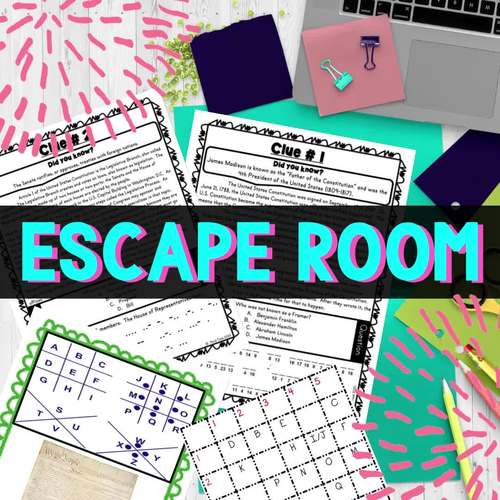 ;
What educators are saying
This was a fun activity for students to work through on the last day before Easter break. It was challenging but also engaging.
Also included in
The Holiday Escape Rooms bundle has you covered for the entire year! Each escape room will take students on a mission around the classroom, reading comprehension passages, decoding puzzles and answering questions! Are you always looking for the perfect Christmas activity to keep your kids entertaine

Price $91.80

Original Price $114.75

Save $22.95
Description
The Easter Escape Room will take students on a secret mission around the classroom, reading comprehension passages, and answering questions! This escape room has students decode interesting facts about Easter traditions around the world and other fun statistics.
The Easter Traditions Escape Room is a great reading comprehension activity with a twist of fun that has students deciphering codes. The codes include ciphers, morse code, cryptograms, Polybius squares, and a final 4 digit code based on the decoders/clues.
***This product is NOT intended to be religious***
The only reference to religion is:
-Easter is the oldest Christian holiday.
-Easter is a Christian holiday that celebrates the resurrection of Jesus Christ.
What's Included?
✏️ 4 Reading Passages
✏️ 4 Puzzle Phrases to Decode
✏️ 4 Decoders
✏️ 4 Differentiated Decoders
✏️ 10 Multiple Choice Questions
✏️ Teacher Instructions
✏️ Answer Key
✏️ Hint Guides - How To Decode
✏️ Completion Signs
Watch the video or click on the preview button to take a closer look at everything included!
Skills Used:
✔️ Reading Comprehension
✔️ Critical Thinking
✔️ Peer Collaboration
✔️ Problem Solving
To prevent students from simply decoding the puzzles, ALL questions need to be answered correctly in order to solve the final code. This ensures understanding!
Benefits of Use:
✏️ No Prep
✏️ Print and Go
✏️ Cross-Curricular
✏️ Highly Engaging
✏️ No Locks Needed
✏️ No silly envelopes to stuff
✏️ No fancy shapes to cut out
Give students a chance to decode puzzles, move around the room, and read passages, all while actively learning! Students will work in pairs (or individually) and race against the clock. A friendly competition always increases engagement. No prior knowledge is needed. Each code will reveal interesting facts about the topic.
Puzzle Types:
✔️ Cryptogram
✔️ Morse Code
✔️ PigPen Cipher
✔️ Polybius Square
Options for Use:
✏️ Anticipatory Sets
✏️ Unit Review
✏️ Early Finishers
✏️ Gallery Walk
✏️ Stations
✏️ Sub Plans
✏️ Rewards
Click HERE to grab a F-R-E-E Color by Number Activity!
»»» Thinktivity™ Reading Passages : Click HERE
»»» Comprehension Challenge and CSI Spy Mystery: Click HERE
»»» Printable ESCAPE ROOMS: Click HERE
»»» Text Marking Detective: Click HERE
»»» Scavenger Hunts: Click HERE
»»» Digital Secret Message Activities: Click HERE
»»» Puzzle Breakouts: Click HERE
»»» Interactive Google Slides™: Click HERE
»»» Digital ESCAPE ROOMS: Click HERE
»»» Color by Number - Text Marking: Click HERE
»»» Digital Reading Passages: Click HERE
»»» Task Card Review Games: Click HERE
»»» Interactive Game Boards: Click HERE
»»» Reading Passages and Text Marking: Click HERE
»»» Back to School: Click HERE
»»» Collaborative Posters: Click HERE
»»» Digital Interactive Notebooks: Click HERE
»»» Grades 3 and 4 Escape Rooms: Click HERE
Please follow me to be notified when new products are uploaded. Just click the Green STAR up top.
How to get TPT credit to use on future purchases:
Please go to your My Purchases page (you may need to login). Beside each purchase you'll see a Provide Feedback button. Simply click it and you will be taken to a page where you can give a quick rating and leave a short comment for the product. Each time you give feedback, TPT gives you feedback credits you can use to lower the cost of future purchases. I truly value your feedback greatly as it helps me determine which products are most valuable for your classroom. :-)
Copyright Information : © Think Tank Teacher LLC. Please note - all material included in this resource belongs to Think Tank Teacher LLC. By purchasing, you have a license to use the material but you do not own the material. You may not upload any portion of this resource to the internet in any format, including school/personal websites or network drives unless the site is password protected and can only be accessed by students, not other teachers or anyone else on the internet.
Report this resource to TPT