Easter Math Activities | Digital Easter Activities for 5th Grade -Secular Themes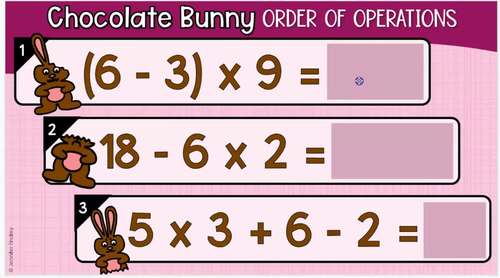 ;
PDF

Google Apps™
Includes Google Apps™
The Teacher-Author indicated this resource includes assets from Google Workspace (e.g. docs, slides, etc.).
What educators are saying
Students love these online activities! They are so engaging and students prefer them to a workbook or worksheet.
Your resources are always relevant to the standards and engaging for students. You are definitely my go to seller for all things 5th grade math.
Also included in
4th and 5th grade holiday and seasonal math centers and activities for the ENTIRE year!Note: The math activities and centers included in this resource are available in printable, color versions AND digital versions.About the Math Activities and CentersThis HUGE holiday math center bundle includes 18

Price $54.00

Original Price $99.50

Save $45.50
Description
Engage your students this Easter with Easter math activities (with digital + printable versions). This set of 16 math activities/math centers with Easter themes and graphics (secular only) will engage your students and provide rigorous and grade level math practice.
****This center uses "Easter" graphics with bunnies, eggs, and other Easter treats. It does not use any religious themes or graphics. ***
The Easter math activities are now available in digital versions as well! See pages 5-18 of the PDF for the details and links.
Each Easter math activity comes with student directions, recording sheets, and answer keys (if applicable).
Here are the specific Easter math activities included:
Order of Operations with Chocolate Bunnies
Building Easter Numbers
Marshmallow Peeps Sort
Easter Candy Review
Decimal Peeps
Egg Hunting Word Problems
Treat Shop
Easter Treats
Easter Egg Sort
Equivalent Fraction Hunt
Easter Eggs: Fraction Review (Two Versions)
Eggs in a Basket: Word Problems
Spring Treats: Word Problems
Easter Computation Cupcakes (Three Versions)
Converting with Crazy Rabbits
Chocolate Bunny Shapes
5th Grade Math Skills:
Order of Operations
Rounding and Comparing Decimals
Writing Decimals
Multiplying and Dividing Multi-Digit Numbers
Adding, Subtracting, and Multiplying (or Repeated Addition) with Decimals
All Decimal Operations Word Problems
Simplifying Fractions
Equivalent Fractions
Multiplying Fractions by Whole Numbers
Dividing with Unit Fractions
Measurement Conversions
2-D Shapes
•The digital winter Easter activities are available for use with Google Slides. Click here for a step-by-step guide for assigning Google Slides in Google Classroom.
•Each digital math activity includes a direction page with an image of the center.
•Recording sheets are not included since the students do all of the work on the slides.
*The content for the digital math activities is the SAME as the printable math activities. It has been modified for optimal digital use and engagement.
•For answer keys, please refer to the digital answer key or the printable answer keys.
•Check out the video preview to see the digital Easter activities.
Looking for a Math Center pack that you can use all Spring and not just at Easter time? Try my Spring Math Centers found here.
Teaching Duration
2 Weeks
Report this resource to TPT