Easy Cubist Art Activities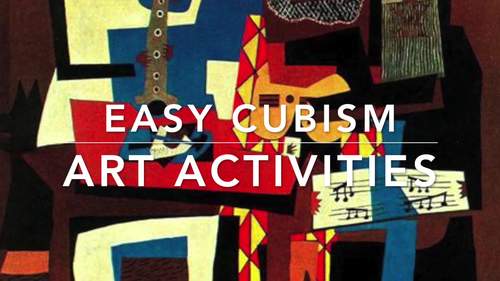 ;
Description
Cubism is one of the most interesting art styles to teach elementary school kids as they immediately understand it. Its fun to pick out the different shapes an artist uses to re-imagine his subject. Cubism is also a great subject for drawing simple shapes and rendering with markers.
This lesson is great for free choice time, sub plans and days when you want an easy prep lesson. The supplies are simple: card stock and markers.
You can use the handouts in a variety of ways. The shape handouts are a great jumping off point for most kids. My students used the fish and flower template and many drew a heart (since we were close to Valentine's Day). I've included a chicken and a bird to provide more drawing opportunities.
When you want a free choice activity, photocopying the objects with shapes onto card stock or even regular copy paper is a great way to develop fine motor skills with rendering techniques. Or you can use all the handouts during the lesson for inspiration and guidance.
This drawing packet contains National Core Art Standards and Common Core Standards for THIRD GRADE. Note to buyer: This product is included in the discounted bundle, Pablo Picasso Artist Bundle.
Lesson included in this 19-page PDF:
About Cubism Page
Art project introduction and how to use the lesson
How to draw, color and add patterns to your cubist artwork
Drawing guide for a chicken
Drawing guide for a bird
Drawing guide for a fish'Drawing guide for a flower
Cubist chicken handout or coloring page
Cubist bird handout or coloring page
Cubist fish handout or coloring page
Cubist flower handout or coloring page
Grade three student gallery
Artists statement
Related Products
About Deep Space Sparkle
Thanks so much for considering Deep Space Sparkle for your art lesson needs. I have been teaching art in California for 13 years and offering PDF lesson plans, e-courses and videos for seven years through my website, Deep Space Sparkle.
Are you a Sparkler?
This lesson is included in our Pablo Picasso Bundle. This is one of the many bundles you have access to as a member of The Sparkler's Club.
You can subscribe to my free DSS Newsletter or follow DSS on Instagram Share your photos with #deepspacesparkle.
Report this resource to TPT