Ecosystems & Biomes Foldable Accordion Activity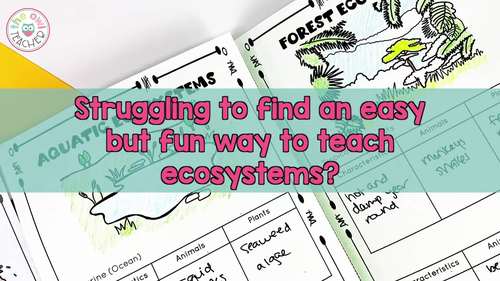 ;
PDF

Google Apps™
Includes Google Apps™
The Teacher-Author indicated this resource includes assets from Google Workspace (e.g. docs, slides, etc.).
Easel Activity Included
This resource includes a ready-to-use interactive activity students can complete on any device. 
Easel by TPT is free to use!
Learn more
.
What educators are saying
I broke the kid sinto groups to research their biome - then they taught the class! This gave the kids accountability and they really needed to know their information. Fun time!
This is a fun product. Ecosystems and biomes is one of the hot topics in my classroom, and this is a great visual review item.
Also included in
Do you need to teach about ecosystems or biomes in your science class this year? Check out all these activities in one resource for you in my ecosystem BUNDLE!Check out the preview to learn more!In this resource you will find the following ecosystem products:Ecosystems and Biomes Foldable Accordion

Price $19.99

Original Price $39.25

Save $19.26
Description
You need an easy but fun and educational tool for teaching about ecosystems & biomes. I've got just the resource you need! This craftivity comes with a reading comprehension passage to help your students explore biomes, as well as to practice main ideas with supporting details.
If your district is like mine, then there are some gaps in the science curriculum. I am expected to teach students about food chains and food webs without teaching anything about ecosystems and biomes. That's when I decided to create this accordion-style craftivity booklet. I wanted it to be brief but still provide students with an understanding of this important concept that's foundational to other science concepts.
Check out the preview for details!
This Product Includes:
✓ Aquatic (Marine and Freshwater)
✓ Forests (Tropical, Temperate, Boreal)
✓ Grasslands (Temperate, Tropical)
✓ Polar regions (Arctic, Alpine)
✓ Desert
✓ A blank version for you to add anything
✓ Additionally, it helps students grasp the differences between biomes, ecosystems, populations, communities, habitats, and organisms.
With This Product You'll Get:
✓ A reading booklet to guide students to understanding
✓ Pages necessary to explore biome characteristics, climate, animals, and plants
✓ Two different sizes (half-page version and full-page version) for writing space
✓ Answer Key
✓ Printable and digital versions
Other Buyers Have Said:
"This activity was a great review for our unit on ecosystems. The accordion books were also put on display so that parents could see what we had learned." (Thank you, Collabor8!)
"Great tool. My 6th graders used this to take notes in during peer group presentations. Putting the booklet together and coloring the pages kept those in the groups that were not doing research or working on their part of the presentation busy." (Thank you!)
"This was an easy way for my students to learn about various ecosystems. They enjoyed making the book with a partner." (Thank you, Sarah M.!)
Other Related Products You May Enjoy:
Ecosystems Scavenger Hunt Reading Activity
Ecosystems Interactive Fluency Cards
While I recommend printing in color and laminating materials for future use, it is not necessary. These materials print just fine in grayscale. I would suggest printing "as image" to avoid any potential issues.
If you see ANYTHING that needs modifying, or if you have any questions, please contact me via the Q&A. I take my product creation and your satisfaction very seriously! Thanks!
⭐ ⭐
It's very important to me that you provide feedback so that I may improve and create products you will use and love! Please consider leaving detailed feedback. Additionally, each time you provide feedback, you earn TpT credits. These can be taken off purchases so you can get items free!
❤️ ❤️
Join my email list here to get FREEBIES and so much more!
Follow my store here to get discounted goodies each time they're posted!
Report this resource to TPT