Editable Classroom Economy Tools | Classroom Job Cards, Applications & Money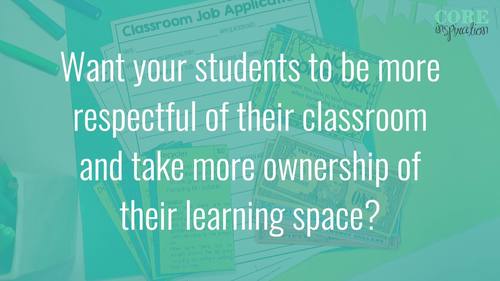 ;
Also included in
Tools to establish a smooth-running classroom where students are held accountable for responsible and respectful learning decisions. To learn more about the behavior management tools included in this resource, read below. *****************************************************************************E

Price $10.39

Original Price $19.75

Save $9.36
Description
Ready to boost the respect your students have for their classroom, increase the ownership they have for their learning space, and connect classroom jobs to the real world? This Classroom Economy Toolkit has everything you need.
This toolkit includes everything you need to set up engaging classroom jobs that allow students to independently take ownership of their learning space by helping with meaningful daily tasks that make them feel like an important and valuable member of your classroom community.
After completing job applications, students can be hired for classroom jobs that require detailed responsibilities. They get paid a salary for each job, which they can save up or spend to purchase class passes that unlock special in-class experiences.
This system has been a game changer in hundreds of classrooms when it comes to maximizing the responsibility students take for maintaining an organized learning space. The real-world connections this toolkit brings to your classroom can help boost student engagement.
To read all the details about how I use this toolkit in my own classroom, read my blog post A Classroom Economy Students and Teachers Love.
***************************************************************************
WHAT'S INCLUDED:
★ Classroom Job Cards: These 3"x5.5" cards are arranged with multiple cards per page for easy printing on 8.5"x11" paper. Once you edit, print, laminate, and cut your cards, they fit perfectly into standard-sized library pockets, making them ideal for a rotating job board.
Each job title is accompanied by a short job description and behavior reminders to help your students complete each job successfully. Often times, students forget how to properly perform classroom jobs throughout the year. These detailed job cards are a perfect reference. The following editable and ready-to-print job cards are included:
Line Leaders
Messengers
Materials Manager
Outdoor Environmentalist
Indoor Environmentalist
Librarians
Teacher's Assistant
Board Eraser
Book Box Battalion
Germinators
Recycler
Pencil Patrol
Stamping Assistant
Brain Break Coordinator
Station Manager
Aesthetic Assistant
Corner Nook Monitor
Payroll Courier
Desk Elves
Carpet Checker
Inventory Manager
Dismissal Team
★ Tidy Up Tickets: Say goodbye to messy desks. These printable cards make it easy for Desk Elves to let their peers know their desk needs to be organized before heading home at the end of the day. Simply print the sheet of Tidy Up Tickets, laminate, and cut into small squares so they can be reused day after day during your tidy up time. Editable and ready-to-print versions included.
★ Students Job Application: Boost student buy-in for your class jobs by having them apply for the positions they're most interested in. This real-world connection makes your classroom economy more engaging and realistic for students, and helps you hire the most qualified candidates so you know your class jobs will be completed carefully. Editable and ready-to-print versions included.
★ Job Application Tracker: With a classroom economy this engaging, you are sure to have multiple applicants for each of your classroom jobs. This tracker helps you stay organized so you know exactly who to hire next. Editable and ready-to-print versions included.
★ Class Cash: Make your class jobs official by paying students a salary. If you don't have a set of play money in your classroom, simply print this cash on cardstock and use it for your economy. United States, Canadian, and Australian bills are included.
★ Class Passes: No economy would be complete without a little shopping. Give your students something to save for. Class passes are a no-cost way to stock your class shop with fun experiences. Have your students help you brainstorm the passes they are most interested in, and create your own collection of class passes using the editable resource. Need a low-prep solution? The ten ready-to-print passes listed below provide you with some repeat favorites from my elementary classroom.
Lunch with the Teacher
Indoor Recess
No Homework
Pick Your Job
Read to the Class
Drawing Time
Stuffed Animal at School
Stinky Feet
Prize Box
Crazy Color
★ Class Pass Menu: Set a price for each of your class passes, and organize them in an easy-to-read menu that makes your class shop routine more streamline. Editable and ready-to-print versions included.
★ Teacher Guide: A detailed guide to help you implement your classroom economy system. Topics include:
Brainstorming Your Class Jobs
Determining How Frequently Jobs Will Rotate
Training Students To Complete Jobs Carefully
Accepting Applications
FAQ About Job Applications
Paying Students for Classroom Jobs
FAQ About Classroom Job Salaries
Setting Up A Class Shop
Class Shop Considerations
***************************************************************************
RELATED RESOURCES:
Interested in boosting independence, responsibility, and respect in your classroom? Check out my other classroom management tools:
★ R.E.S.P.E.C.T. Classroom Behavior Management System
★ Digital Transition Management System
★ Chromebook & Laptop Management and Student Training Toolkit
★ iPad Management Tools and Student Training Toolkit
★ A Lesson On Following Directions
***************************************************************************
WHAT TEACHERS THINK OF THIS RESOURCE:
♥ "This is worth way more than the cost! This has changed my classroom culture forever! My students love it and I love it! I can't praise this purchase enough. Everything is editable or not! AMAZING " - Danielle H.
♥ "Love that I can edit to fit my classroom. I absolutely love the change I made to a classroom economy this year!" - Mackenzie M.
♥ "This is the 2nd year I have used this product. It helps foster independence within the classroom. My students take care of everything in the room!" - Dierdra L.
♥ "My students LOVE the economy! These were so easy to print and implement. Love that it looks like real money. The kids are more excited about doing the jobs around the classroom, knowing they are earning money." - Caito
♥ "Best thing for my classroom! The kids love it and are super engaged with their jobs!" - Peyton L.
♥ "My students love this! It has completely transformed our classroom. An incredible resource!" - Sarah P.
***************************************************************************
LET'S CONNECT: ★ The Core Inspiration Blog ★ Instagram ★ Pinterest ★ Facebook ★
Teaching Duration
Lifelong tool
Report this resource to TPT