Editable Color by Code | Skills Practice for Any Content Area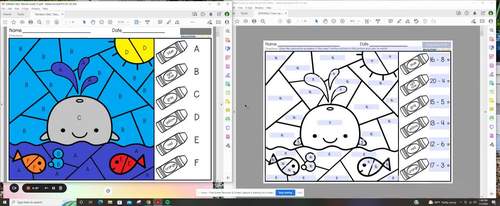 ;
What educators are saying
I love editable worksheets and this is no different! I am excited to use these for virtually any lesson in any subject area!
We use these with our RTI reading group. They love doing these and they are easy to make for any topic we are reviewing.
Description
Have you ever wished you could create exactly what you're looking for in a color by code… and do it easily with the content you want to cover for your content area and grade level - no more just 'making it work?'
Do you have such a variety of student abilities in your class that it makes it virtually impossible to use anything with the whole group?
Editable Color by Code is exactly what you need! It works for ANY grade level and ANY content area. Not only that, but you can easily differentiate content for students to meet them at just the right level without them ever knowing they have alternative work compared to their neighbor (no more feeling different from their classmates!).
Simply follow our teacher's guide and fill in your content - hit print - and you have a just-for-you created resource  your students are sure to love (yes - even those upper grades - everyone loves to color!)!
You get a huge bang for your buck with this Editable Color by Code. Use it again and again - the possibilities are endless!
Teaching ways to make ten? ✅
Comparing parts of speech? ✅
Discovering beginning digraphs? ✅
Learning about different landforms? ✅
Practicing foreign language? ✅
Covering the layers of the earth? ✅
And SO much more!
Use for morning work, early finishers, small groups, formative assessment, at-home, work and more!
What's Included:
30 Editable Color by Code pages for use with ANY content area and ANY grade level

10 pages with 6 colors - whale, sloth, polar bear, penguin, panda, llama, hedgehog, bird, elephant, bear 
10 pages with 8 colors - rhino, hippo, sheep, owl, otters, narwhal frog, dog, beaver, ants
10 pages with 10 colors - turtles, toucan, skunk, shark, pigs, foxes, dinosaur, cow, bunny, crab
Editable Color by Code Teacher's Guide
Editable Color by Code How To, FAQ, and Usage idea videos
Teachers like you said…
⭐️⭐️⭐️⭐️⭐️
"With Editable Color by Code, I love that I can differentiate the same activity page across each one of my small groups. All I do is edit the content for each group and print!"
⭐️⭐️⭐️⭐️⭐️
"They were so excited to do these!  They wanted to complete the cute picture, even though they had to do a lot of skill practice to get the color code right. Very engaging, and they need the practice. These were so easy to make, copy, explain, and assign."
⭐️⭐️⭐️⭐️⭐️
"Color by number is just too fun! The kids love it! It helps them follow instructions and provides fine motor practice. I love it because I can use it for ANY content they need practice with! Great resource."
*Important! You must open this product in Adobe Reader (free) in order for it to work properly with embedded fonts and styling. If you try to edit this file in your web browser or in preview, it will not work. It's easy to do: 
Open your downloads folder.
Right click on this file.
Click 'Open with.'
Select 'Adobe Acrobat Reader.'
Watch the included videos for additional help.
*Only the content your students will work on is editable - not the crayon colors or images.
Like this resource?
Check out (available in all four seasons), (available in all four seasons), or !
Join the ETTC Family of Teaching Trailblazers to stay up to date on our most current projects!
TERMS OF USE:
Thank you for your purchase! By purchasing this resource, you are agreeing that the contents are the property of Emily Garcia/Education to the Core, and licensed to you only for classroom/personal use as a single user. I retain the copyright, and reserve all rights to this product.
You May:
Use items (free and purchased) for your own classroom students, or your own personal use.
Reference this product in blog posts, at seminars, professional development workshops, or other such venues PROVIDED there is both credit given to myself as the author and a link back to my TPT store is included in your post/presentation.
Distribute and make copies of free items only to other teachers PROVIDED there is credit given to Emily Liscom Garcia and a link back to my TPT store.
You May Not:
Claim this work as your own, alter the files in any way, or remove/attempt to remove the copyright/watermarks.
Sell the files or combine them into another unit for sale/free.
Post this document for sale/free elsewhere on the internet. (This includes Google Doc links on blogs.)
Make copies of purchased items to share with others is strictly forbidden and is a violation of the Terms of Use, along with copyright law.
Obtain this product through any of the channels listed above. Thank you for abiding by universally accepted codes of professional ethics while using this product.

Report this resource to TPT