Editable Daily Agenda Google Slides Templates with Timers | Assignment Slides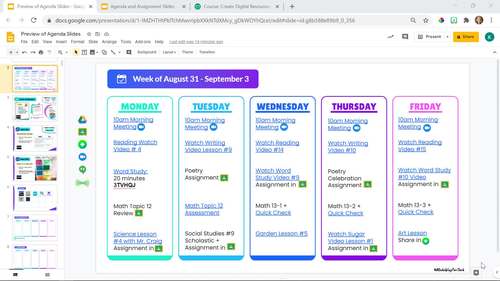 ;
PDF

Google Apps™
Includes Google Apps™
The Teacher-Author indicated this resource includes assets from Google Workspace (e.g. docs, slides, etc.).
What educators are saying
Love this recourse! Using these slides & a daily agenda in the mornings allows me to stay on track & focused for the next steps for the day!
This is a very efficient tool to have in the classroom. It has everything that you need to stay organized and to keep your students on track too!
Also included in
Get $145 worth of free products with our entire year bundle! 50+ activities and resources in Google Slides to use with your 2nd grade students. Back to School activities, agenda slides, vocabulary digital notebook, biography report templates, parent teacher conference slides, graphic organizers, cou

Price $149.00

Original Price $290.50

Save $141.50

Get $125 worth of FREE products with this entire year bundle! 40+ activities and resources in Google Slides to use with your 3rd grade students. Back to school activities, digital agenda slides, parent teacher conference slides, holidays around the world, graphic organizers, multiplication mystery p

Price $129.00

Original Price $253.50

Save $124.50

SAVE $32.00 with this Back to School Digital Bundle! These teacher and student resources will help you run your first weeks of school (and beyond). All of these resources will help build your classroom community with parents and students. Use them every year! Only need the teacher resources? Click h

Price $32.00

Original Price $64.00

Save $32.00

Run your Parent Teacher Conferences stress-free, keep you and your students organized with Agenda and Assignment slides, grade and give feedback on student work with digital stickers, and build classroom community with digital newsletters and calendars. It's all in this bundle! What's Included:Every

Price $24.00

Original Price $46.00

Save $22.00

No more "What do I do now?" questions from students! These slides will eliminate so many student questions while keeping you and your students organized for the day and week. Spice up your daily agenda slide templates or morning meeting slides with these EDITABLE everyday, seasonal, holiday, and ret

Price $21.00

Original Price $29.00

Save $8.00

Start off the year with less stress and more confidence! Simple, colorful, and professional looking Slides for Back to School Night, introducing yourself to students, collecting Back to School parent information and keeping students organized from day one with daily agenda slides.What's Included? Me

Price $18.00

Original Price $30.50

Save $12.50
Description
These daily agenda and assignment slides are perfect for keeping students (and you!) organized for the day or week. Use these class slides with timers for morning meeting, sharing assignments, giving directions, sharing anchor charts, and managing work time with the included timers.
Surprise your students with our HOLIDAYS and RETRO AGENDA SLIDES, too. Click here for the BUNDLE!
Daily and Weekly Agenda slides (with popular icons like Google Classroom, Seesaw, Flipgrid, Zoom, etc. that you can click and drag onto the slide)
Good Morning/Welcome slides
Subject slides (4 versions of each)
Quick Links slide (Add links so you and students can easily access websites)
8 Different Timers (1, 5, 10, 15, 20, 30, 45, 60min, + instructions to add a different timer)
Video directions for sharing the presentation with students in Google Classroom
Step-by-step instructions for editing, adding links, videos, anchor charts, Bitmojis, and images to slides
132 slide options with clickable Table of Contents for easy use when you first get access to the presentation. Simply delete the slides you don't need.
These are the subjects I included icons for. However, you can change ANY of these titles to match your lingo by clicking and typing. You can also create your own subject slides using an icon of your own.
Morning Meeting
Reading
Writing
Language Arts
Word Work/Spelling/Phonics
Vocabulary
Grammar
Problem of the Day
Math
Social Studies/Geo/History
Science
STEM
Health
Art
Music
PE/Gym
Tech Time/Computers
Stations/Centers/Rotations
Work Time
Presentations
Partner Talk
Before You Leave
Clean Up
Indoor Recess
Free Time/Party
Reminders
Homework
Transition
YES! One of the best features is that you can easily customize the slides so they fit your classroom.
ALL of the text is editable. Just click and type!
Change the subject headings to match your class (ex. change Word Work to Word Study)
Edit any of the subheadings on the slides
Add the learning target, objective, date, materials needed, timer, or your own text in the corner
Create your own slides
Easily change all the fonts
Yes! These slides come as a Google Slides presentation but work with PowerPoint, too.
Yes! Our grade level received TONS of compliments from parents telling us how easy it was for them and their child to keep track of their assignments during distance learning. Students knew exactly what their assignments were and where to find them using these slides.
These slides are perfect for the experienced Google teacher and one who is completely new to Google. Step-by-step instructions are included for everything from customizing headings and inserting images, to adding links and Bitmojis.
*NOTE: When you purchase this product, the license can be used for one classroom, not an entire grade level or school. Please purchase multiple licenses if it will be used by more than one teacher. Thank you.
Kathryn Averkamp - kat@makewayfortech.com
Google Certified Educator
Master's degree in Educational Technology
Taught each grade K-4 over the past 11 years
Awarded Teacher of the Year for the 2019-2020 school year
♥ Don't forget you can earn TpT credits by leaving a review after you purchase products.
----------------------------------------------------------------------------------------------------------------------------
⭐⭐⭐⭐⭐More Google Activities ⭐⭐⭐⭐⭐
Beginning of the Year
• Meet the Teacher Letters and Slideshow
• Back to School Night/Open House/Meet the Teacher Presentation
• Back to School Forms for Parents and Students
• Top 5 Picks of Summer Collaborative Class Activity
• 9 Back to School Google Activities
• All About Me Collaborative Slideshow
• Back to School Games and Activities Jamboards
• Digital Growth Mindset and Classroom Rules Poster Activity
• Student of the Day/Week Digital Posters & Class Book
• ENITIRE BACK TO SCHOOL BUNDLE ($31 worth of free products)
All Year Resources
• Virtual Parent Teacher Conferences
• Assignment and Agenda Slides with Timers
• Digital and Printable Newsletters
• Collaborative Kindness Activities in Google Slides
• Printable Growth Mindset and Inspirational Quote Posters
• ENTIRE YEAR BUNDLE ( $17 of free products!)
Learn Google Classroom for Teachers
• FREE PDF Guide to Google Classroom
Google Jamboards
• Back to School Games and Activities Jamboards
• Writer's Workshop Anchor Chart/Class Mini-Lesson Jamboards
• Math Mats and Manipulatives Jamboards
• Reading Response Jamboard Templates
• Valentine's Day Class Jamboard Activity
• January and February Discussion Jamboards
• March and April Discussion Jamboards
• Jamboard Templates GROWING BUNDLE (GET THEM ALL)
Writing/Reading
• Animal Research Report in Google Slides
• Biography Report Template in Google Slides
• Host a Poetry Writing Celebration! (Virtual or In-Class)
• Distance Learning Writing Prompt Journal "My At-Home Adventure."
• Digital Reading Logs and Graphic Organizers
• Digital Vocabulary Notebook For Any Subject
• Digital Stickers: Improvement Needed + Motivational
• Mother's Day Cards in Google Slides
Math
• Add and Subtract within 20 Word Problems (Great for review/assessment)
• Repeated Addition, Arrays, Equal Groups (Great for review/assessment)
• Entire Year Digital Multiplication Mystery Pictures in Google Slides
• Counting Coins and Bills Activities and Assessment
• Subtraction - Regroup or Not?
• Subtraction with Regrouping Word Problems Review (Topic 6 Envision)
• 2ND GRADE MATH BUNDLE ($20 worth of free products)
Social Studies
• Me on a Map Digital Flipbook + Landforms Digital Flipbook
• Google Slides Sharing Projects (Timelines, Family Traditions, Community Workers Current Events)
• Communities: Rural, Urban, and Suburban in Google Slides (+ Google Earth!)
Report this resource to TPT