Editable Digital Interactive Notebook Template for Spanish Class | Papel Picado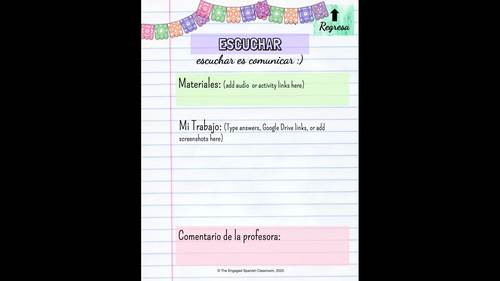 ;
PDF

Google Apps™
Includes Google Apps™
The Teacher-Author indicated this resource includes assets from Google Workspace (e.g. docs, slides, etc.).
What educators are saying
I used this in our hybrid setting to help organize student assignments!! I'm also hoping they'll have a document that shows off everything they've learned/done this semester!
Great resource to teach kids to keep everything in one place! I used to do interactive notebooks but now that my kids have chromebooks, it just makes sense to do them digitally. They loved this!
Also included in
I made this pack so you can grab your Papel Picado Class Hub (for teacher materials,) Digital Notebook (for students to complete and submit their work) as well as a pack of digital stickers, all in one place! The Class Hub and Digital Notebook are EDITABLE - wherever you see text!Please check out th

Price $9.00

Original Price $11.94

Save $2.94

This is a bundle of five editable and digital interactive notebook templates! Each notebook is hosted via Google Slides. ALL TEXT is editable, so you can easily modify if you don't teach Spanish :) The easy to use presentations are customizable and provide a beautiful and streamlined way to communic

Price $16.00

Original Price $22.50

Save $6.50
Description
This editable and digital interactive notebook is hosted via Google Slides. This easy to use presentation is customizable and provides a beautiful and streamlined way to communicate expectations with students. It also acts as a digital portfolio for Spanish class. This is perfect for any middle or high school classroom.
Editable Digital Interactive Notebook for Spanish Class (other themes available!) All Editable Class Hubs and Digital Notebooks
A digital portfolio you can assign each unit or each week!
How to use it:
Teacher instructions are included to walk you through any editing you would like to do! A 5 minute teacher walkthrough video is on page 2!
Teachers are able to host and edit from your phone, laptop, or iPad via the Google Slides app. Easiest to edit from a computer or iPad.
When you are ready to share with students, you share the digital portfolio with them just as you would share any other Google Drive document! (Instructions for force copy link provided in teacher instructions)
Students open the document and select "present on device" to navigate the portfolio as they would any other website. Students enter "edit" mode to add their work before sharing the document back to you.
Space for teacher feedback is included on each page.
Extra templates included, as well as prompts for students that need assistance from their teacher.
What's Included:
Ready-to-go digital notebook, preset with 12 tabs/buttons that are linked and ready to be use. The teacher only needs to add the instructions/materials for their class!
Two pages of teacher support for design and editing of your digital notebook
One page of student support for opening, editing, and returning their work to their teacher.
12 Fully editable page templates (feel free to edit any of these to meet your needs!)
All text boxes are fully editable/customizable for full personalization!
The 12 templates included are:
Recursos
Escuchar
Leer
Hablar
Escribir
Cultura
Apuntes
Práctica
Pruebas
Proyectos
Contacto/Ayuda
*Extra page* formatted and unformatted version
The homepage of the digital notebook has links to all templates for students to use right away. The teacher instructions give you step by step directions for editing/adding tabs so that you can select which templates you'd like to include!
Any templates I add in the future will be yours for free!
**Important** While this document has been created in GOOGLE SLIDES and is best edited in that program, it can be SHARED with your students as a regular PDF file! Therefore, it is still absolutely appropriate in schools that do not use the Google Platform exclusively. I hope this helps!
Please Note:
While all text is in this resource is editable and fully customizable, all graphics are fixed. I am required to protect the validity and copyright of the clipart artists. The same applies to my copyright information, which can be seen in small text at the bottom of each page. Copyright law dictates that my copyright remain visible at the bottom of each page, even after personal customization. Please keep this in mind while using and/or distributing anything you create with this digital resource.
All text boxes can be fully customized, including colors.
Related Products
⭐ All Editable Class Hubs and Digital Notebooks
⭐ Editable Spanish Class Hub Hexagon Theme
⭐ Editable Spanish Class Hub Succulent Theme
⭐ Editable Spanish Class Hub Llama Theme
⭐ Editable Spanish Class Hub Coffee Theme
⭐ Editable English Class Hub Hexagon Theme
⭐ Editable Teacher Portfolio Succulent Theme
Let's Connect!
*****************************************************************************************************
How can you get TPT credits to use on future purchases?
Go to your My Purchases page, click Provide Feedback beside a purchase, leave a quick rating and comment.
Each time you provide feedback, you'll earn TPT credits for future purchases!
I appreciate your feedback as it helps me determine which products are most valuable so I can create more for you. ☺
Do you have an idea or request to make this product better?
Send me an email at theengagedspanishclassroom@gmail.com. I'd love to hear from you!
Report this resource to TPT