Editable Gift Tags Teacher Appreciation Staff Students Parents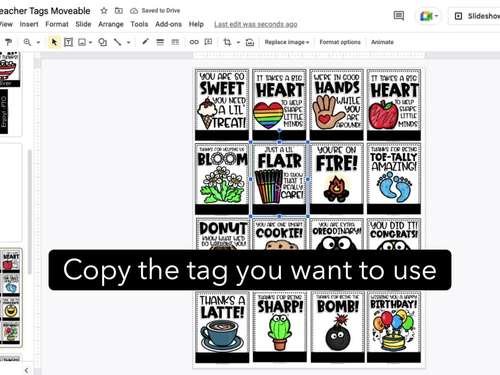 ;
What educators are saying
So cute and excited to share with my child's teachers to show them our appreciation and support! I also love a good pun and can share with my own colleagues when a pick me up is needed. Thank you!
Great for personalizing all the things we celebrate and give as gifts for staff and students throughout the school year.
Description
Editable Teacher Gift Cards Tags Appreciation are perfect for staff and teacher appreciation, gift from or to students, parents or really anyone! Includes a huge variety of cards and tags you can use for holidays. Use these gift tags for teachers, or even as a teacher to say thank you to someone special like your classroom volunteers, office staff, custodians...everyone loves to feel appreciated! This set includes lots of generic options which are perfect for multiple uses because they can be used any time of the year. Each tag is available in PDF (with editable area at the bottom for typing who it is from), and an option to resize each as an image in Google Slides so you can make smaller tags and allows you to just print the ones you need and as many on a page as you'd like.
Included Editable Teacher Gift Tag themes:
Valentine's chocolate box gift tag (Thanks for being sweet!)
Amazon gift card tag (You are amazing)
Target gift card tag (Thanks for keeping us on Target!)
Coffee (Thanks a latte!)--can be gift card tag or paired with coffee items
Movie gift card tag (Thank you for a picture perfect time!)
Pizza (Any way you slice it, you are great!)
Donut (Donut know what we'd do without you!)
Apple (It takes a very big heart to shape little minds)
Heart (It takes a very big heart to shape little minds)
Sandwiches (I wish there was sub way to say thank you!)
S'Mores (The world needs s'more people like you!)
Ice Cream (You are so sweet you need a lil' treat!)
Muffin (We would be muffin without you!)
Flowers (Thank you so much for helping us bloom!)
Cookie (You are one smart cookie!)
Oreo (You are extra OREOdinary!)
Flair pens (Just a lil' flair to show that I really care!)
Popcorn (Thanks for a poppin' good time! & Just wanted to pop in to say thanks!)
Bomb (Thanks for being the bomb!)
Watermelon (You are one in a melon!)
Sun (Thanks for helping us shine!)
Jolly Rancher (Thanks for a jolly good time!)
Cactus (Thanks for being sharp!)
Pencil (Thanks for being sharp!)
Avocado (You really guac!)
Applesauce (You're the boss!)
Goat (You are the goat!)
Mints (For your enjoy-mint!)
Otter (Otterly the best ever!)
Hand (We're in good hands while you are around!)
Nail polish (Thanks for being toe-tally awesome!)
Footprints (Thanks for being toe-tally awesome!)
Campfire (You're on fire!)
Blank for scented candles, sprays, lotions, markers (You're just scent sational!)
Santa (Wishing you happy holidays!)
Snowman (Wishing you happy holidays!)
Reindeer (Wishing you happy holidays!)
Cake & Balloons (Wishing you a happy birthday!)
Smiling emoji (You did it! Congrats!)
Beer mugs (Cheers to YOU!)
Wine glasses (Cheers to YOU!)
Hershey's Kiss (KISS the year goodbye!)
Please note: The graphics and title text areas are not editable.
© Teaching in the Tongass
Report this resource to TPT