Editable IEP Goals & Objectives Tracking - Data Collection Sheets for Special Ed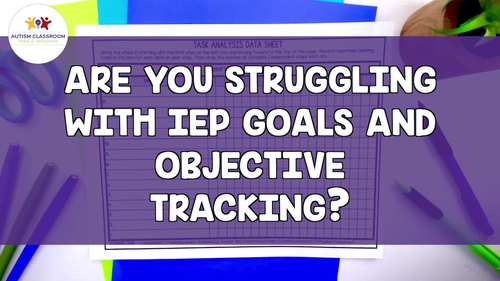 ;
What educators are saying
If you are like me and collect data everyday, this resource will be a great tool to have! Thank you again!
I used to make my own data sheets. It's much easier now to edit one of these. I love the number of options that are available. These have simplified my life.
Also included in
Are you looking to set up your special education classroom, but don't know where to start? This comprehensive bundle includes everything you will need to set up a self-contained classroom. These special education classroom setup resources include schedules, planning tools, behavioral tools and much

Price $98.60

Original Price $123.25

Save $24.65

This special education classroom setup kit is like a classroom in a bundle! It has everything you need to set up the structure of the classroom except the students, the printer and the laminator. Setup your special education classroom and plan everything for your year with this comprehensive bundle.

Price $98.60

Original Price $123.25

Save $24.65
Description
Are you struggling with IEP goals and objective tracking? This huge set of instructional IEP data collection sheets are designed for tracking student progress on specific skills from discrete trials to IEP goals. With more than 42 IEP data sheets included, you will find everything you need to collect, track and monitor data in your classroom.
Implementing these IEP data collection sheets is EASY! The ready-made data sheets make it simple to set up IEP goals and objectives tracking in your class. These IEP data collection sheets create graphs as you track, so you can spot trends and adjust your teaching and interventions accordingly. 
Included in this IEP Data Sheets MegaPack:
✅
Self-graphing to track progress
5 and 10 trial options
Designed for sequential skills
Blank steps or objectives you can individualize
✅
2 for collecting data on multiple students during groups (Group data sheet)
2 for collecting data on one student across up to 10 activities (Individual data sheet)
Great for weekly sample data as demonstrated in this tutorial
✅
1 with handwashing steps written in
1 blank
Self-graphing
✅
14 variations of check-off system
Great for students who go to several other classrooms
✅
with and without scales written in
daily and weekly options
✅
3 versions included
Great to print on labels, complete and paste on back of work
Perfect for preserving information on permanent products like art projects, worksheets, and tests
✅
9-trial and 10-trial available
Blank versions of the discrete trial format used in my DTT kits here and here
Print them on label paper and use for mix-and-vary trials easily
✅
9-trial and percentage versions
Easy to combine with the discrete trial cards above
This mega set of IEP data collection sheets can be edited (in powerpoint) to add in information to tailor it to your classroom and students' needs. It's designed for collecting data for students' progress on IEP goals, instructional goals, discrete trials, direct instruction, and more. 
❤️You will LOVE how easy it is to use these IEP goals and objectives tracking sheets! There is a video included in the product description of how they can be edited to add information about their students and programs/goals. 
You can choose the IEP data sheet you need from the set for the skill, add in your information and be ready to go without having to create a whole new data sheet for each skill they teach.  
Each data sheet has multiple version options to allow for choosing the one that works best for your situation.  And each is available in a hard copy PDF format and an editable PowerPoint format for adding text to the data sheet! 
✅ Check out the preview for more information!
What teachers are saying about the IEP goals and objectives tracking sheets?
⭐️⭐️⭐️⭐️⭐️ "This is great too and exactly what I was looking for! The detail put into explaining best uses is above and beyond expectation. Love it so much and recommend it to all data collectors!" - Classroom Chaos Coordinator 
⭐️⭐️⭐️⭐️⭐️ "Christine you are amazing - these are so helpful and have transformed our entire department into actual data collectors! My self-contained classroom also became more efficient with these fill-and-go sheets. Thank you!" - Virtually Special Ed
⭐️⭐️⭐️⭐️⭐️ "AMAZING. Data collection is critical and these resources make it a breeze! I love that I can edit them to meet my needs." - Elizabeth A.
⭐⭐If you are a member of the Special Educator Academy, these are included in your subscription in the Taming the Data Monster Course.⭐⭐
© Christine Reeve
This product is copyrighted to Autism Classroom News-Christine Reeve for use in
one classroom. They may not be copied for additional classes without purchasing
extra licenses.
Teaching Duration
Lifelong tool
Report this resource to TPT