Editable Number Sequence Puzzles | Ordering Numbers | Number ID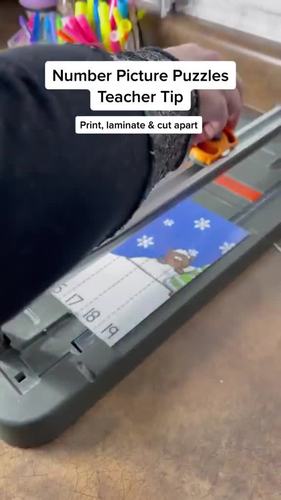 ;
What educators are saying
Great resource! My students and I love them. It has a great variety and they are editable! I can wait to use the entire set this School year. Thank you!
Great variety of puzzles! Fun and students were able to learn how to cut and glue and count, thank you!
Description
These Number Puzzles are editable, which allows for sequencing and ordering numbers 1-10, 11-20, numbers by 10 or even starting counting from numbers other than 1. I love hands-on number puzzles because they not only help with practicing number ID and ordering numbers, but putting together puzzles helps with fine-motor development and problem solving. These puzzles come in full-color, so they can be laminated and repeatedly used. They also come in black/white, to be printed and copied for students to color, cut and glue to construction paper
What's Included:
38 Editable Themed/Seasonal Number Puzzles - Full Color & Black/White Printing Options
•Aug – Back to School
•Aug – Friends
•Sept – Apples
•Sept – Fall
•Sept – Farm
•Oct – Pumpkins
•Oct – Fire Safety
•Oct – Nocturnal Animals
•Oct – Halloween
•Nov – Veteran's Day
•Nov – Autumn Scarecrow
•Nov – Thanksgiving (2)
Dec – Gingerbread
•Dec – Christmas
•Dec – Holidays Around the World
•Jan – Winter
•Jan – Penguins
•Jan – Arctic Animals
•Jan – Snow Play
•Jan – Hot Cocoa
•Feb – Groundhog Day
•Feb – Presidents Day
•Feb – Valentines Day
•Feb – Heart Day
•Feb – Dental Health
Mar – Transportation (2)
•Mar – Celebration
•Mar – St Patrick's Day (2)
•Mar – Weather
•Mar – Easter
•April – Spring
•April – Plants
•April – Earth Day
•May – Frogs
•May - Ocean
Number Products You May LOVE!
Number Poems w/Audio Files
◈ ◈ ◈ ◈ ◈ ◈ ◈ ◈ ◈ ◈ ◈ ◈ ◈ ◈ ◈ ◈ ◈ ◈ ◈ ◈ ◈ ◈ ◈ ◈ ◈ ◈ ◈ ◈ ◈ ◈ ◈ ◈ ◈
➯ Be sure to follow my store to be alerted of new products. Click HERE
Let's Connect!
➯ Don't forget to leave feedback. You will receive TPT credits that can be used on future purchases!
How to get TPT credit to use on future purchases:
Please go to your My Purchases page (you may need to login). Besides each purchase you'll see a Provide Feedback button. Simply click it and you will be taken to a page where you can give a quick rating and leave a short comment for the product. Each time you give feedback, TPT gives you feedback credits that you use to lower the cost of your future purchases. I value your feedback greatly as it helps me determine which products are most valuable for your classroom so I can create more for you.
◈ ◈ ◈ ◈ ◈ ◈ ◈ ◈ ◈ ◈ ◈ ◈ ◈ ◈ ◈ ◈ ◈ ◈ ◈ ◈ ◈ ◈ ◈ ◈ ◈ ◈ ◈ ◈ ◈ ◈ ◈ ◈ ◈
TERMS OF USE:
This item is a digital download from my TpT store: https://www.teacherspayteachers.com/Store/Kindergarten-Chaos-8214
As such, it is for use in one classroom only. This item is also bound by copyright laws and redistributing, editing, selling, or posting this item (or any part thereof) on the Internet are all strictly prohibited without first gaining permission from the author. Violations are subject to the penalties of the Digital Millennium Copyright Act.
You MAY:
•use items (free or paid) for your own classroom students or personal use
•distribute our resources in printed packets to your students/families
•send via email to your classroom families
•post on password protected class websites or apps that the general public can NOT access
•reference our resources in blog posts, workshops, seminars and share on social media providing credit is given to Kindergarten Chaos and links are shared to the product.
You MAY NOT:
•alter the resource or remove the copyright
•claim this work as your own
•sell the files or combine them into another unit for sale/free
•post or distribute our resources on a non-secure blog, school or district website, or file sharing site (this includes paid and free products)
Report this resource to TPT
Standards
to see state-specific standards (only available in the US).
Count to 100 by ones and by tens.
Count forward beginning from a given number within the known sequence (instead of having to begin at 1).