Editable Teacher Binder | Teacher Planner 2023 | FREE Updates for Life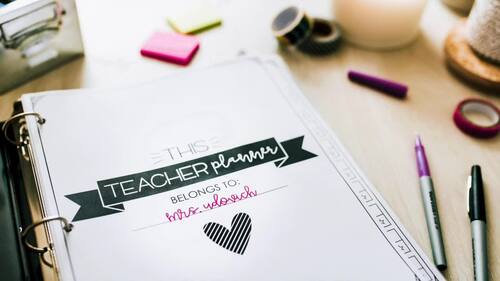 ;
What educators are saying
Love all the different options, customization, and yearly updates for this planner! It has saved me so much money by printing and binding this myself each year!
What a great resource!!!!!! Thank you so much for taking the time to put this together. So many fantastic items.
Description
If you need help with classroom organization, look no further! This teacher planner goes beyond lesson plans. It was created to organize just about everything to keep your classroom running smoothly. The best part? You get FREE UPDATES FOR LIFE! Yep…you read that right. This is the last planner you will ever have to buy!
➤➤➤ DON'T FORGET TO CLICK THE "VIEW PREVIEW" BUTTON ABOVE TO GET A CLOSER LOOK!
_________________________________________________________________________
⭐️ Here is a quick overview of what makes this planner extraordinary:
✓ It is completely editable. You can change anything at all, such as fonts, colors, titles, and tables…it works FOR YOU!
✓ The calendars are predated and will be updated as the years pass.
✓ You are given a multitude of lesson planning formats to choose from.
✓ It is jam-packed with editable forms.
✓ This download includes Google and PowerPoint access.
✓ You are given many cover choices, so you can change the theme whenever you want!
✓ I included how-to videos to help you get a jump start on planning.
✓ International friends, this planner is perfect for you!
✓ You get FREE UPDATES FOR LIFE!
_________________________________________________________________________
⭐️ Let's dig into the details…
Covers: I will be adding both classic and trendy covers every year so that you always have something new to look forward to! Binder spines are also included.
Forms: Knowing that teachers' wants and needs for their classrooms can be different, I made all of the forms 100% EDITABLE!
FREE UPDATES: To get the updates that I offer each year, you will simply download your purchase again. It's simple!
Calendars: The calendars are offered in single-page portrait and landscape options. I have also included a two-page calendar option. These are pre-dated for years to come and will be updated as time goes by. I have also separated them two ways: August-July and January-December
Digital Stickers: My digital stickers are adorable and will make your planning a little more enjoyable. I have even included a video showing you how you can make your own!
Organized Files: This is a large file, but I have meticulously organized it for you, making it easy to navigate. My "start here" video will help you as you begin.
Standards: Interactive Common Core and TEKS Standards PDF for grades K-6. I have also included NGSS Standards for grades K-Middle School. Editable standards are included for grades K-6, making them easy to adapt to specific state standards.
Google Slides: You are given the choice to plan on Google Slides. The file included provided links that automatically save whatever you would like into your Drive. How-to videos are included to show you how to make the most of your digital planning.
Editing: I know it has already been mentioned, but the editing capabilities are what makes this file extra special. You can literally change anything you want to fit YOUR individual classroom needs.
Substitute Binder: Using the substitute forms, classroom forms, and covers included in this download, you are able to create an incredible sub-binder with essential classroom information. (Sub plans are NOT included.)
Videos: How-to videos walk you through the awesome capabilities of your new planner! It's as though I am sitting right there with you as you get started.
Life Planning: I have also included life planning pages so that you can take a few minutes during the day to organize your life outside of school!
_________________________________________________________________________
⭐️ WHY SHOULD YOU PURCHASE THIS PLANNER?
➤ You will never have to purchase any other planner. YOU SAVE a ton of money!
➤ This file can create multiple classroom binders, not just basic classroom information.
➤ It is an organizational SYSTEM that works for you.
➤ This planner is offered in both color and black and white.
➤ If you still love your pre-printed planner, the Ultimate Planner makes the perfect companion! It includes forms and editing capabilities that those planners will never include.
_________________________________________________________________________
⭐️ Check out the editable forms included with your download:
Planning:
Several Lesson Planning Options
Plans for single subjects up to 8 subjects (can be edited to include more)
Plans offer subjects on both the side and at the top - you choose!
Lesson plans come with and without weekends!
Curriculum Map Options
Yearly Overview Options
Month-At-A-Glance
Weekly Overview Options
Hourly Planning Forms
Large Planning Ahead Forms
State Standards "Lesson Ideas and Notations" Form
Focused Lesson Planning Page
Weekly Lesson Planning
Special Dates At a Glance
Important Dates
7-Day and 5-Day Weekly Planning Pages
Observation Planning Form
Brain Dump (Brainstorming Page)
Calendars:
Pre-Dated
Portrait
Landscape
Single-Page
Double-Page
August-July
January-December (International teachers)
General Classroom and Student Information:
Class List
Class Roster (various class size options)
Detailed Student Information Page
Student ID Numbers
Student Photos
Student Birthdays
Medical Information
Seating Chart
Websites, Logins, and Passwords
Transportation Forms
Parent/Guardian Communication Forms
Regular Class Schedule
Student Support Schedule
Special Class Schedule
Basic Grading & Tracking Grids
Additional Classroom Information:
Emergency Procedures
Student Emergency Procedure Cards
Field Trip Permission Forms
Field Trip Information Forms
Field Trip Group Forms
Detailed Parent Input Form
Academic Information:
Small Group Forms - Several Options
ELA Standardized Test Results Forms
Math Standardized Test Results Forms
Student Reading Log
Student Reading Trackers
Teacher's Yearly Reading Log
Standard-Based Student Data Grid
Pre and Post-Test Student Data
Standard-Based Pre and Post-Test Data Grid
Reading Level Tracker Grid – Individual Students
Reading Level Teacher Reflection and Planning Page
Guided Reading Anecdotal Notes
General Anecdotal Notes
Guided Math Group Breakdown
Math Center Breakdown
Math Center Idea Keeper
ELA Center Idea Keeper
Science Center Idea Keeper
Student Fluency Tracking
Reading Rotation Tracker
Science Project Planning Form
Student Support:
Student Observation Forms
RTI Data Collection Forms
RTI Intervention Plan Form
RTI Lesson Planning Form
IEP Overview Forms
IEP Services – Quick Check Form
Where Can I Find You? Form - Support Schedule
Extras:
Classroom Rules and Expectations
Student Reflection Form
Accelerated Reader – Grading Period Level Analysis
Student AR Test Tracker
AR Goal Form
AR Coupon Form
Book Tracking and Planning Form
Plan Ahead Project Forms
Theme Tracker
Notes and Reflections Pages
Checklists
Parent/Teacher Conference Notes
Classroom Volunteer Form
Student Absence Tickets
Absent Student Forms
Student Assignment Tracker Forms
Monthly Behavior Log
Weekly Behavior Log
Out of the Room Student Tracking Form
Bathroom Control Form
Digital Color Palette - Choose your colors!
Student Teacher Feedback Form
Classroom Supply List
Beginning of the Year Letter to Parents/Guardians - welcome & supplies needed
Substitute Information:
Welcome Letter
Reporting Form
Substitute Information and Feedback Forms
Life Planning:
Books Tracker
Healthy Habit Tracking Forms
Nutrition and Wellness Forms
Water Intake Tracker
Meal Planning
Grocery Lists
Standards:
K-6 and include CCSS, NGSS, and TEKS
Covers:
More options are added each year
Editable
_________________________________________________________________________
⭐️ INTERNATIONAL TEACHERS
I created calendars dated for both August through July and January through December. They are separate files, so you can easily navigate to the ones that work best for you!
⭐️ ACCESSING YOUR FILES
When opening this file, you will find a single PDF. This PDF gives step-by-step instructions on what to do and even offers some time-saving tips. The planning files were created in both PowerPoint and Google Slides. These are not compatible with GoodNotes.
In order to access the files in this download, you need to have PowerPoint on your computer. Online PowerPoint programs or any other program similar to PowerPoint will create issues with the formatting, which essentially changes the entire file. You must have a Google account if you want to create your planner using the Google Slides option of this download.
_________________________________________________________________________
⭐️ Check out all of my planners HERE!
(You will find two GoodNotes planners here, as well!)
_________________________________________________________________________
⭐️ Click HERE to follow my store and be notified when new products are uploaded.
All new resources are 50% off for the first 24 hours!
Copyright © Joey Udovich (Create Teach Share LLC)
Permission to copy for single classroom use only.
Please purchase additional licenses if you intend to share this product.
Report this resource to TPT