Editable Teacher Binder and Teacher Planner: FREE UPDATES & Google Compatible!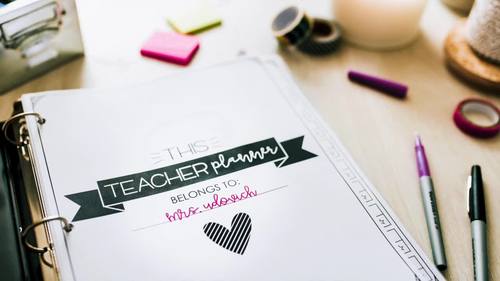 ;
What educators are saying
This was very useful as a new teacher. I taught for two years and then bought this resource and I still use it. It's such a good tool to have to keep you organized.
I absolutely LOVE this binder! It has almost everything you could think of for a sub AND it is easy to edit in anything that you want to add.
Description
*FAQ* This is one of my themed planners, which simply means that there is a set theme throughout the covers. My Ultimate Planner comes with over 520 cover choices. The forms, however, are all the same. This theme is NOT included in my Ultimate planner.
I can absolutely you that you will not find another line of planners that has the perfect blend of aesthetics, true functionality, ability to personalize with ease, is both digital and printable, and jam packed with beautiful covers, forms, lesson plans, and calendars that will have you excited to plan out an awesome school year!!
This planner, along with my other themed planners, are a direct result of YOUR needs and requests that I have been listening to since I started creating these in 2013. I have meticulously listened to your needs and made sure that every single one of them was met.
I have worked very hard to create THE PERFECT way to plan, no matter what you teach or what grade level you teach! The greatest part is that those lingering questions of what is the best way to organize and plan for your classroom needs will be put to rest, because you With your purchase, you get FREE UPDATES FOR LIFE, as well as a brand new digital and printable format.
★★★NOTE: THE IS THAT THE ULTIMATE PLANNER HAS OVER 520 COVER CHOICES. THESE THEMED PLANNERS ARE A SET THEME THROUGHOUT! THE ULTIMATE DOES NOT INCLUDE THE COVERS OF THE THEMED PLANNERS. TO SEE A FULL LIST OF MY THEMED PLANNERS, SEE THE BOTTOM OF THIS PRODUCT DESCRIPTION.★★★
★ AESTHETICS MEETS FORM & FUNCTION ★
Although it was important to me to have a line of visually appealing planners, it was even MORE important to me that they had EVERY SINGLE form, lesson plan, calendar, and editing capability to please even my toughest critics!
★ HERE ARE SOME PRODUCT HIGHLIGHTS ★
✓This file has a set of themed editable covers and spines to choose from! Please see my preview to see this particular theme. I offer a non-editable PDF with pre-determined sections that offer high quality prints, as well as an editable PPT file that
✓I meticulously made every single form in this download in both digital and printable format. Knowing that each of our wants, needs, and desires for our classroom can be different, I made all of them 100% EDITABLE! I didn't stop there...I offer these forms in various formats. One of those formats allows you to edit every SINGLE aspect of it! If you are needing to translate this file to another language, that won't be a problem.
✓Every single one of my binders comes with FREE UPDATES FOR LIFE, which means that any time I decide to add a goodie to this massive bundle, you get it…for FREE!
✓NO MORE WAITING for calendar updates! I have both single page portrait and landscaped calendars, along with double-paged calendars PRE-DATED THROUGH DECEMBER 2026! That's six years of ready-to-go organization set right before you! It won't matter if you need a calendar dated August through July or January through December, because I provided BOTH!
✓I include a HUGE assortment of DIGITAL STICKERS! NO MORE boring lesson plans or calendars…I've got you covered!
✓I have taken away that overwhelming feeling of a large file by meticulously organizing every aspect of it. You will be guided through everything with my "start here" video. You won't be left clicking in and out of files to find what you need.
✓I have included an interactive Common Core Standards PDF for grades K-5. Click on the subject and grade level, and this PDF transports you to your CCSS destination! I have also included 100% editable CCSS checklists for grades K-5, making this easily editable for teachers in grades 6-12 to copy and paste in their standards.
✓GO PAPERLESS and plan away with the GOOGLE drive file that I have created just for you! I also created a very organized and interactive PDF to help you select the files that you want to load into your drive.
✓Did I happen to mention that this download is COMPLETELY EDITABLE?! Okay, I did…but, I can't stress how nice it is to have the ability to change the forms, section covers, and binder spines to your individual classroom needs!
✓The Substitute Binder is included in this download! Just personalize, print, and go! You'll be all set for those last minute absences.
✓You can make MULTIPLE organization binders from this single resource.
✓I have videos to guide you through everything you could possibly do with this planner! I'm there with you. :)
★ WHY DO YOU NEED THIS RESOURCE? ★
•This is WAY more than a way to keep a class list, lesson plan, or basic classroom information. You are purchasing an ORGANIZATIONAL SYSTEM that is completely laid out for you!
•You are SAVING MONEY!! Why spend $50 to $80…on something that you will have to throw away at the end of the school year, when you can have this resource for life!? Sure, you'll have to print the forms again, but every single one of these high quality covers and spines will only need to be printed ONCE. I also made sure to provide black and white, easy to print, options for absolutely every form, lesson plan, and calendar included. I can't tell you how many times I have had teachers comment that they have purchased those pricey planners in the past, found mine, and will never go back! The editing capabilities are endless!
If you can't part with your pre-printed planners, that's completely fine! I think that joining forces with what I have to offer is a great idea! Simply put...preprinted planners will NEVER give you what I am giving you.
★ FORMS, FORMS, AND MORE FORMS! ★
Included with your download will be each of these EDITABLE forms (several coming with multiple size and formatting options, so that you can find what works for you!):
• Class List
• Class Roster (various class size options)
• Detailed Student Information Page
• Student ID Numbers
• Student Photos
• Student Birthdays
• Medical Information
• Seating Chart
• Websites, Logins, and Passwords
• "The Book Nook" – A place to plan out books to read throughout the school year, along with the strategies, skills, and extensions that can be used in accordance with each book.
• Emergency Procedures – Overview Pages
• Student Emergency Procedure Cards – A quick way to gather student information in an emergency.
• Classroom Rules and Expectations
• "Think About It" Form – A place for our kiddos to reflect on decisions that they have made, and consider different avenues that could have been taken in order to have different results.
• Field Trip Permission Forms
• Field Trip Information Forms
• Field Trip Group Forms
• Accelerated Reader – Grading Period Level Analysis
• Student AR Test Tracker
• AR Goal Form
• AR Coupon Form
• Substitute Welcome Letter – This also comes with a place to add helpful classroom hints and tips to make their day a little smoother!
• Substitute Reporting Form – A great way for your sub to jot down all of those important notes for you while you're gone!
• Detailed Parent Input Form – Perfect to get all of that beginning of the year information.
• Transportation Log - Ideal for keeping track of how your students will get to and from school, along with a place for notes.
• "We Ride the Bus"
• "Parent Pick Ups"
• "After School Events"
• ELA Standardized Test Results Forms
• Math Standardized Test Results Forms
• Plan Ahead Project Forms
• Theme Tracker
• State Standards "Lesson Ideas and Notations" Form – This is a great way to brainstorm lesson and projects in coherence with your standards. Too often I have had a great idea, didn't write it down, and missed the opportunity to elevate my lesson! This will help prevent that from happening.
• Lesson Reflections Form – What worked, what didn't, and what changes need to be made to your lessons.
• Various Notes and Reflections Pages
• Parent Contact Numbers
• Parent Email List
• Parent Communication Logs
• Parent/Teacher Conference Notes
• Classroom Volunteer Form
• Student Reading Log
• Student Reading Trackers
• Teacher's Yearly Reading Log
• Standard-Based Student Data Grid
• Pre and Post Test Student Data Form
• Standard-Based Pre and Post Test Data Grid
• Reading Level Tracker Grid – Individual Students
• Reading Level Teacher Reflection and Planning Form
• Basic Grading & Tracking Grids (A variety is provided to suit your class size.)
• Student Absence Tickets – These can be used in place of an online absentee system in the event that the school's system is down.
• Absent Student Forms
• Regular Class Schedule Form
• Student Support Schedule Form
• Special Class Schedule Form
• A Variety of Checklists
• "Conquering the Week Ahead" Planning Form
• "Special Dates At a Glance" – Two Page Spread
• "Important Dates" – Two Page Spread
• Guided Reading Anecdotal Notes
• General Anecdotal Notes Forms
• Guided Math Group Breakdown Forms
• Math Center Breakdown Forms
• Math Center Idea Keeper Form
• ELA Center Idea Keeper
• Science Center Idea Keeper
• Student Fluency Tracking Form
• Reading Rotation Tracker Forms
• Student Observation Forms
• RTI Data Collection Forms
• RTI Intervention Plan Form
• RTI Lesson Planning Form
• IEP Overview Forms
• IEP Services – Quick Check Form
• "Where Can I Find You?" Form – Keeping track of kiddos and the services they receive.
• Monthly Behavior Log
• Weekly Behavior Log
• "Out of the Room" Student Tracking Form – Where did you students go and why?
• "Bathroom Control" Form – Who went the bathroom and when?
• A HUGE VARIETY of Small Group Forms, which are all EDITABLE to your classroom needs!
★LESSON PLANS! ★
THESE WERE UPDATED...and the updates are !!
You can now choose between a realistic planner with a shiplap background, landscaped planners, and two page planners.
►►► PLANS FOR ONE SUBJECT UP TO 8 SUBJECTS!!!
• Focused Lesson Planning Page
• Weekly Lesson Planning Forms
• A TON of Lesson Plan Options – It doesn't matter if you teach one subject or many, you are sure to find something that works for you! I provide various formats for you to choose from. If you don't like those, feel free to adjust it to your needs! My how-to videos will help!
• Do you want the subjects at the top or on the side? I have them both!
• Do you want lesson plans with weekends or M-F? I have both!
• Add pops of color and art to your forms with my DIGITAL STICKERS. Not sure how to use them? Watch my editing video!
★★★INTERNATIONAL TEACHERS★ ★ ★
I created calendars dated for both August through July and January through December. They are separate files, so you can easily navigate to the ones that work best for you!
★ACCESSING THE FILES★
In order to access the files in this download, you need to have PowerPoint on your computer. Online PowerPoint programs or any other program similar to PowerPoint will create issues with the formatting, which essentially changes the entire file. If you want to use the GOOGLE DRIVE portion of this download, you must have a Google account.
★TRUST IN THE PRODUCT & TRUST IN THE SELLER★
I take great pride in my customer service, so if you come across an issue, or simply need some more guidance, feel free to contact me through the TpT Q&A section or personally email me at mjudovich@gmail.com. As a teacher, I know that our time and money is precious, and I don't want you to waste either of those things. I'm here to help you, and I'm happy to do so!
PLEASE TAKE THE TIME TO LOOK AT (AND WATCH) EACH OF THE PREVIEWS ABOVE TO TAKE A MUCH CLOSER LOOK AT THIS RESOURCE! (THIS WILL BE UPDATED SOON, BUT STILL DOES A GOOD JOB SHOWCASING SOME OF THE PLANNER FEATURES.)
★★PLEASE NOTE THAT THIS IS PRE-DATED THROUGH 2026, AND THE FONTS ARE INCLUDED!
IF YOU ARE PLANNING DIGITALLY, YOU MUST HAVE ACCESS TO GOOGLE DRIVE.
(I HAVE INCLUDED AN UNBELIEVABLE ASSORTMENT OF FORMS, LESSON PLANS, CALENDARS, COVERS, AND MORE FOR GOOGLE USE.)
IF YOU ARE PRINTING YOUR PLANNER, YOU MUST HAVE POWERPOINT.
••••••••••••••••••••••••••••••••••••••••••••••••••••••••••••••••••••••••••••••••
I'd love to have you join me on my educational journey, so be sure to FOLLOW me on the following accounts to keep up with my latest projects, classroom inspiration, latest FREEBIES, great giveaways, and MORE!
Teachers pay Teachers: Click "Follow" Beneath My Name!
Instagram (MY FAVORITE!!!)
••••••••••••••••••••••••••••••••••••••••••••••••••••••••••••••••••••••••••••••••
Here are my other binders…check them out and find out what YOUR organizational style is!
••••••••••••••••••••••••••••••••••••••••••••••••••••••••••••••••••••••••••••••••
Please note that your purchase is good for ONE USER LICENSE. If you are wanting to share, you MUST purchase multiple user licenses upon checkout. Please keep in mind that I have spent countless hours and months creating this product for you and your classroom. I simply ask that in return you respect the time and effort that I put into it. Thank you! ❤
You will be able to read more about this binder on my upcoming BLOG POST. (This post will be updated during the month of May 2020!)
Thank you for your dedication to education! Your hard work and persistence to elevate your classroom and teaching to another level is what makes a difference in the hearts of the kiddos we touch every single day.
Much love,
Joey ❤
Teaching Duration
Lifelong tool
Report this resource to TPT