Editable Teacher Planner - Annual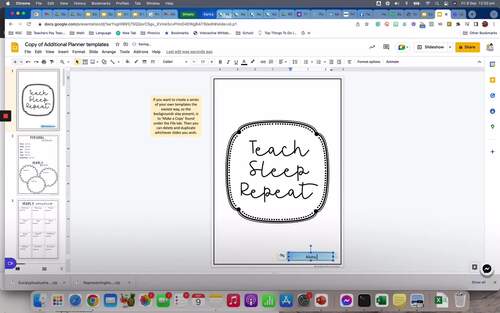 ;
What educators are saying
This is amazing. I have seen a lot of Teacher Diaries but this one is exactly what i need. Clear and easy to follow. This is a must have for organisation!
Also included in
Get organised for the school year with this ULTIMATE ORGANISED TEACHER BUNDLE for Aussie teachers. By purchasing this bundle, you save 30% off the cost of each individual resource!This resource is designed to provide you with a one-stop shop to store all your classroom information, inspiration, idea

Price $16.00

Original Price $23.00

Save $7.00

This MEGA Bundle is the ultimate way to get started for your first year of teaching. It includes 14 of our most popular resources.By purchasing this bundle you save 30% off the individual cost of each resource! Let us HELP YOU get organised and survive your first year with this ultimate survival pac

Price $68.00

Original Price $98.10

Save $30.10

Are you a New Teacher - Let us HELP YOU get organised and survive your first year!! These resources have been created for beginning primary school teachers to get organised and feel confident walking into the school year!This bundle includes 5 of our best sellers: The First Year Survival Pack, Teach

Price $33.50

Original Price $47.70

Save $14.20
Description
We know how busy the school year is for teachers! Let us help you get organized by collating all your important information and plans in one place with this editable planner designed primarily for classroom teachers.
This planner will help you keep all the relevant information you need in one place, so you can access everything you need at your fingertips!
This resources comes in a $$$ saving Organised Teacher BUNDLE!
This resource is designed to provide you with a one stop shop to store all your classroom information, inspiration, ideas, weekly plans, reflections, assessment checklists and staff meeting notes.
Planner includes versions for American teachers and Australian teachers with correct terminology.
This planner also comes in a Tropical Theme and Toucan Theme.
Bind your planner or put it in a folder and continue to add to it as the year progresses (see the user guide page for detailed instructions).
A Generic Google Slides Editable Planner is included for those who wish to have more flexibility when it comes to a digital planner. All the same, inclusions are available as the printable version.
Note: Elements of the PPT planner document are EDITABLE meaning you can add text boxes. The design of the planner cannot be changed due to copyright restrictions.
Inclusions:
Resource instructions (including detailed a printing guide)
Cover Pages (3 different design options: Floral, Blue Stripe, Purple Watercolour)
Personal Information Page
Yearly Goals
Yearly Overview
Monthly Calendar
Pages to record: Useful websites and passwords, Student passwords, Teaching Philosophy, Class notes, Timetables, Parent Contact Information, Ideas, Birthdays, To do lists etc
Classroom Layout (*NEW)
Behaviour / Behavior log (*NEW)
Student interventions (*NEW)
Teacher Standards (AISTL Australia only)
Term / Quarter Cover pages
Term / Quarter planners (4 planners)
Anecdotal notes (2 templates per term/quarter)
Class Ability Groups (pages for each term/quarter)
Week at a glance pages
Weekly Daybook (daily work pad) – 12 weeks of double page spreads (3 layout options: 3 box, 5 box and 6 box)
Assessment Checklists
Merit and Award Records
Excursion/Field trip Note Records
Communication Logbook
Communication Diary (detailed parent meeting records)
Staff Meeting Notes
General Notes
Editable themed spines
This document includes everything you need to get organised and stay organised for the school year.
Other Teacher Resources you might like:
Professional Development Diary
❤️ What people are say about this planner: ❤️
"So so happy with this. It has everything you need and more, prints beautifully and is easy to personalise with its editable files!" Rosie Jay Designs
"Stylish, cute and practical! what more could you want??" Hayley
"The prettiest and most detailed planner. Cannot wait to start using it!" Tayla
"Absolutely Amazing Planner!!!!!! love the detail and the colour scheme!" Kindy with Keets
"I love this! It's beautiful and brings me joy each day to use in my room. I love all of the personal touches and quotes. It's so invigorating to stay on top of organisation, with the added bonus of pretty pages!" Kristel
We are passionate about helping teachers here at Rainbow Sky Creations. We hope that this planner helps you in your classroom this year!
Before you go, follow us and be notified when new products are uploaded. New products are always 50% off for the first 24 hours they are posted!
Thanks for visiting!
****************************************************
Terms of Use: Copyright of this material is reserved in accordance with the Copyright Act 1968. This purchase is for single classroom/home use only. Additional reproduction of part or all of this resource is prohibited without the written authority of Rainbow Sky Creations. All content and clipart in these files have been created by Rainbow Sky Creations and therefore remain the property of Rainbow Sky Creations.
****************************************************
Contact: If you have any feedback, queries, or concerns, please don't hesitate to contact us via the online form or at admin@rainbowskycreations.com
If you love this resource, we would LOVE you to leave us some feedback!
****************************************************
Report this resource to TPT