Editable UNO Style Card Game - Use with ANY SUBJECT | Edit Text Boxes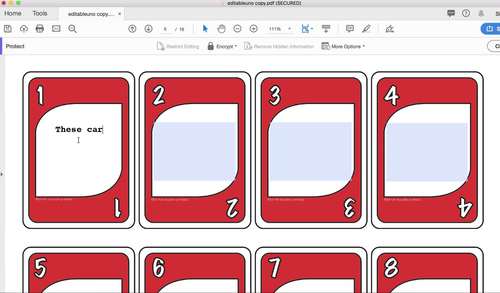 ;
12 pages + directions and credits
What educators are saying
Wow! with this resource I can create a game per topic, that's something that I really like... I can use it the times that I want.
Description
This is an EDITABLE version of my classic card games. This set is blank and text can be added in adobe acrobat! Add your own vocabulary, grammar, math...you name it! Need a creative and competitive way to practice and improve responding to questions, learning and practicing new vocabulary specifically tailored to your curriculum?
This version has been modified to work for any subject in any classroom! My students love playing card games and I love incorporating grammar and vocabulary to the game. You can edit the blank fields according to your need, age level and subject matter.
Use personalized questions or word lists! Make a personalized game for a special occasion/event or tailor the cards to a specific holiday or season! Directions are included! The cards can be used over and over again throughout the year!
Just click in the fields to EDIT ----> SAVE and -----> PRINT. The grey field area DOES NOT PRINT. Just the white background and text area,
*When you edit the cards, the text is 14pt Courier Bold Font and there is a 78 character limit including spaces. Be aware before you purchase!
What's included in this download: (each card has a number from 1-10)
20 BLANK RED numbered question cards
20 BLANK BLUE numbered question cards
20 BLANK GREEN numbered question cards
20 BLANK YELLOW numbered question cards
4 DRAW TWO cards >>>>> the next player must draw two cards
4 SKIP cards >>>>> skips the next players turn
4 REVERSE cards>>>>>> reverses the order in which turns are taken
4 WILD cards>>changes the color
96 cards total
If you like this idea but are short on time to make your own cards:
⭐ Card Game for 1st and 2nd Grade Sight Word Practice
⭐ Christmas Vocabulary Card Game - English Version
⭐ ESL - Question Card Game - Past Tense and Present Perfect
⭐ ESL - Question Card Game - Present Continuous Action Verbs
⭐ ESL Games Bundle Elementary Grammar and Vocabulary Building Activities
⭐ Ice Breaker Card Game - Getting to Know You Questions
⭐ Name Two Things, People, Places, Verbs or Words -A Vocabulary Building Card Game
⭐ Opposites: Vocabulary Card Game - Antonyms
⭐ WH Question Card Game - What, When, Where & Why
Looking for Digital Activities? Check out Boom Cards™
Check out some other Grammar Games!
Check out some other Vocabulary Games!
Check out some Best Selling ELL Resources in $$ Saving Bundles!
Check out some of my Conversation Starters!
__________________________________________________________________
Please go to your page (you must be signed in). Next to each purchase you'll see a button. Just click it and you will be redirected to a page where you can give a rating and leave a comment for each purchase . Each time you give feedback, TPT gives you feedback credits that you use to lower the cost of your future purchases. I love hearing from you as your feedback helps me improve my resources to fit the needs of teachers all over the world!
Total Pages
12 pages + directions and credits
Report this resource to TPT