Efren Divided Novel Study ESCAPE ROOM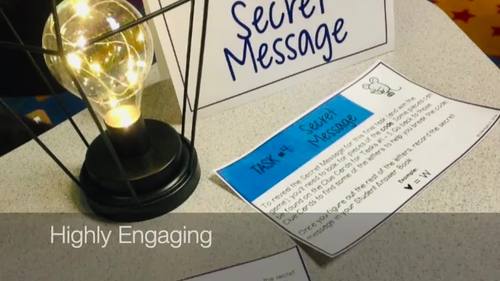 ;
Description
Give your students a literary experience they won't forget!
Escape Rooms have become all the rage…and for good reason! They are highly-engaging activities that allow students to deepen their understanding of content. It's a win-win situation for all!
This ESCAPE ROOM is designed to be used AFTER reading the best-selling novel, Efren Divided, by Ernesto Cisneros. It assesses students' knowledge of major story events (Task #1), characters (Task #2), vocabulary (Task #3), and theme (Task #4) through the use of 4 coded stations. This product also allows students to reflect on themselves as learners (Escape Room Reflection).
This Escape Room can be used after a whole class read (or read aloud), novel study, or even independent reading. The beauty of an Escape Room is that students work collaboratively to solve puzzles; however, it could be completed by individual students as well.
How It Works:
→ Station 1: Students sort through Plot Cards to determine which events actually occurred in the text and put them in plot order. Doing so will reveal a hidden code.
→ Station 2: Students match characters to distinct character descriptions to reveal a hidden code.
→ Station 3: Students match vocabulary words extracted from the text to their respective definitions in order to reveal a hidden code.
→ Station 4: Retrieving clues in the previous stations, students work to decipher a secret message related to the text.
If this is your first time implementing an Escape Room, rest assured that my goal is to make this as painless as possible! As such, I have included VERY detailed teacher guides to walk you through every step of the process.
This Comprehensive ESCAPE ROOM Product Contains:
→ background information on the novel, Efren Divided
→ a 3-page, step-by-step How-It Works Teacher Guide
→ a 3-page Station Details: Teacher Guide
→ a Frequently Asked Questions tip sheet
→ Station Set-Up Instructions
→ an Escape Room Print Checklist
→ an Escape Room Student/Group Completion Checklist
→ a Certificate of Achievement for students
→ 4 Station Signs
→ 4 Clue Card Envelopes
→ 4 pages of Clue Cards
→ Task Card Directions
→ a Student Answer Book
→ an Answer Key
→ 2 Different Student Reflection Sheets
I hope your kids enjoy working with it as much as I loved creating it! ♥
Click here for more Efren Divided resources!
Check out more Escape Rooms here.
Rating after downloading is greatly appreciated.
Yours in Literacy,
Sheila ☺
Report this resource to TPT
Standards
to see state-specific standards (only available in the US).
Determine a theme of a story, drama, or poem from details in the text, including how characters in a story or drama respond to challenges or how the speaker in a poem reflects upon a topic; summarize the text.
Determine the meaning of words and phrases as they are used in a text, including figurative language such as metaphors and similes.
By the end of the year, read and comprehend literature, including stories, dramas, and poetry, at the high end of the grades 4–5 text complexity band independently and proficiently.
Determine a theme or central idea of a text and how it is conveyed through particular details; provide a summary of the text distinct from personal opinions or judgments.
Determine the meaning of words and phrases as they are used in a text, including figurative and connotative meanings; analyze the impact of a specific word choice on meaning and tone.