Elements of Fiction Unit - Story Elements Mini-Lessons & Activities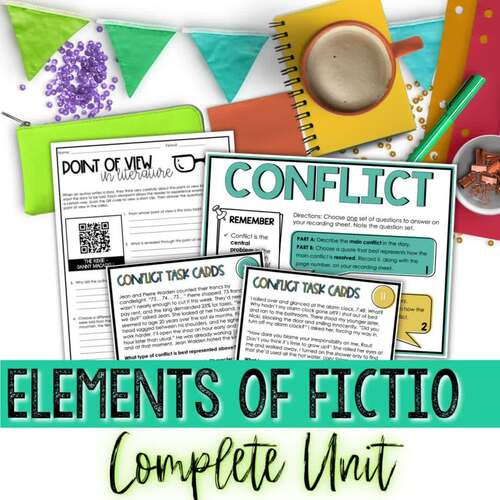 ;
Zip

Google Apps™
Includes Google Apps™
This bundle contains one or more resources with Google apps (e.g. docs, slides, etc.).
What educators are saying
This is such an amazing product! First, I LOVE the notes format. Very engaging. The station activities are great and the kids really enjoyed the practice.
One of my favorite TPT purchases. Very helpful when teaching students the elements of fiction. It includes worksheets for the students to practice the skill. I highly recommend this.
Products in this Bundle (8)
showing 1-5 of 8 products
Also included in
If coming up with thorough & engaging units for the four major genres of literature has ever made you feel frustrated, overwhelmed, or even unsure, I made this bundle of ELA mini units for you. This HUGE BUNDLE is your complete kit for teaching the elements of literature this year!CHECK OUT THE

Price $59.99

Original Price $112.62

Save $52.63
Description
Preparing your fiction unit has never been easier than with these elements of fiction mini-lessons. These lessons and activities on characters, setting, conflict, plot, theme, and point of view come with editable presentations and engaging and interactive activities. Teaching the story elements is as easy as 1-2-3 with this complete unit!
These literary element mini-lessons are perfect to use throughout your unit as whole-group lessons or as stations! Everything comes in both digital and printable options, so students can access what they need without you having to do extra work!
CHECK OUT THE PREVIEW TO SEE EVERYTHING INCLUDED!
This Elements of Fiction Unit includes mini-lessons for:
⭐️
⭐️ 
⭐️
⭐️
⭐️
⭐️
⭐️
PLUS... it comes with review stations you can use with ANY text!
This fiction unit will help your students understand the basic literary elements necessary for literary comprehension and analysis. Afterward, the skills can be applied and used with any text! 
The best part? Not only is the content broken down into simple, manageable chunks that students enjoy, but it will save you precious planning time because everything is included but the copies!
___________________________________
These mini-lessons include:
Editable Slideshows for PowerPoint and Google Slides
Printable Worksheets and Activities
Digital Alternatives
___________________________________
TEACHERS LIKE YOU SAID…
⭐️⭐️⭐️⭐️⭐️ Cretia says, "My students found this to be visually pleasing, easy to interact with, and it was great to review. I don't think that there was a single student who did not refer back to this! Thank you for a great resource!"
⭐️⭐️⭐️⭐️⭐️ Brynlee says, "This resource was engaging for my students to refresh fiction elements. I liked that the students were able to color while waiting for other students to finish writing their notes. We put these in our reading notebooks and were able to refer back to them. Thank you!"
⭐️⭐️⭐️⭐️⭐️ Amber says, "This is a great resource and was a huge time saver for me! I will be using this again next year."
___________________________________
You may also like…
❤️
❤️
❤️
❤️
Have a question?
Please check out the Q & A section or email me at info@heynatayle.com.com. I'll get back to you within 24 hours.
Don't forget to leave me feedback! I love to hear what my buyers say, how the product worked for them, and any feedback I can use to improve my product! (It also earns you points towards future TPT Purchases)
✔️ Follow me to be notified when I've posted new products. New products are always 50% off for the first 48 hours!
✔️ Subscribe to my NEWSLETTER for tips, ideas, and activities that make teaching middle school ELA feel engaging and purposeful.
Thanks so much,
Natayle Brown
___________________________________
Copyright © Hey Natayle.
Permission to copy for single classroom use only.
Please purchase additional licenses if you intend to share this product.
Teaching Duration
3 Weeks
Report this resource to TPT
Standards
to see state-specific standards (only available in the US).
Determine a theme of a story, drama, or poem from details in the text, including how characters in a story or drama respond to challenges or how the speaker in a poem reflects upon a topic; summarize the text.
Compare and contrast two or more characters, settings, or events in a story or drama, drawing on specific details in the text (e.g., how characters interact).
By the end of the year, read and comprehend literature, including stories, dramas, and poetry, at the high end of the grades 4–5 text complexity band independently and proficiently.
Determine a theme or central idea of a text and how it is conveyed through particular details; provide a summary of the text distinct from personal opinions or judgments.
Describe how a particular story's or drama's plot unfolds in a series of episodes as well as how the characters respond or change as the plot moves toward a resolution.