Elements of Nonfiction Text Toolkit | Intermediate Mini-lessons for ELA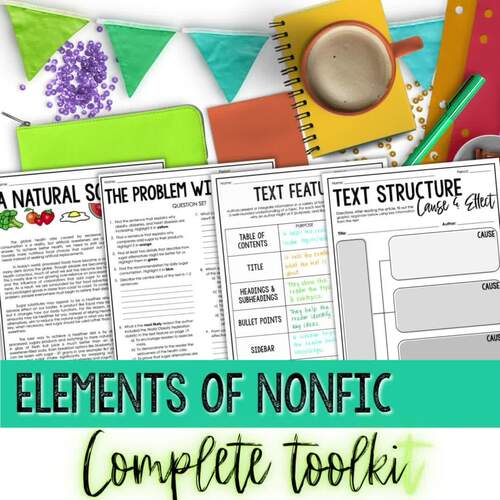 ;
Zip

Google Apps™
Includes Google Apps™
This bundle contains one or more resources with Google apps (e.g. docs, slides, etc.).
What educators are saying
My students enjoyed the powerpoint, notes, and various activities. Practice passages were engaging for my7th graders.
Perfect lesson!!!!! My students enjoyed this activity. This was exactly what I was looking for. I was able to use this in conjunction with my other class lessons.
Products in this Bundle (5)
Also included in
If coming up with thorough & engaging units for the four major genres of literature has ever made you feel frustrated, overwhelmed, or even unsure, I made this bundle of ELA mini units for you. This HUGE BUNDLE is your complete kit for teaching the elements of literature this year!CHECK OUT THE

Price $74.99

Original Price $112.62

Save $37.63
Description
Launching your nonfiction reading unit? Get access to thorough, research-based nonfiction text minilessons and activities that you can feel good about! This nonfiction comprehension toolkit breaks down the elements of nonfiction in easy, digestible ways for middle school students. These nonfiction reading lessons are perfect to use for regular ELA, intervention classes, station rotations, and more!
Check out the PREVIEW for more information!
This Elements of Nonfiction Toolkit covers:
This informational text bundle will give your students the skills necessary for nonfiction comprehension, and the lessons and graphic organizers can be easily adapted for any text! 
The best part? I've done the majority of the hard work for you! All you have to do is gather additional nonfiction passages as you see fit (but rest assured, this bundle comes with 7 high-interest grade-level passages!).
BY PURCHASING THE BUNDLE, YOU SAVE NEARLY 25%!
___________________________________
These mini-lessons include:
Editable Slideshows for PowerPoint and Google Slides
Printable Worksheets and Graphic Organizers
Digital Notebook Alternatives
Passages and Question Sets (except for text features and author's purpose)
___________________________________
TEACHERS LIKE YOU SAID…
⭐️⭐️⭐️⭐️⭐️ Jessica says, "This was really helpful, organized, and was engaging for my special ed students. They enjoyed completing the tasks together, individually, or with partners. It was great for review and provides plenty of practice. THANK YOU!"
⭐️⭐️⭐️⭐️⭐️ Kirk's Klassroom says, "Great resource for reviewing elements of non-fiction. Also, I love the brochure assignment!! It can work with any informational text. I used this with 8th graders, and my lessons turned out beautifully! :) Thank you!"
___________________________________
Have a question?
Please check out the Q & A section or email me at info@heynatayle.com.com. I'll get back to you within 24 hours.
Don't forget to leave me feedback! I love to hear what my buyers have to say, how the product worked for them, and any feedback I can use to improve my product! (It also earns you points towards future TPT Purchases)
✔️ Follow me to be notified when I've posted new products. New products are always 50% off for the first 48 hours!
✔️ Subscribe to my NEWSLETTER for tips, ideas, and activities that make teaching middle school ELA feel engaging and purposeful.
Thanks so much,
Natayle Brown
___________________________________
Copyright © Hey Natayle.
Permission to copy for single classroom use only.
Please purchase additional licenses if you intend to share this product.
Teaching Duration
2 Weeks
Report this resource to TPT
Standards
to see state-specific standards (only available in the US).
Cite textual evidence to support analysis of what the text says explicitly as well as inferences drawn from the text.
Analyze how a particular sentence, paragraph, chapter, or section fits into the overall structure of a text and contributes to the development of the ideas.
Determine an author's point of view or purpose in a text and explain how it is conveyed in the text.
Integrate information presented in different media or formats (e.g., visually, quantitatively) as well as in words to develop a coherent understanding of a topic or issue.
By the end of the year, read and comprehend literary nonfiction in the grades 6–8 text complexity band proficiently, with scaffolding as needed at the high end of the range.