Elements of Plot:Video, PowerPoint, and Student Notes - Distance Learning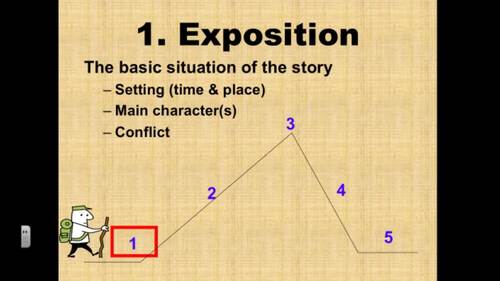 ;
What educators are saying
My students loved this resource to introduce and review the elements of plot. It provided great visuals, and it was a really good jumping off point, overall.
Also included in
This download includes lessons covering: Character AnalysisIronyFigurative Language (project) Point of ViewElements of PlotForeshadowingIt also contains these resources:Managing an Independent Reading Program (SSR) Book Talk Guidelines and RubricComparison Essay: Novel vs. FilmVisual Thinking Routin

Price $30.00

Original Price $34.50

Save $4.50
Description
I have created a seven-minute video explaining the five parts of a plot: exposition, rising action, turning point/climax, falling action, and resolution/denouement. I go over the terms and create an animated story to illustrate each section. I am also including the PowerPoint in this download in case you would prefer to narrate the lesson yourself. The student notes are an outline of the lecture with blanks for the students to fill in as they follow along.
To purchase just the streaming video, click here.
I use videos for my flipped classroom. Students view a video lecture and fill in their notes for homework. With the passive learning out of the way, students come to class ready to actively engage with and apply the concepts. This also gives us more class time to work collaboratively with one another. Videos are also great for tutorials or remedial work. Need to be out for the day? Leave a video lesson for your substitute.
Check out the website Tech Tools for Teachers!
Check out the website Tech Tools for Teachers!
Report this resource to TPT