Elements of Poetry Unit - Poem Writing with Figurative Language Anchor Charts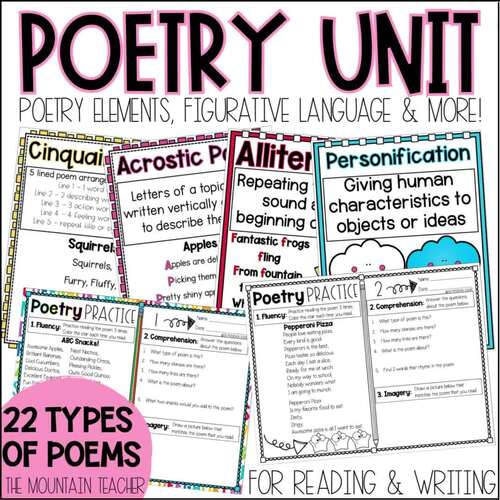 ;
What educators are saying
I purchased this unit after downloading her free Poetry Unit Sample. It has been a great resource to explore different writing styles with my special education students.
I use this pack every year for my poetry unit. It has everything you need to touch all 1st grade standards plus MORE. It is perfect.
Description
Teaching students to comprehend and write using different elements of poetry and figurative language has never been easier. Students will practice both reading and writing poems through the use of these helpful types of poems and figurative language anchor charts, posters and templates. This one month poetry unit covers ALL of your poetry teaching needs.
Elements of Poetry - Poems Covered:
ABC Poem
Acrostic Poem
Autobiographical Poem
Ballad Poem
Chant Poem
Cinquain Poem
Color Poem
Diamante Poem
Haiku Poem
Limerick Poem
Lune Poem
Ode Poem
Shape Poem
Tanka Poem
Figurative Language Covered:
Alliteration
Rhyme
Repetition
Onomatopoeia
Personification
Metaphor
Hyperbole
Simile
Elements of Poetry Vocabulary Words Included:
Stanza
Line
Rhythm
Poem
Story
Song
Mood
Imagery
Point of View
Theme
Senses
Tone
Check out the first sample lesson on ABC poems for free.
Each element of poetry or figurative language lesson includes:
An anchor chart explaining the poetry element
2 poetry templates to write your own poems
A poem fluency, poetry comprehension and imagery practice page
A blank page for students' poetry books
This 180+ Document Includes:
A 2 Page Teaching/Pacing Guide
22 Anchor Charts (full color and black and white)
22 Writing Templates (full color and black and white)
24 Page Poetry Writing Book (full color and black and white)
Poetry Book Writing Rubric
22 Reading Comprehension pages (full color and black and white)
4 Pages of Vocabulary Practice (3 words per page) The vocabulary word cards each have the word, a definition and an example. These can be used as needed to teach students the vocabulary. They are not explicitly taught in the mini-lessons, as every class will need a different amount of time spent covering the words and a different approach to these words.
Do you want instructional videos to teach each poetry elements and figurative language for you? to get:
Please open the preview file and ask any questions before purchasing.
DIGITAL Poetry Book for Students to Edit
Teacher Poetry Book Example
This unit was designed for first, second or third graders, but can be adapted for any elementary grade.
Looking for Other Reading Units?
Check out a YEAR of Let's Get Reading Curriculum.
You can also connect with me for first access to my resources, giveaways and FREEBIES via: Email | Website | Instagram | Facebook | Teachers Pay Teachers
Enjoy! Don't forget to leave feedback on all paid purchases for future credit toward free resources.
Teaching Duration
1 month
Report this resource to TPT
Standards
to see state-specific standards (only available in the US).
Identify words and phrases in stories or poems that suggest feelings or appeal to the senses.
Describe how words and phrases (e.g., regular beats, alliteration, rhymes, repeated lines) supply rhythm and meaning in a story, poem, or song.
Refer to parts of stories, dramas, and poems when writing or speaking about a text, using terms such as chapter, scene, and stanza; describe how each successive part builds on earlier sections.