Elephant Song & Activity | Follow the Leader | Counting | mp3, PDF, SMART, Video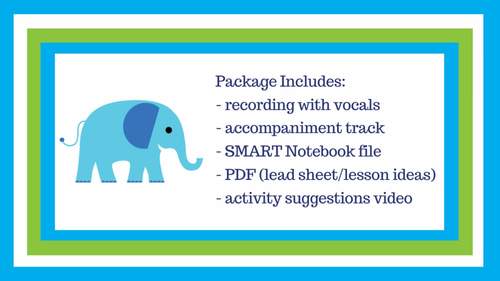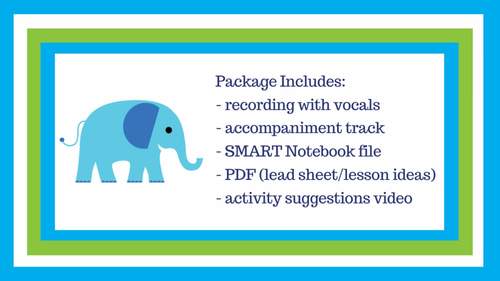 Created By
Lisa's Classroom Songs
Product Description
This original music and movement singing game for lower elementary is loads of fun for everyone! Start with one "elephant" marching around the room. More are added as the song progresses until there are eight marching elephants! Students can sing and play instruments while they wait their turn to be one of the eight participants.
Want to accommodate more than eight students at a time? No problem! Simply sing the song a capella and add extra verses. Recording Length 2:22
Watch the video preview to hear a sound sample!
The SMART Notebook file includes two fun activities. The first one invites students to count elephants as they make them disappear inside the tent. The second is a listening activity that provides students with an opportunity to categorize straight and swing sound samples.
Concepts Highlighted in the PDF and SMART file:
- beat and rhythm
- swing and straight styles
- counting to 8
- marching
- moving in a line
- following a leader
This package includes:
- Recording with vocals (mp3)
- Accompaniment track (mp3)
- SMART Notebook file
- PDF with lead sheet, game instructions and lesson ideas
- Activity suggestions video (mp4)
Other options for "Elephants on Parade":
Report this Resource to TpT