"Eleven" by Sandra Cisneros Short Story Unit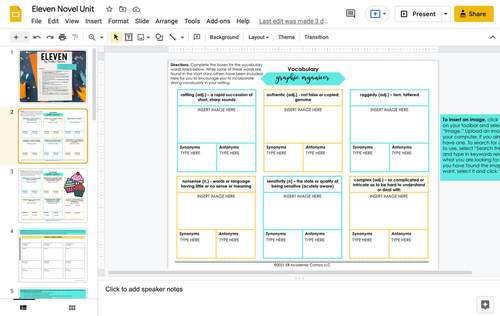 ;
Zip

Google Apps™
Includes Google Apps™
The Teacher-Author indicated this resource includes assets from Google Workspace (e.g. docs, slides, etc.).
Description
Looking for an easy, no-prep short story reading and writing unit for your middle school students? This is it! Use the short story "Eleven" by Sandra Cisneros" to teach and review many important evidence-based writing and reading skills!
Using the short story "Eleven," students will search for evidence and create justification to support claims, thoughtfully analyze the relationships among characters, answer critical thinking questions, and reflect on the deeper meaning of the text through a written reflection. Additionally, students will also complete a multi-premise paragraph that can be expanded into a multi-paragraph essay!
INCLUDED IN THIS RESOURCE:
Instructions for Use: We include step-by-step instructions for how to make the most of this no-prep resource.
Vocabulary Graphic Organizer: Includes words from the text that students might struggle with, plus additional words for students to incorporate in their writing throughout this unit. They find synonyms and antonyms and create a picture/symbol to help students understand and familiarize themselves with the new terms.
Character Connections Activity: This is the same Character Connections Activity we sell in our store but adjusted to specifically work with this unit.
Cupcakes and Evidence Activity: Students identify the various ways Rachel acts the multiple "years" of her life. They find evidence from the text as well as provide justification.
Critical Thinking Questions: Five, in-depth critical thinking questions that you can have students complete on their own, or even use these as a great way to kick off a Socratic Seminar discussion of the short story!
Timeless Text Activity: This is also the same Reading Reflection Activity we sell in our store as well, but it has been adjusted to specifically fit his unit.
2-Premise Paragraph Outline: Students are provided with a graphic organizer/outline to help them organize their thoughts in response to a prompt about the text. The 2-premise paragraph includes the following: a claim, 2 premises, evidence and justification for both premises, as well as a concluding sentence. Essentially, this is a condensed version of a multi-paragraph essay.
EDITABLE Rubrics: Rubrics included for Character Connections Activity, Timeless Text Activity, and 2-Premise Paragraph Response. These are fully editable using PowerPoint. You must have PowerPoint in order to edit!
Digital Version: Use this digital version for students learning from home. It will offer the same lessons and address the same skills.
*PLEASE NOTE: This resource DOES NOT include the text of the short story, "Eleven."
***************************************************************************
Looking for more writing resources for your middle school classroom? Check out these other great resources we have in our store.
★ ONE-PAGER CHOICE BOARD - DIGITAL AND PRINT
★ 10 CRITICAL THINKING ACTIVITIES TO BE USED WITH ANY NOVEL
★ EVIDENCE GRAPHIC ORGANIZER FOR LITERARY OR INFORMATIONAL TEXT
★ 7 DAY LITERARY ANALYSIS BOOTCAMP
***************************************************************************
★ Also, make sure to follow us to be notified when we upload new resources! We always do a special discount when we release a new resource, so it pays to follow us! ★
Teaching Duration
2 hours
Report this resource to TPT
Standards
to see state-specific standards (only available in the US).
Cite textual evidence to support analysis of what the text says explicitly as well as inferences drawn from the text.
Determine the meaning of words and phrases as they are used in a text, including figurative and connotative meanings; analyze the impact of a specific word choice on meaning and tone.
Analyze how a particular sentence, chapter, scene, or stanza fits into the overall structure of a text and contributes to the development of the theme, setting, or plot.
Explain how an author develops the point of view of the narrator or speaker in a text.
Cite several pieces of textual evidence to support analysis of what the text says explicitly as well as inferences drawn from the text.